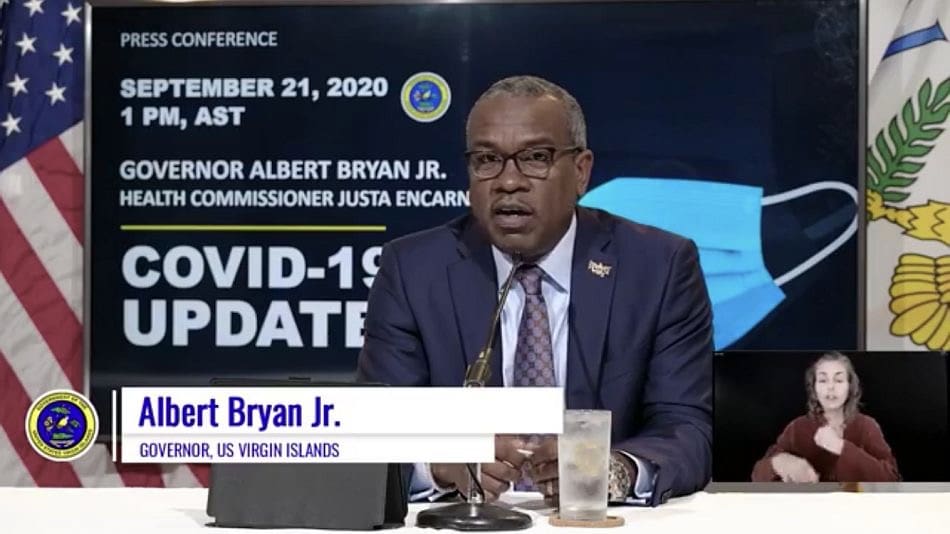 The launch of a new screening program at the U.S. Virgin Island's airports discovered one COVID-positive person traveling to St. Croix, according to officials.
Since Sunday, a total of 34 tests have been conducted, officials said.
The screening program is the newest protocol to be put into place as the territory reopened over the weekend for leisure travelers. At his Monday news conference, Gov. Albert Bryan, Jr. said a new travel app also has gone live, allowing travelers to upload any test results taken five days prior to landing.
"When the plane lands, we'll know what flight you're on, your name will be recorded and the screening team at the airport will have that information," he explained Monday. "We hope to get this down to a smooth science, where it's actually notifying you at the time a plane lands who is onboard, and we'll separate those who are pre-cleared from those who have to be cleared."
It's easier, Bryan said, since many passengers are now arriving from other destinations that are also requiring testing prior to travel. As the testing system evolves within the next few weeks, tourists will be required to pay for a test if they haven't taken one beforehand, while the cost for locals with a valid V.I. driver's license will be less than $50, subsidized in part by the government.
"We hope to have it in place where we can test 300 to 400 people within an hour," the governor said. He added, however, since the V.I. is a U.S. territory, the most the government can require of a COVID-positive passenger is to quarantine for 14 days until the virus passes, and he cautioned visitors – particularly, locals returning home – to do so in an environment that does not cause others to become infected.
The government will continue to monitor how effective the new protocols are into the holiday season. Bryan said he understands reopening the territory to leisure travelers is causing "apprehension" within the community, but explained the government is taking the step forward "with the utmost care and caution" to ensure that another shutdown doesn't happen.
With visitors coming back in, the governor also cautioned residents to be even more vigilant about wearing masks in public and practicing social distancing. As the government explores the protocols around implementing a universal mask policy, which would require residents to put on a mask as soon as they leave their home, Bryan encouraged the community to start practicing now.
According to the most recent data, the number of COVID-positive cases has decreased "significantly," in the past few weeks, with slight upticks in just the last couple of days.
"We have continued to increase testing and we were seeing a significant decrease in positive cases until the past few days, when we saw positive cases in the double digits," said Deputy Health Commissioner Reuben Molloy, who also spoke Monday. "We saw a record high of eight positives on St. John as a result of a targeted testing approach for an at-risk group. Close contact is the highest mode of transmission, though the risk of community spread is increasing."
According to Molloy, the department is currently tracking 64 active cases – 15 on St. Croix, 39 on St. Thomas and 10 on St. John – and has so far tested 19,314 people. Of that number, 18,043 are negative, 1,269 are positive and there are two tests pending. There are no COVID-positive patients at the Gov. Juan F. Luis Hospital on St. Croix, and five at Schneider Regional Medical Center, all of whom are stable, he said.