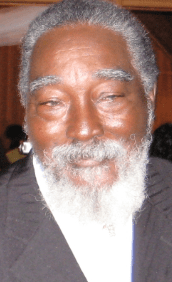 Alphonso McDonald Brooks died at home on Sept. 11, surrounded by his wife, children and other loved ones. He was 83 years old.
He was preceded in death by first wife, Muriel Isaac Brooks; his mother, Nora Brooks; his father, John Maynard; his sister, Dulcina Abbott; and his brother, George (Spencer) McDowell.
He is survived by his loving wife of 35 years Armentine Brooks.
He is survived by his children: Bernell Browne (known as Ghan) residing in St. Kitts, David Stout, Barbara Stout Phillip, Bernadette (Betty) Stout, Grantley Brooks, Elroy Stout, Alice Stout Osorio, Debbie Brooks Ajani, Lyndell Stout, Patricia (Patsy) Brooks Dennis, Clarice (Lizzy) Brooks Rohlicek, Ezekiel Brooks, Rochelle (Shelly) Stout Dottin, Marsha Brooks King and Daniel (Danny) Brooks; unofficially adopted children: Frederick Miller, Nigel Benjamin – (deceased), Deborah Garcia (deceased), Trevor Bryan, Warren Powell, Nikki Powell Haywood and her husband Thomas Haywood, Candace Powell, Garnella Powell, Marcella Simmonds, Alberta Simmonds-Guye, Leon Simmonds, Nora Simmonds and Joseph Simmonds; over 60 grandchildren; over 20 great-grandchildren; and over 10 great-great-grandchildren.
Other survivors include daughters-in-law: Laverne Stout, Rosemary Brooks, Nicolette Stout, Juliet Stout, Merlinda Pauleon; sons-in-law: Junior Philip, Angel Osorio, Robin Ajani, Michael Dennis, Anthony Dottin, Lenn King and Michael Rohlicek; nieces: Sandra (Babes) Abbott in St. Kitts, Laurem (Sarah) Buchanan in St. Kitts, Mary Rawins residing in Saba, Ernestine (Dean) Powell in Puerto Rico, Jacqueline Skelton-Esprit in St. Croix, Dawnette McDowell in St. Kitts, Daisy Mills McDowell in St. Kitts, Faunella McDowell in St. Kitts, Cynthia Conner and her husband Roderick Conner in St. Croix; and nephews: Steadroy Abbott, Vernon Skelton, Shawn Allen, Levingston McDowell, Stefield McDowell and Adwin McDowell (all in St. Kitts).
Other survivors include special mention to his church family at Sunny Isle Baptist Church. Special mention also to his very special friends: Peach Simmonds and family, Pamela Powell and Garnett Powell (deceased), Pastor Ali and family, Flora George, Sharon (Sherry) Hill, Bascum Phipps, Eldon Providence, Ena Hansen, Jeanette Allen and Joseph Allen (deceased), Vitalis Cavette, Thomas Joseph, Jacob Gumbs, Judy Matthew, James (Nat) Williams, Verna Harvey, Conrad Simon in St. Kitts, Hubert J. Frederick, Kathleen Matthew, Dingo Delasonte, the Bryan family, the Vanterpool family, the Butler family, the Wiltshire family, the Raphael family and the Bubars family; as well as many more family and friends too numerous to mention.
There will be a viewing for Alphonso McDonald Brooks from 10 a.m. to noon, Saturday, Sept. 26, at James Memorial Funeral Home.
There will be a second viewing at 9 a.m. followed by a funeral service at 10 a.m., Monday, Sept. 28, at Sunny Isle Baptist Church. Interment will take place at Kingshill Cemetery.
The family requests that those in attendance wear festive colors as we celebrate the life of our beloved father, husband and friend. The family respectfully requests that attendees wear a face mask and adhere to the social distancing requirements.