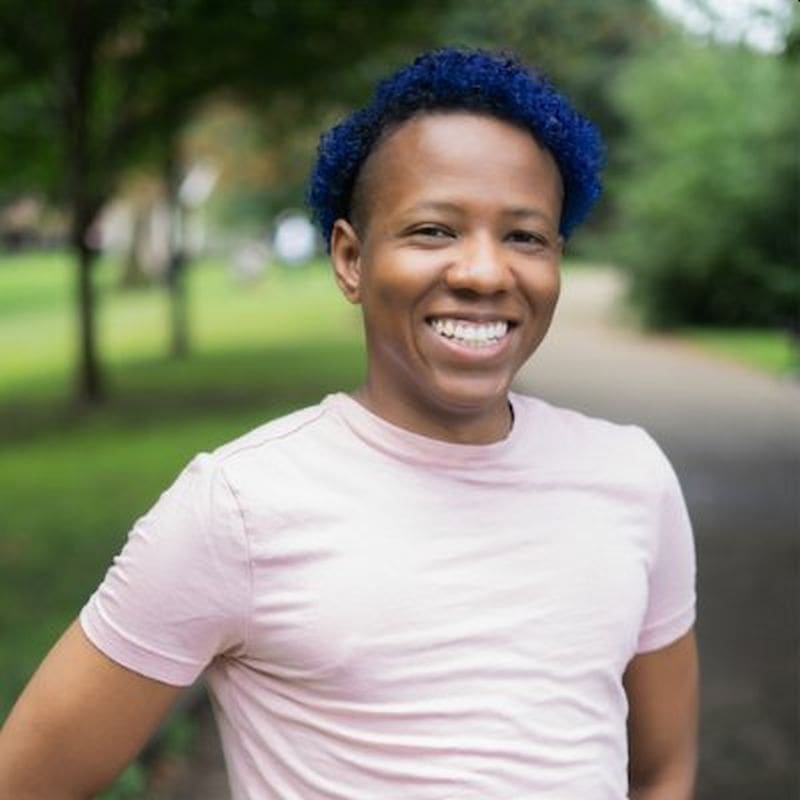 The accolades just keep piling up for Kacen Callender – and for good reason.
At 30, this young author has accomplished more than many seasoned writers double their age. Just Wednesday, the New Yorker Magazine published an article announcing that Callender's novel, "King and the Dragonflies," is on the longlist for this year's National Book Award for Young People's Literature that depicts children making sense of death and the afterlife.
The novel was only published in February – just six months ago – which speaks to not only the impact of Callender's writing, but their evolving voice in the world of young adult literature.
"Kingston James, the protagonist of Kacen Callender's novel "King and the Dragonflies," is convinced that his deceased older brother Khalid has transformed into a dragonfly, and spends every afternoon searching for him by the bayou in his Louisiana home town. What haunts King is not just the loss of his brother but a sense that Khalid died without knowing who King really was. King is gay, and terrified to share the truth with his grieving parents. The book follows him as he tries to reconcile the memory of his brother with a new understanding of himself," according to the New Yorker.
Identity, and creating characters and storylines that can inspire young readers grappling with their own, is a driving force for Kacen, who went through their post-college career in publishing looking at books they would have wanted to read as a teenager. On St. Thomas, Callender graduated from Antilles School before moving on to Sarah Lawrence College in New York and then the New School, where they graduated with an MFA from the Children's Writing Program.
"When I was just in publishing and reviewing them, I thought about what I would want to read as a teenager, and what would inspire me. But as a writer, I was inspired by my experience growing up, dealing with emotions, and my emerging identity. Giving weight to identities that don't get a lot of representation can really help a child's self-esteem, and help them exist as much as anyone else," they said.
Kacen's novel "The Hurricane Child" is the 2019 recipient of the Stonewall Book Awards – Mike Morgan & Larry Romans Children's & Young Adult Literature Award, which is given annually to English language children's and young adult books of exceptional merit relating to the gay, lesbian, bisexual and transgender experiences.
Asked recently how they felt about being a defining voice for young readers, Callender, who identifies as transgender and their pronouns are they/them, he/him said, "It feels like there's a responsibility to show a world where underrepresented identities, such as young Black, queer people, are seen and heard. My intention is for young people who haven't seen themselves to be able to see themselves on the page, and know that they're also important and that they also belong."
That message also resonates in Callender's book "Felix Ever After," which was just snatched up by Amazon Studios for a television adaptation with Field Trip Productions.
"'Felix Ever After' is about 17-year-old Felix Love, who has never been in love, though he'd really love to be, but he's afraid he's one marginalization too many as a Black, queer, and trans teen. The story is about him falling in love with others and with himself. It was inspired by my own journey to discovering my gender identity and self-love, and I hope readers will take that they are loved as well, no matter their identity and the hatred they may face in the world," Callender shared.
While they aren't able to say much more about the media deal, Callender did share that a film agent, Addison Duffy at UTA, was interested in representing the book and sent it to production companies. The rest evolved quickly, with Amazon taking a first look just a year after it was published.
And there's more to come. Asked about what's in the pipeline, Callender said their next book, a sequel to 2019's "Queen of the Conquered" called "King of the Rising," is coming out Dec. 1.