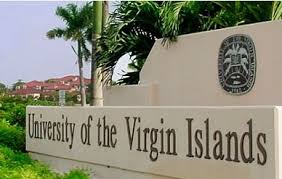 Officials at the University of the Virgin Islands have confirmed that two staff members on St. Thomas contracted the novel coronavirus in August.
"These employees quarantined, and the university used CDC guidelines to prevent further infections," said Tamika Thomas Williams, public relations director at the university, via email. There have been no further cases, and both staff members have recovered, she added.
"The V.I. Department of Health handled contact tracing and the university staffers were asked to monitor their symptoms and follow university protocols, which are in line with CDC guidelines," said Thomas Williams.
The August cases are the first since Jason Brewer, director of the Center for Student Success at UVI, died from COVID-19 while in Kentucky after leaving the Virgin Islands on March 23. Thomas Williams said, "it is probable that [Brewer] contracted the disease in Kentucky or en route to Kentucky," but the university at the time advised anyone who was in contact with Brewer from March 18 through his departure, and who had symptoms, to call the Health Department.
UVI transitioned to online learning for all graduate and undergraduate classes on March 23 in response to the COVID-19 pandemic, after extending spring break, which began on March 9, to March 22, said Thomas Williams. In July, university officials announced that virtual learning would extend into the fall.
"This decision to delay is not being made lightly," UVI President David Hall said at the time. "At the heart of our decision is preserving the health and safety of our students, employees and the public."
The only students attending in-person classes are those in the nursing program, who must participate in clinical sessions, said Thomas Williams, adding that "remote learning is working without major challenges."
The news of UVI's cases comes as universities on the mainland grapple with resuming in-person classes, in some cases with alarming results. According to a New York Times survey of more than 1,600 American colleges and universities, there have been about 88,000 COVID-19 cases and at least 60 deaths since the pandemic began.
"Most of those deaths were reported in the spring and involved college employees, not students," according to the report.
However, dozens of colleges have seen spikes among students in recent weeks as dorms have reopened and classes started, according to the New York Times.
"Many of the metro areas with the most cases per capita in recent days – including Oxford, Miss.; Athens, Ga.; and Champaign, Ill. – have hundreds of cases at universities."
The outbreaks have prompted some campuses to switch to online learning, including the University of North Carolina at Chapel Hill, the University of Wisconsin, Madison and Notre Dame. Others have powered through with in-person classes, despite thousands of cases, including the University of Alabama and the University of Georgia.
At UVI, the board of trustees approved novel coronavirus guidelines in June, "designed to secure students and employees during this pandemic," said Thomas Williams. They are based on the recommendations of a 27-member COVID-19 task force from both the St. Thomas and St. Croix campuses that the university convened months earlier, according to UVI's Fall 2020 and Spring 2021 Plan.
Beyond social distancing and masks in public settings and common areas, pandemic precautions include enhanced cleaning and disinfecting of high-touch areas such as soda machines and door handles, as well as air conditioning vents and university vehicles, according to the guidelines. UVI also instituted staggered work hours for staff in shared office spaces where it might be difficult to maintain six feet of distance. Those able are working from home.
Like other businesses, UVI also has installed shield barriers in high-traffic service areas, such as health services and the registrar's office, and requires all visitors to sign in.
"While we operate in a virtual environment, we will monitor the COVID-19 epidemiological data to make determinations and follow the guidance of the local public health officials as to the appropriate time to consider the full reopening of the campuses," Hall said in July.
As of Tuesday, the U.S. Virgin Islands had 43 active COVID-19 cases and a total of 19 deaths. Of 18,682 people tested, 17,440 have come back negative and 1,232 positive, with 1,170 reported as recovered, according to the Health Department.