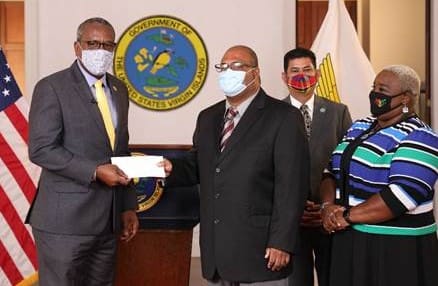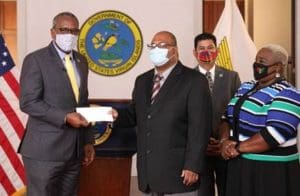 Governor Albert Bryan Jr., on Friday, awarded Ten Thousand Helpers of St. Croix, a $30,000 grant to assist the St. Croix-based non-profit organization with its Fiscal Year 2021 operations.
Ten Thousand Helpers is a non-profit organization based in Frederiksted advocating for people who are homeless or suffering from mental health or substance abuse issues transition. The organization provides shelter, life skills programs and job training to help aid them in their transition back into society.
"Groups like Ten Thousand Helpers are the cornerstone of social services that are key in helping the government provide the care needed to all people of the community, and I am grateful for the good work they do," Bryan said. "My administration is committed to maximizing social services in the territory, particularly for persons experiencing homelessness, substance or alcohol abuse or developmental disabilities, and our non-profit organizations are instrumental in achieving that goal."
In January, the governor submitted legislation to the 33rd Legislature to establish the Virgin Islands Behavioral Health and Developmental Disability Act, a sweeping and comprehensive reform of the mental health system that would unify the various parts of the V.I. Code, some dating back to 1965, into one cohesive system across Health, Human Services, Justice, and other related agencies and departments.
The legislation also will establish the territory's first behavioral health, mental health, developmental disability, and alcohol/substance abuse facility. It will allow for interdepartmental coordination between the courts, government agencies, private and public facilities, health professionals and non-profit organizations to address Virgin Islanders' mental health needs through the creation and expansion of new divisions, programs, treatments and patient rights policies.
Ten Thousand Helpers was established in 2007 to recognize the devastating impact of mental illness on individuals, families and friends, and to recognize the isolation and social rejection that the condition triggers. The organization also operates the transitional facility called Rainbow House in Frederiksted.
To become a volunteer or for more information, call 719-282 or 422-2828 or send an email to tenthousandhelpersofstcroixinc@gmail.com.