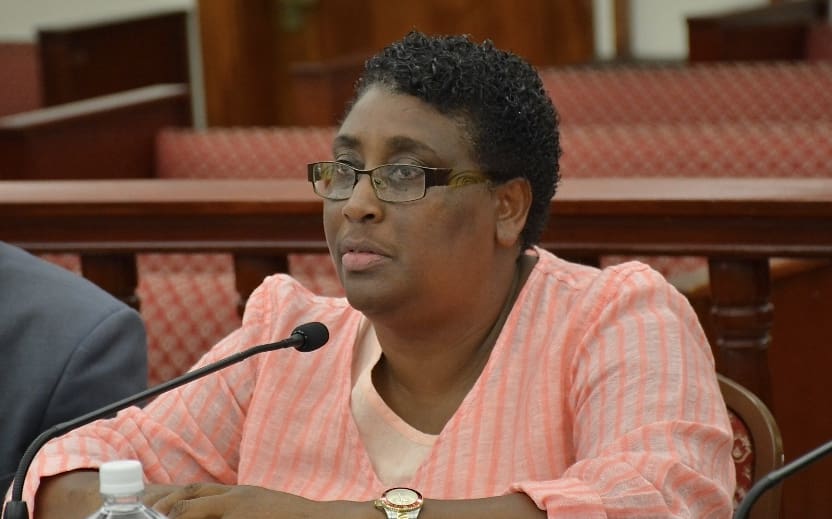 Supervisor of Elections Caroline Fawkes is urging Virgin Islanders to apply now if they plan to vote via absentee ballot in the Nov. 3 general election that is just over seven weeks away.
"Apply early!" Fawkes emphasized in an interview on Sept. 8, the first day to apply for an absentee ballot. "We're looking at an increase" in demand over August's primary election, she said, when close to 200 people from the St. Croix District and about 400 from St. Thomas-St. John District opted to vote absentee.
Fawkes predicts 500 to 600 people will do so in the general election on St. Thomas, and 300 on St. Croix, partly due to the COVID-19 pandemic and the desire to social distance.
Typically, absentee ballots go to military members serving overseas, those who are eligible to vote but are off-island for educational or family reasons, those who are unable to attend in person due to illness or disability or who are incarcerated awaiting trial, among other reasons.
This year, people also can choose to vote absentee because of the pandemic, thanks to Act 8294 that aims to ensure no qualified elector is disenfranchised by COVID-19.
The deadline to apply for an absentee ballot is Saturday, Oct. 3, via the Elections System website at www.vivote.gov, where the forms may be downloaded. The applications can be emailed back to Esviballotstx@vi.gov on St. Croix and Esviballotstt@vi.gov on St. Thomas/St. John.
Ballots must be cast by 7 p.m. on Election Day but are still counted if they are received in the mail by Nov. 13. Any arriving after that date will not count but are kept for two years to preserve the paper trail, said Fawkes.
"The earlier you apply, the earlier you can get the ballot to us," said Fawkes, who added concerns remain over the U.S. Postal Service's ability to deliver completed ballots to the Elections System in a timely manner.
"Yes, we do [have concerns], like any place else," said Fawkes.
U.S. Postmaster General Louis DeJoy, a former Republican Party fundraiser appointed in May by the USPS Board of Governors, has been criticized for cost-cutting measures at the Postal Service ahead of November's election, just when many are expected to vote absentee – or via mail-in ballots in states that allow it – due to the novel coronavirus pandemic.
DeJoy's measures – including removing sorting machines, blue mailboxes and denying overtime – prompted the U.S. House of Representatives to pass the Delivering for America Act in August to ensure no more cuts are made before Election Day.
"The Trump administration and Postmaster General Louis DeJoy have waged an outrageous campaign to degrade postal operations and delay mail delivery in the middle of a pandemic and just months before a presidential election, threatening to sabotage the election and disenfranchise countless voters," V.I. Delegate to Congress Stacey Plaskett said in a statement when the legislation was passed. "While the committed activism of Democrats and the American people forced the Postmaster General into announcing a so-called 'pause,' it is a wholly insufficient step that does not reverse damage already wrecked."
Fawkes said the Elections System plans to mitigate any possible delays by bulk mailing ballots 200 at a time, instead of waiting for one big batch, as soon as her office receives them to send. Voters who are on-island may also avoid the mail altogether and deliver their completed ballots to the secure drop boxes at the Elections System offices on St. Thomas and St. Croix.
DeJoy has contributed $1.2 million to Trump's 2020 Victory Fund as the president has railed against mail-in voting as an avenue for fraud, even urging North Carolina voters to cast their ballots by mail and then show up to vote in person at the polls to test the veracity of the system.
Fawkes pointed out that attempting to vote twice in an election is illegal, and that measures are in place to detect such fraud.
"Our law mandates a penalty for voting twice," said Fawkes, citing the Virgin Islands Code that stipulates a penalty of a fine up to $1,000 and up to three years in jail, adding, "there are procedures in place to verify every absentee ballot that's received."
"Our database will only give the person one ballot therefore, they will not be able to vote twice," said Fawkes. "If they show up, they are given a provisional ballot that is then checked and verified before the vote is cast."
Fawkes also predicts that more people will take advantage of early voting, which has been available in the Virgin Islands since 2014, she said. "St. Thomas voters, from the inception of early voting, they have always come out in huge numbers," she said, and this year may see even more activity, given COVID-19 and the desire to avoid possibly crowded polling places.
As long as the governor's coronavirus mandates allow, voters will have 21 days to cast their ballots early, compared to the 14 for the primary election, said Fawkes. "Everyone really, really appreciates it," she said. Hours will be from 9 a.m. to 3 p.m. starting on Oct. 5 and ending Oct. 25. Locations are the Charlotte Amalie High School temporary cafeteria in the "sprung" unit on St. Thomas, the Elections System office on the third floor of The Market Place on St. John and a new location in the main Sunny Isle area on St. Croix, said Fawkes.
Those who like the excitement of voting in person on Election Day will find protocols in place to prevent the spread of COVID-19, including hand-washing stations, temperature screening, social distancing and mandatory masks, said Fawkes. Polling places will be announced soon, with three scheduled for St. Thomas, two for St. John and four for St. Croix, because of its geographical size, said Fawkes.
However the 52,897 Virgin Islanders registered to vote choose to cast their ballots, Fawkes just urges they do so.
"Your voice is your vote, and your vote is your voice," said Fawkes.
For more information, contact the Elections System offices at 340-773-1021 on St. Croix, or 340-774-3107 on St. Thomas or visit vivote.gov.