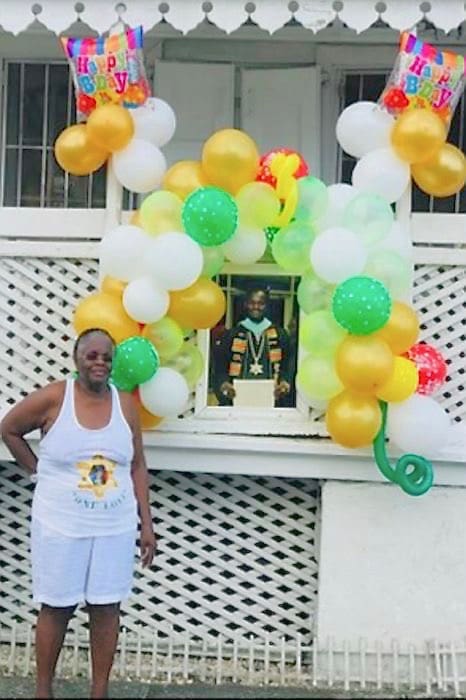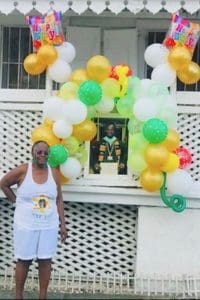 Over the last eight years, David Payne's family has commissioned four signs, all of which have stood outside his sister's house on Beltjen Road, calling for the public to report any details about his murder to Crime Stoppers.
The first three were torn down. Last week, the fourth was installed and trimmed with festive balloons in honor of his 38th birthday, which fell on Aug. 30. On Monday, the eighth anniversary of his death, those balloons will be replaced with black ones, representing – according to his mother Blanche Frazier – the darkness in which he was killed.
"I can't understand why they would do it," Mrs. Frazier said when asked why the signs were tampered with. "But it means that our family still has no peace, and maybe they are telling us to just forget about what happened and let it go."
She doesn't know who "they" are, just like she doesn't know who took her son's life, but one thing she is sure about is that after eight years is she's ready for closure.
"It's been long enough," she said. "Eight years is long enough to have completed an investigation, to prosecute and to have a conviction. And I am calling for that to happen. I am calling for the people who murdered my child to be brought to justice."
Hers is a frustration many mothers have expressed in our community as a stretched police department has continued to add more to its cold case pile over the years, because of a lack of information. Mrs. Frazier expressed hope after a recent meeting with VIPD Commissioner Trevor Velinor, who told her that Payne's case had been put on his desk once again for review.
"He said he was going to get it solved, so I want to put my faith and belief in that," she said. "But we have thousands of unsolved murders, so that also means the police have to ask for help if they need it. Not just for information, because people aren't going to give it, but help from programs that can give them resources or direction where there isn't any. When you don't have all the evidence, you have to go with what you do have, but you also have to be out there investigating, asking questions and actively trying to get it solved."
One of the programs she referenced is a cold-case initiative under the FBI, which, according to the U.S. Justice Department's website, has offered rewards for information, sought assistance from community groups, conducted town halls to garner evidence and collaborated with state and local law enforcement organizations. The point, Mrs. Frazier said, is that it is hard for one or two agencies to do the work – especially if they don't have the tools with which to do so – so it is critical for them to reach out when in need.
Better communication between law enforcement and the families of victims is also important. Otherwise, years can pass without a call or visit, and then that hope is lost, she added.
Payne, a sixth-grade teacher at Ulla F. Muller Elementary, was murdered on Sept. 7, 2012, at his home in Estate Anna's Retreat. According to Mrs. Frazier, her son was an "introvert," not one to be around a lot of people or to be involved in gangs or groups. He was assistant to the pharmacist at Doctor's Choice and did outreach through Christchurch Methodist on St. Thomas. He loved the Bible, kept one on the dashboard of his car and could often be heard singing the psalms to his kids. And, at the time of his death, she added, he was simply doing laundry.
"They used Home Depot buckets to jump his fence and get over," she said. "He was just washing his clothes, that's all we know." Asked whether she had ever been given a motive, Mrs. Frazier speculated that it could have been a burglary, but in that case, all the invader had to do was put on a mask, take what they needed and walk away.
"He didn't have to be killed," she said. "Who gave them the right to do that? To take his life?"
Her son lived for his children, Mrs. Frazier added. With three boys and one daughter, the attentive dad liked to take them on Sundays down to the waterpark near the airport or the beach. With the kids around him, friends called Payne the "Pied Piper of Hamelin," like the old fairy tale. Meanwhile, he was a math whiz – and his children are much the same, Mrs. Frazier said, adding that the last two of Payne's brood were honored by a city council in Florida for their high grades.
She phones them daily.
"Can you imagine how many more children are in the same boat?" she asked. "There are so many growing up without their fathers because their fathers were killed. And, that will continue until there is an incentive for it to stop. If they know no one will investigate, no one will make a case, there will be no trial, they will think they can get away with it – that they can just go out there and take your loved ones. That is the reason it keeps happening."
In the case of her son, two arrests were made, but eventually, charges against both suspects were dismissed without prejudice, meaning they can be reintroduced if new evidence is discovered.
Asked what her advice is for those families also in the same position, Mrs. Frazier was adamant.
"Pray," she said. "It's hard, but you have to continue to have faith in God, and to pray for the case to be solved. Pray without ceasing. In the Bible, it says, 'Thou shalt not kill.' It says, 'You shall not murder, and whoever murders will be liable to judgment,' and I am holding onto those words and those teachings. I will pray without ceasing."