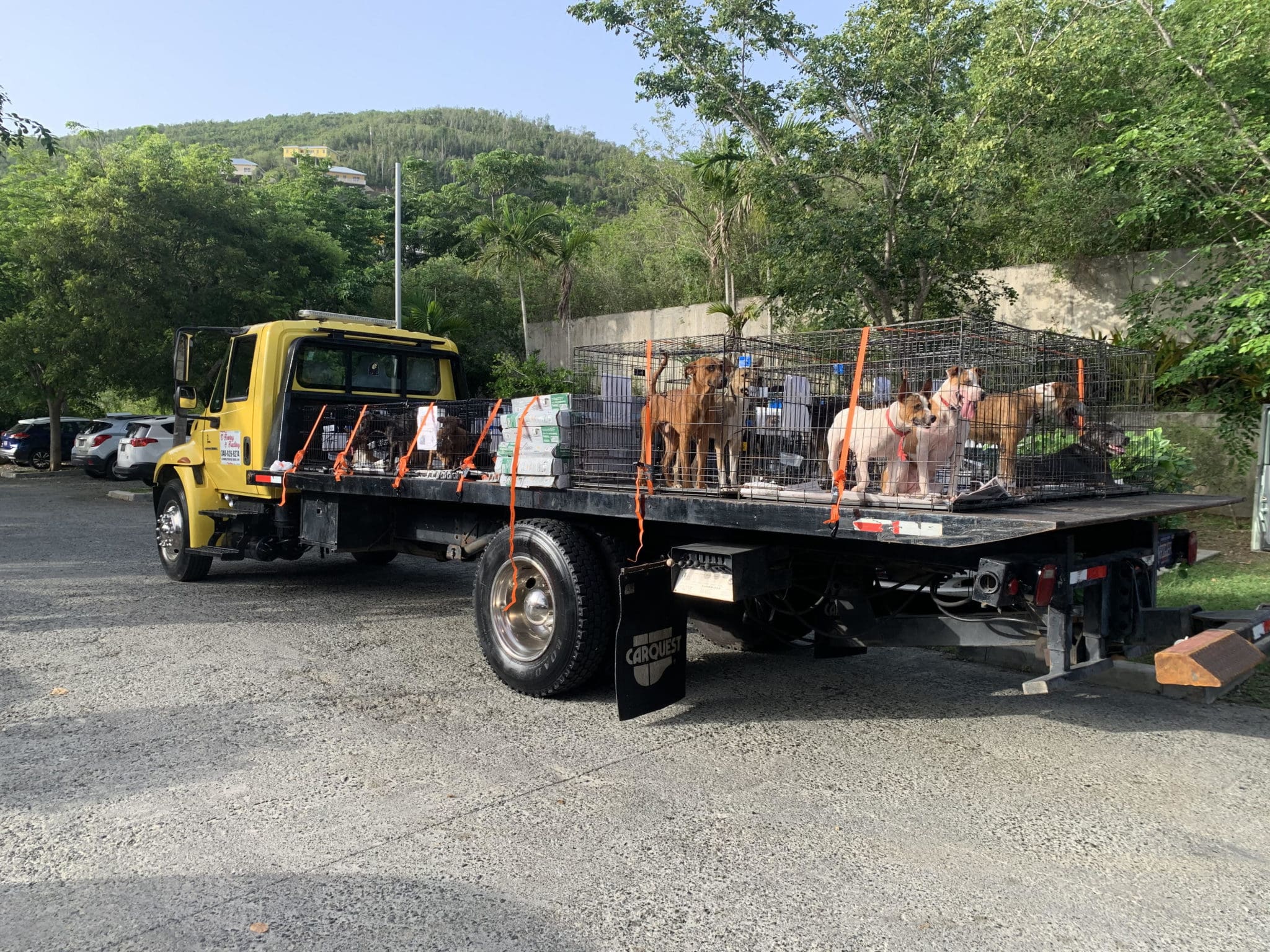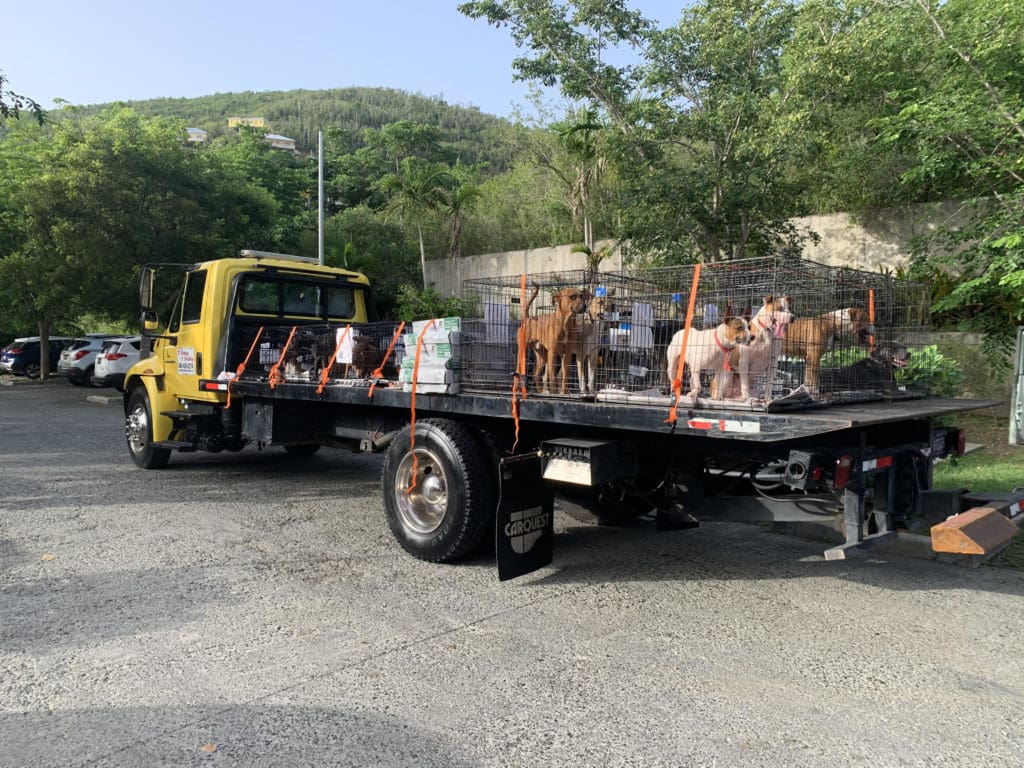 Last Friday was a red-letter day for the Humane Society of St. Thomas' Pets with Wings program as 69 of the shelter's animals – 54 dogs and 15 cats – were transported stateside to be received by partner shelters and rescue organizations.
According to the Humane Society's Board President Annette T. Zachman, this was "the first of several mass lifesaving efforts" of which the goal is twofold: To give the animals a better chance for adoption and to relieve the stress on the Humane Society, which is currently operating well above its holding capacity, even after an exodus of nearly 70 animals.
Indirectly, St. Thomas as a whole will benefit because, Zachman said, "stray roaming animals are a deterrent to tourism and we have an obligation not to only help them, but to ensure that our island is a welcoming destination … St. Thomas will need to, hopefully soon, once again be considered a number one tourist destination."
With a change of scenery comes a renewed hope for an animal finding its "forever home" and more kennel space for the shelter's new, imminent arrivals. "Transports save lives, and while we do our utmost to ensure that we send our surplus to other rescues for a chance at life, we have to face the reality of our cages filling up just as fast," said Zachman.
The Pets with Wings program was established in 2012 with a mission to "transport as many animals as possible from [our society] to rescue groups and shelters where there is a shortage of adoptable pets," according to its website. The program operates entirely through donations, and these funds are used for the costs associated with the transportation of the pets. Costs include health certificates, any necessary vaccines, carriers and the airline transportation fee. Airlines charge between $100 and $200 per pet. The total cost for transporting a pet varies but can cost anywhere from $150-$300. The success of the program largely hinges on regular flight schedules and tourists visiting the island, as they are potential adopters and program ambassadors.
These are unusual times, however, due to the coronavirus pandemic. With a unique urgency, Friday's flight was "a collective effort to connect with stateside partners to get as many animals out as we could," said Humane Society Director of Operations Amanda Kennedy. The pandemic has severely affected the program, as the number of flights and tourists dwindle and airlines revise their animal-transport policies, leaving more animals behind on the island.
This event was spearheaded by the Animal Care Center of St. John via a GoFundMe campaign created on its behalf calling for $60,000 for lifesaving private cargo rescue flights via Flamenco Cargo. An estimated $72,000 was raised. Other organizations, including Off The Rocks Rescue of the U.S. Virgin Islands, the Vieques Humane Society and PAW BVI of the British Virgin Islands, also partook in Friday's event, and a total of 135 animals were flown out of St. Thomas "via a private plane from Flamenco Transport utilizing Standard Aviation's facility for staging and loading," said Kennedy.
On the ground at the Humane Society's facility, a team of staff and volunteers, roughly twenty in all, gathered at 6 a.m. After a staff-led briefing on the day's timeline and logistics, the group set about its various tasks: walking dogs, lining cages with newspaper, labeling cages with animal names and descriptions, administering Benadryl to the dogs with food, caging and loading. By 9 a.m., all of the trucks and personal vehicles were bound for the airport with their furry baggage in tow.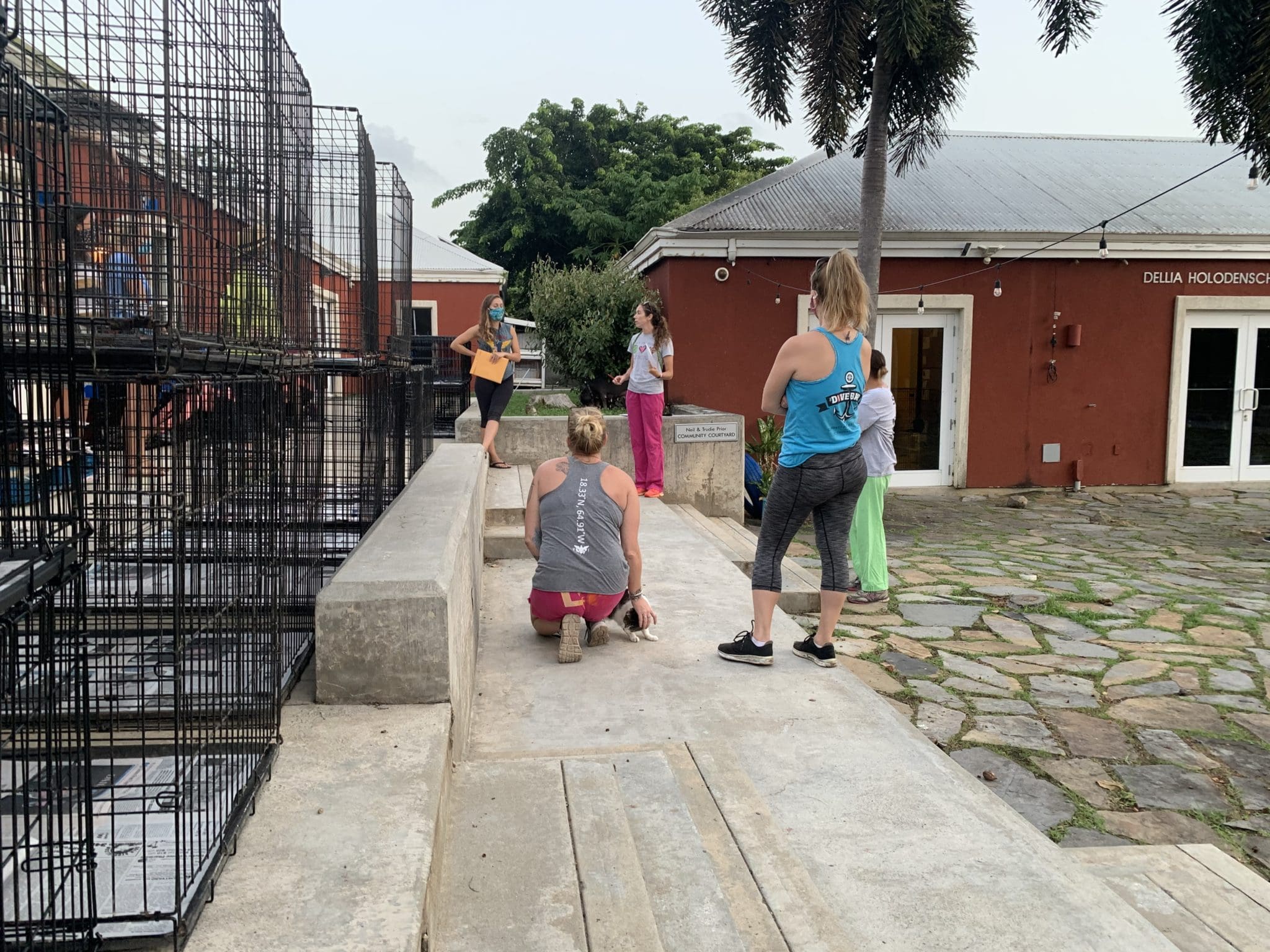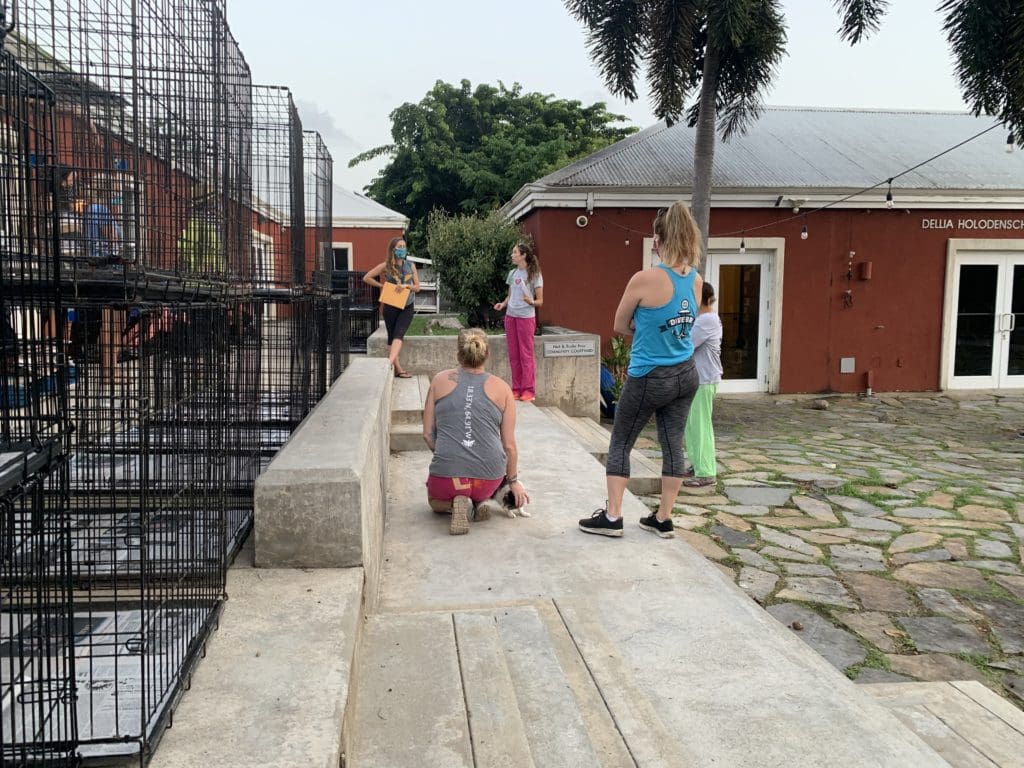 Kennedy recounted a true team effort that took place as St. Thomas bid farewell to the animal emigres.
"There were three truckloads of animals brought from the Humane Society of St. Thomas directly to Standard Aviation's facility," she said. "We had employees, volunteers and the staff at Standard Aviation offloading the animals and loading [them] onto the plane. We had a caravan of smaller trucks pick up the dogs from the BV at Sapphire [Beach] and driven directly to Standard Aviation's facility by our employees and volunteers. There was a huge team of volunteers and staff members of Big Dog Ranch in Florida to receive the animals and connect them with either the rescue partner that was taking them or the ground transport company that was driving them to their final destination."
The Humane Society says the two most impactful ways to help it fulfill its mission are to donate and to spay or neuter pets and strays, or "community pets."
According to Zachman, "the three USVI island shelters continue to act on behalf of the Government of the Virgin Islands and Department of Agriculture's animal control without being paid or [without having] a contract in sight."
Lucky Paws Foundation, a partner organization of the Humane Society, continues to offer free spay and neuter services. Zachman said, "The abundance of homeless animals would be drastically curbed if the community knew and understood the importance of helping the animals live longer, less populated, healthier and less stressed lives."
More transport events like Friday's are in the works.
The Humane Society of St. Thomas can be reached via their website or 340-775-0599.
Lucky Paws Foundation can be reached via their website or 340-513-1854.