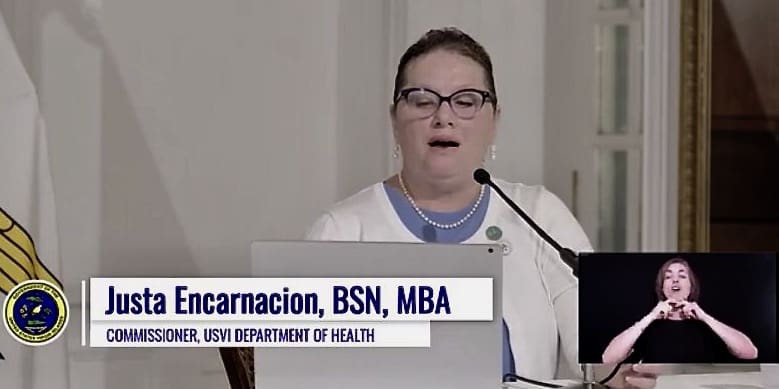 While health officials believe the ongoing stay-at-home order has been "effective" in slowing the spread of the coronavirus, the territory's overall COVID-19 positivity rate and the number of current hospitalizations have prompted a one-week extension order, which also pushes back the first day of virtual learning for local public school students.
The extension of the order was announced over the weekend, but speaking at a press conference on Monday, Gov. Albert Bryan Jr. said that based on the data, the numbers aren't "just where we want them to be."
"We are doing all of this and enforcing all orders and penalties just to keep people safe," he said. "The only way to get through this is to adhere to all of the guidelines in place. We will not beat COVID while attending parties, getting together or by going to mass gatherings or events. We can't get rid of COVID by being in close quarters, even if it is with friends, cousins and family members, if we are not wearing our masks. There is always a risk that we can be non-symptomatic carriers. So, be smart and be responsible. That is the only way we can guarantee your safety or the safety of your family members and loved ones, too."
With the territory already investing two weeks, Bryan said that while it may be difficult, an extra week at home could get the level of community spread "down to a place that we can live with so that we don't have to shut down again."
Most immediately, that means all private and parochial school campuses will be closed for students until at least Tuesday, along with non-essential businesses. Public schools, which were expected to start virtual learning on Sept. 8, will now be delayed until Sept. 12, giving teachers time to get into their rooms and prepare.
Monday, Health Commissioner Justa Encarnacion said the department is committed to stopping the spread of coronavirus. Over the past week the department has distributed more than 1,700 masks and 1,800 educational flyers territorywide. Health team members are expected to do the same on St. John this week, she added.
Each member of the community has a role to play in stopping the spread of the virus, Encarnacion said, including wearing masks in public and before entering businesses, social distancing and quarantining if sick or if exposed to someone who has the virus or is exhibiting symptoms.
Eyeing the comments posted in Government House's live Facebook feed of the press conference, Encarnacion acknowledged that she has been "saying the same thing over and over again."
"Yes, I am," she said. "Because many of you are not listening and we as a community are feeling the repercussions from your lack of compliance. I plead with you to please stop, regroup and please wear a mask."