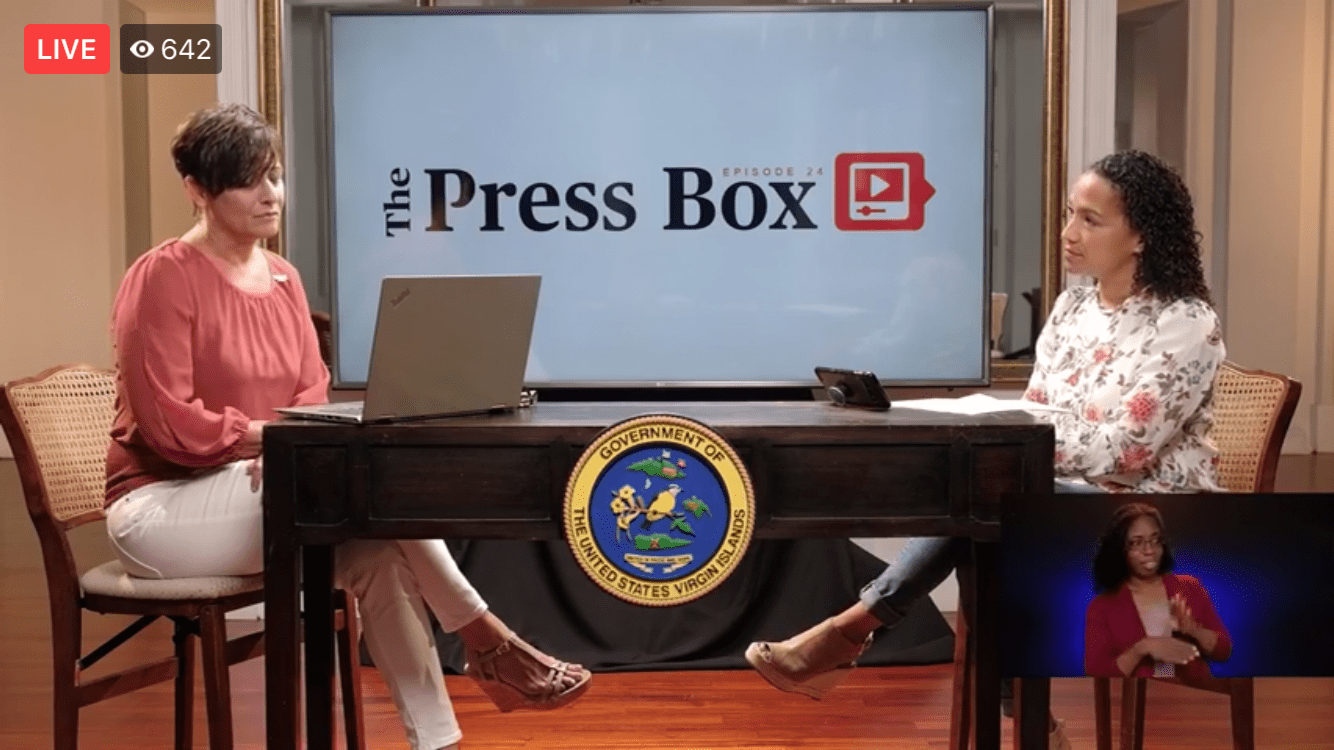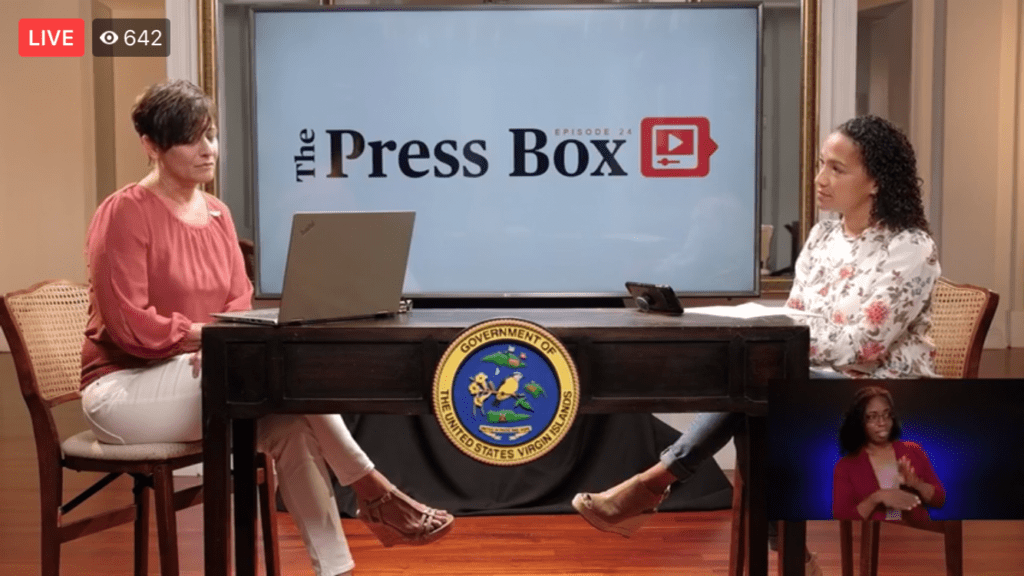 The Human Services Department is urging parents to remain patient as it rolls out the federal P-EBT food assistance program that will see every student enrolled in the Free and Reduced Lunch Program receive $379 for meals that were missed at the end of the last school year.
"I'd like to acknowledge all the families that are anxiously waiting for the benefits because we announced it in June," said Human Services Commissioner Kimberley Causey-Gomez as she appeared Thursday evening on the Press Box, the virtual town hall hosted by Government House on St. Croix and streamed live on Facebook. Michelle Francis, the department's operations and planning director, served as moderator and fielded viewer questions.
"We definitely empathize with everyone as their patience is done and their frustrations are growing because having children at home for this long period of time, we understand … We appreciate the patience and grace that they are giving everybody," said Causey-Gomez.
The commissioner said delays in distributing the benefits are partly because the department has to ensure it is following all the guidelines of the federal program, and also because it took time to survey other territories and states about mistakes to avoid. "We got to learn from their challenges," said Causey-Gomez.
P-EBT cards – Pandemic Electronic Benefits Transfer – are being mailed from the mainland by a federal contractor, said Causey-Gomez. Existing Supplemental Nutrition Assistance Program (SNAP) customers will see the money credited to their existing cards, she said.
Those that do not receive their cards, or money in their SNAP accounts, by early September should call the customer service center at 340-772-7120 or email pebt@dhs.vi.gov, with P-EBT in the subject line. The cutoff date is Sept. 11, after which no benefits will be received, the commissioner cautioned.
The $4.9 million program is providing a one-time payment of $379 for each of the 13,000 children enrolled in the lunch program in grades K-12 in Virgin Islands public schools, as well as private schools that are eligible, to make up for 57 days of missed meals when schools were forced to close in the spring due to the COVID-19 pandemic.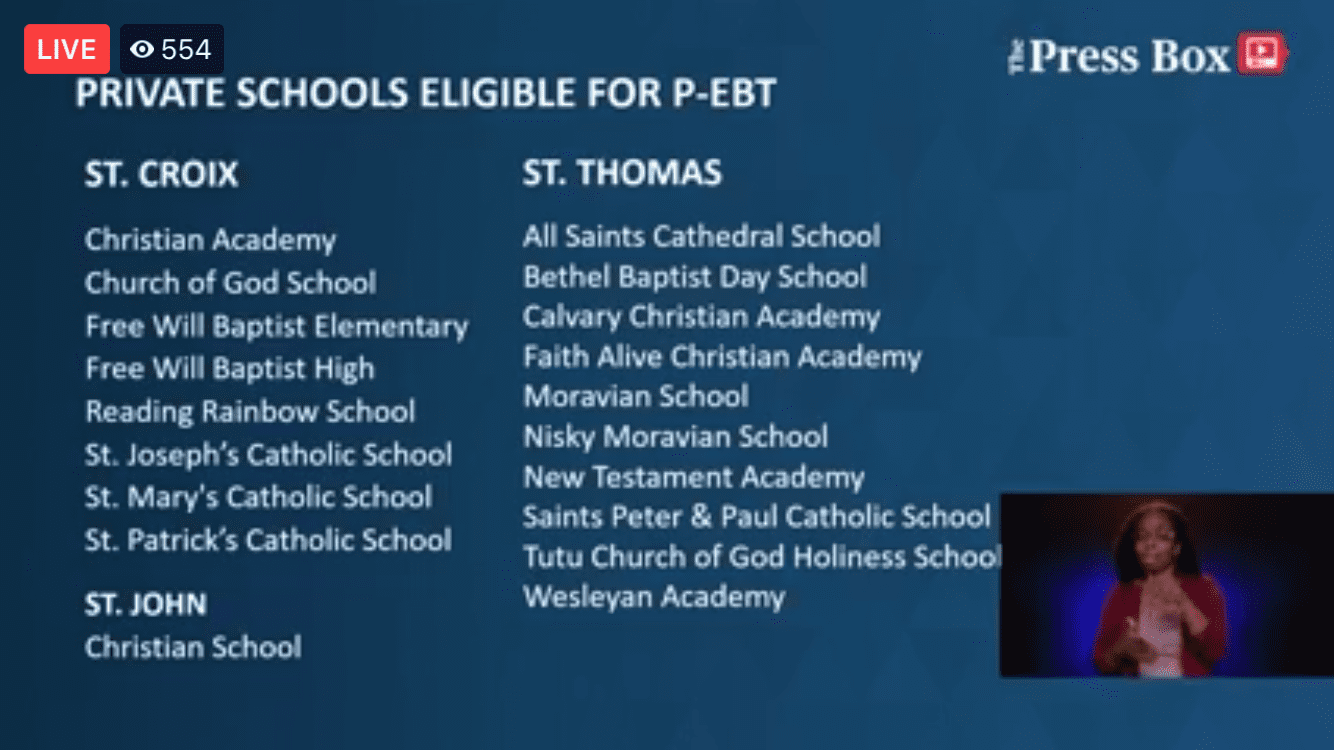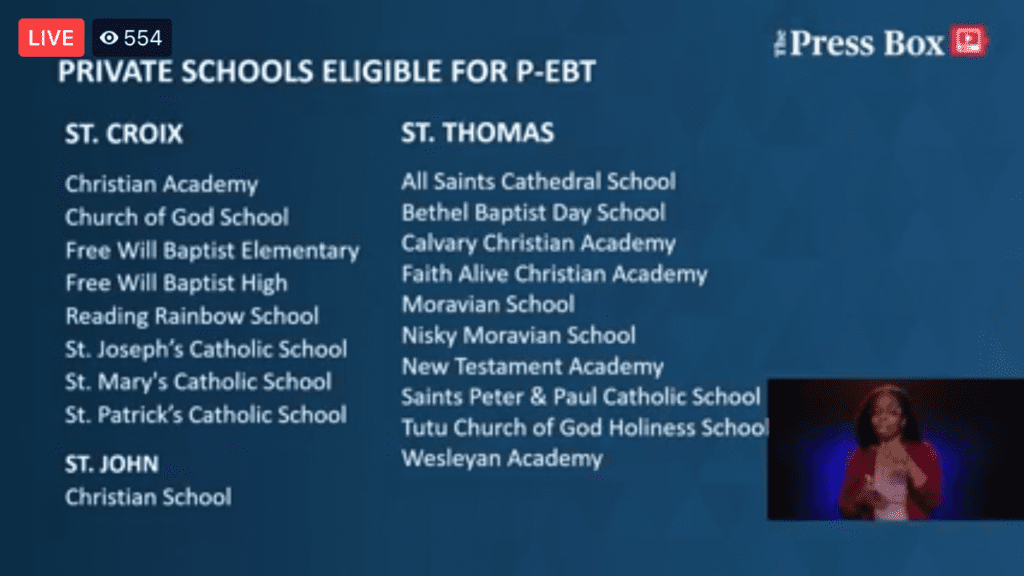 The cards may be used to purchase food such as fruits, vegetables, milk, juice, yogurt, rice and meats, but not prepared hot foods, or items such as paper towels and hand sanitizer, said Causey-Gomez.
The cards are issued in each student's name, and while parents may use them to shop for their minor children, they may not be used by anybody else, Causey-Gomez said. Those who receive cards for students that graduated in the spring and are now in college should send them to their new address, she said.
The cards are good for 375 days, said Causey-Gomez. "If you get it and you're fine right now and you want to save it for Christmas, that's OK," she said. "Please don't lose your card," she added, as the benefits cannot be restored if a card is lost or stolen and used by someone else. Those who find a card should think twice before using it, however, as it is a federal crime and will be prosecuted as fraud, she said.
She also urged people to make sure the Education Department, or their private school, has updated address information to ensure the program flows smoothly and to "get any glitches out now" in the event there is a second round of P-EBT.
The commissioner also appealed for understanding from those who call the department's service center. "Be patient with them because there are hundreds of calls coming in on a daily basis. If you are nice, you are going to get that in return. I know that the anxieties and the frustrations are there, but please don't take it out on our staff, they're just here to help you get the benefits that you deserve and you need," said Causey-Gomez.
"Indeed, this has been a stressful time for everyone on every level," said Francis. "As a mother who is homeschooling and working, I know that I feel that stress. So yes, it's giving grace to one another, being polite and starting in a place of kindness and patience."