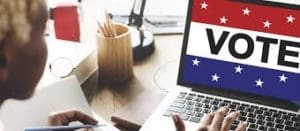 As the 2020 presidential election in the United States draws near, the question inevitably arises: why can't American citizens in the Virgin Islands cast a vote? Given the passions and high stakes involved this year, the issue has special urgency. So, there are important questions to be answered. Why is this the case? Can it be changed? And what difference would it make?
Why? To answer this question, we need to start with the U.S. Constitution itself. When adopted in 1787, it was an agreement among previously independent states. They consented to surrender some of their power to a central government but retained a major role in this new federal arrangement. An executive was established with the responsibility to carry out the laws passed by Congress. Additional powers included commanding the armed forces and conducting relations with foreign countries.
The document's framers had deep concerns about this new office. They were well versed in classic political theory that warned of the dangers of a chief executive elected by a popular vote. A demagogue could gain power by appealing to the prejudices and credulity of the have nots and use it to assume dictatorial status. Democracy would, in effect, kill itself. The founding fathers also were keenly aware of the way the British king had exercised unchecked sway over the colonies and did not want a monarchical president. Their solution? Rather than select the president by direct popular vote, do it indirectly by means of "electors" chosen by the states. Each state would have a number equal to its representatives and senators in Congress. As a result, the smaller states gained a weight disproportionate to their population, as they were guaranteed two senate votes and one representative regardless of size.
The presidential electors, representing the "better" element, would ensure that popular passions would be kept in check. They would also provide a major role for state governments.
But the best-laid plans of not only mice and men but founding fathers can go awry. They did not anticipate the rise of national political parties. While electors would still be selected at the state level, they would pledge in advance to vote for the candidate representing their party. As a result, gradual democratization of the presidential election occurred. But it was still possible for a candidate to secure a majority of the overall national vote and lose the election because of the structure of the electoral college system, as occurred in 2016 when Donald Trump lost by three million popular votes but won a large victory in electoral votes.
Why is this so important for the Virgin Islands? The answer is simple. As long as the presidential vote is determined by a state-based electoral college, U.S. citizens living here will never be able to vote for that office.
Can this be changed? One way would be to simply select the president by direct popular vote, doing away with the outdated and undemocratic electoral college. Attempts have been made to do so, but have all failed. It would require a constitutional amendment, which requires it be proposed by a vote of two-thirds of both houses of Congress and ratified by three-quarters of the state legislatures. This is a big hurdle to overcome.  It would require states that benefit from the present arrangement to voluntarily surrender influence. It would also be necessary to mount an ambitious national effort to overcome the institutional inertia that protects long-standing and familiar processes. After all, as anachronistic as the electoral college system may be, it is [what] we are familiar with.
It would also be possible to grant the V.I. the presidential vote by a constitutional amendment tailored to our particular needs. The District of Columbia was provided three electoral votes via the 23d Amendment. What about us? The U.S.V.I. would have to persuade a large majority of both Congress and state legislatures to pay attention. Not an easy task. A well organized expensive national effort would have to be mounted. And important related issues would arise. What about the other small territories like Guam? Should Puerto Rico be included? Would this set a bad precedent by providing a path short of statehood? Would even one electoral vote be a disproportionate share of the electors, as the smallest state (Wyoming) has four times the population of the V.I.? All things considered, a constitutional amendment for the V.I. is very unlikely.
And would it be worth it? On both an emotional and philosophical level the answer is yes. We are relegated to be bystanders in the most important election in American politics. It is a humiliating badge of inferiority. It also violates fundamental principles of democracy. We consent to being governed because we have an opportunity to select our leaders. But Virgin Islanders are treated as colonial subjects, not equal members of the country.
But here we need to raise several practical issues. What would it matter if residents of the U.S.V.I. gained the right to a presidential vote? Would there be negative consequences?
Given the small number of votes we would cast in a national popular election as part of an electorate numbering in the tens of millions, any impact would be hardly noticeable. A mere tiny drop in a very big bucket. If we secured participation in the electoral college via a constitutional amendment tailored for small territories, it is unlikely to be more than one vote. Given the present size of the electoral college (438) this will hardly place us in a swing state type position.
While in practical terms a presidential vote would secure the Virgin Islands little more than symbolic participation, it might have negative practical consequences. As a territory, we enjoy significant economic benefits that a state does not have. We do not pay taxes into the national treasury but receive substantial benefits from it. Total federal grant funding for 2019 came to about $239 million dollars, according to figures released by the VI Office of Management and Budget. That is a major chunk of our territorial economy and one for which we pay nothing. Our present political status means that we can secure programs like the rebate of federal excise taxes on locally produced rum, resulting in a major revenue stream that serves as security for our bond issues. No state can do the same.
At present, national awareness of the Virgin Islands' political and economic relationship to the continental United States is very low. But if a well-publicized drive for a presidential vote changes that, questions about our economic arrangements would be raised. Why should we be granted fuller participation in national politics but not pay our fair share to the national treasury?
At present we enjoy effective self-government akin to that of a state. We elect our governor and legislators, manage essential programs, and provide for public safety. While there are still areas where we are treated unequally in federal programs, effective lobbying could change that. If we take a hard-eyed look at our present relationship with the United States, the question of why we need the presidential vote is not easily answered. It is not only unlikely to happen but even if it did, [it] would produce little political benefit and possibly create negative economic consequences. Our emotions and democratic principles may move us in one direction but practical realities in another.
But don't despair. There are ways of being involved in this presidential contest that may be even more effective than simply voting. Contribute to the candidate or party of your choice, or one of the many organizations that support him or her. Join a group that advocates for a cause you favor and will work to elect a sympathetic president. Encourage friends and family on the mainland that share your views to get to the polls or mail in their ballots. If you take up residency on the mainland and establish eligibility, register and vote. There are more ways to skin a cat than one and more ways to influence this year's crucial presidential decision than voting.
Editor's note: Paul Leary, Ph.D., is a Professor Emeritus of Political Science, University of the Virgin Islands.