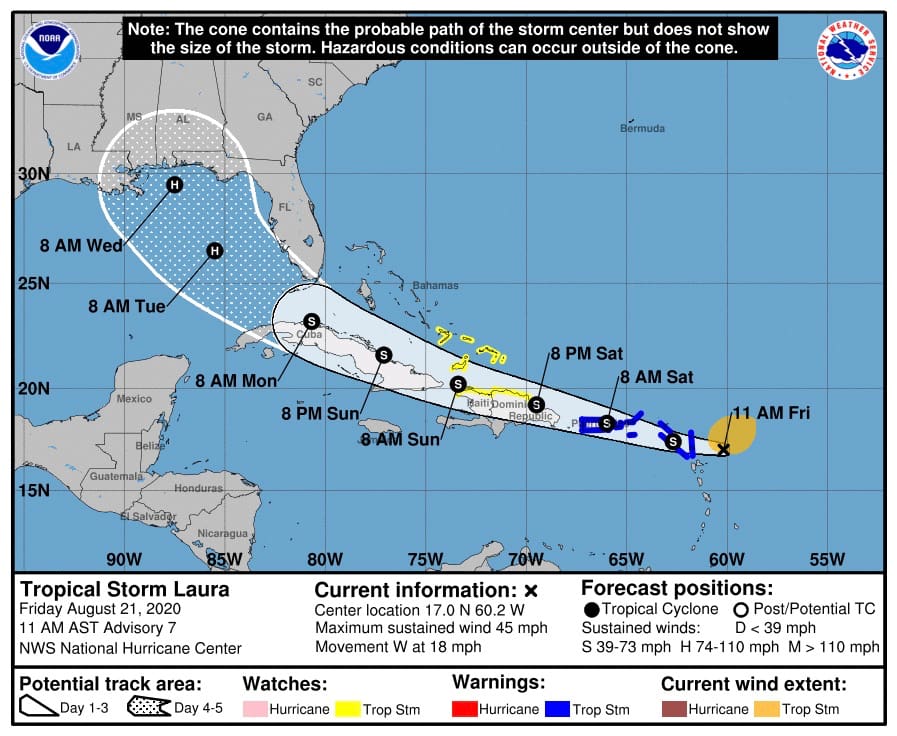 The storm bearing down on the Virgin Islands has been upgraded to Tropical Storm Laura, with maximum sustained winds of about 45 miles an hour.
The approach of Tropical Storm Laura prompted the U.S. Coast Guard to declare Port Condition Zulu Friday morning, closing the ports in the U.S. Virgin Islands and Puerto Rico, and the National Weather Service to issue a tropical storm warning and coastal flood and high surf warnings.
A tropical storm warning means tropical storm-force winds are expected somewhere within this area within the next 36 hours.
A coastal flood warning, which is in effect from midnight Friday to 2 a.m. Sunday, means significant coastal flooding is expected. The high surf warning means dangerously large breaking waves from eight to 18 feet tall are expected.
Data from a Hurricane Hunter aircraft Friday morning found that the center of Laura is farther south of the previously-estimated position, increasing the potential for greater effect on the Virgin Islands. Laura is expected to move mainly west-northwestward on the south side of a subtropical high pressure system over the next couple of days.
At 9:05 a.m. Friday the center of Laura was estimated near 17 degrees north, 59.8 degrees west, or about 230 miles east of the northern Leeward Islands. Movement is to the west at 21 miles per hour.
Port Condition ZULU
The U.S. Coast Guard Captain of the Port San Juan set Port Condition ZULU at 8 a.m. Friday for all maritime ports in the U.S. Virgin Islands and Puerto Rico, due to Tropical Storm Laura.
During Port Condition ZULU, the ports will remain closed to all vessel traffic unless specifically authorized by the Captain of the Port, while vessel cargo operations are suspended, including bunkering and lightering.
Owners and operators of recreational vessels should follow the small craft advisories from the National Weather Service, and take the necessary measures to safeguard the safety of their vessels.
Once the storm has cleared the area, Coast Guard port assessment teams will assess the condition of port facilities and navigable waterways. Following a satisfactory assessment of the waterway, including critical aids to navigation, the Captain of the Port San Juan will reopen the port for vessel traffic and port facilities to resume normal operations.