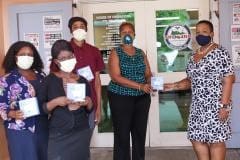 As part of its social commitment to the Virgin Islands, and in response to the public health emergency caused by COVID-19, Popular Bank recently donated 5,000 KN95 face masks to various medical centers in U.S. Virgin Islands and the British Virgin Islands. The effort was made as part of the National Health Center Week, which took place from Aug. 9 to 15, 2020.
"The donation was made to not-for-profit health care facilities outside of the primary hospitals that do not have access to major donations of personal protective equipment supplies," said Oran Roebuck, senior vice president of Popular's Virgin Islands region.
The financial institution distributed the masks in three medical centers that provide direct services to the communities. The Frederiksted Health Care Inc., a community based, non-profit health care center with three locations on St. Croix received 2,000 KN95 masks. The St. Thomas East End Medical Center Corporation, a federally qualified non-profit provider of comprehensive primary health care service on St. Thomas, received 2,000 masks as well. Finally, the BVI Health Services Authority, a client-centered health care facility in Tortola, received 1,000 KN95 masks.
"The masks were donated, in celebration of the National Health Center Week, to show support and appreciation for the access to affordable health care that community centers provide to the public," said Roebuck. The 2020 National Health Center Week theme was "Community Health Centers: Lighting the Way for Healthier Communities Today and in the Future."
In the USVI and in the BVI, Popular is providing more than financial products and services to its communities. Now more than ever, during a global pandemic, the financial institution believes that its well-being is closely tied to the well-being of each of the communities it serves.