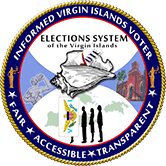 Supervisor of Elections Caroline F. Fawkes announces the reopening of Elections System of the Virgin Islands offices territorywide on Tuesday, Aug. 18. Office locations and times are as follows:
St. Croix Elections Office at Sunny Isles Annex, Unit 4
(10 a.m. to 2 p.m. daily)
St. Thomas Elections Office at Lockhart Gardens (upstairs from Banco Popular)
(10 a.m. to 2 p.m. daily)
St. John Elections Office at Market Place Suite II
(Tuesdays and Thursdays from 10 a.m. to 2 p.m. daily)
Items required to register:
Birth Certificate or
Passport (United States) or
Military Discharge form (DD214) or
Naturalization Certificate
Note: Copied documents will not be accepted.
Masks or facial covering must be worn correctly covering the nose and mouth, hands must be sanitized before entry, and temperature screening and six-foot social distancing are required.
If there are questions, contact the offices at 773-1021 (St. Croix) or 774-3107 (St. Thomas).
Remember Your Voice is Your Vote and Your Vote is Your Voice