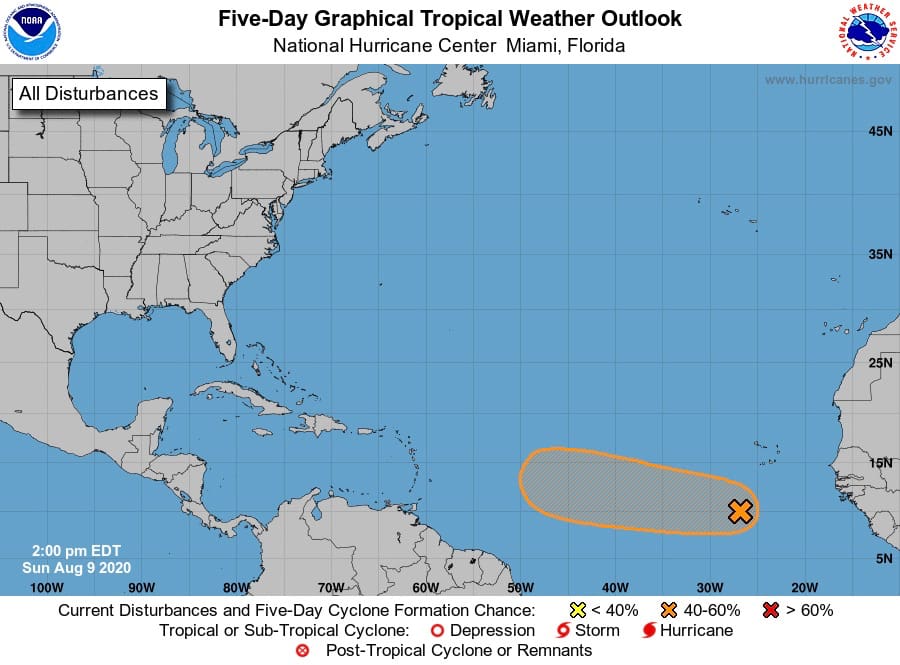 Showers and thunderstorms associated with a tropical wave a few hundred miles south-southwest of the Cabo Verde Islands continue to show signs of organization, the National Hurricane Center reported in its 2 p.m. Sunday update.
The NHC gave the system, designated as Invest 95-L, a 50 percent chance of tropical development in the next five days. Wind shear is minimal, and the disturbance appears to be embedded in an area of moist air that will favor development in the short-term.
At the same time, the agency pointed out that satellite-derived wind data from Sunday morning indicated that the circulation remains elongated. Further down the road, there is a large amount of dry air present near the Lesser Antilles with increased wind shear values along 50 degrees West. Should these more unfavorable conditions persist, Invest 95-L will likely meet its demise later this week.
Environmental conditions appear conducive enough to support additional development of this system, and a tropical depression could form during the next few days while it moves generally westward at 15 mph across the tropical Atlantic. Conditions are likely to become less conducive for development late this week.