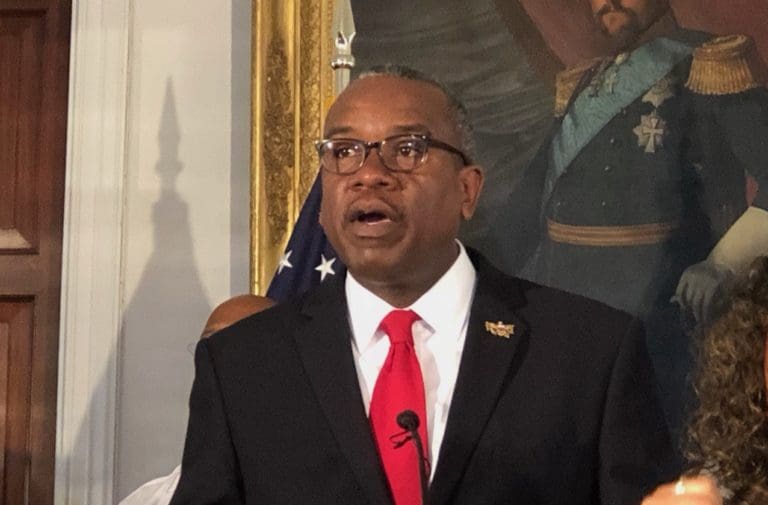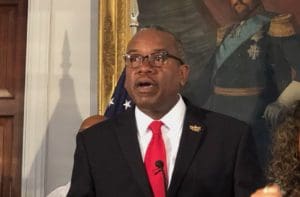 Gov. Albert Bryan Jr. began his weekly COVID-19 briefing on Monday with a plea to residents to unite against the gun violence that has been plaguing the territory and come forward with information about recent homicides.
"Today, I want to address another serious public health and safety issue here in our territory. That matter is gun violence," Bryan said. "Unfortunately, we have lost eight people to the coronavirus here in the territory since we officially began our response in March. In that same timeframe, we have lost almost three times as many Virgin Islanders to senseless gun violence."
Bryan said it is easy to point the finger at law enforcement, but the hard truth is that no law enforcement strategy that does not involve information and cooperation from the community will stop gun violence from reoccurring.
"The VIPD is working hard and is making progress in apprehending many of these violent offenders, but they can use your help," Bryan said, citing the $15,000 reward offered for information leading to the arrest of the perpetrators of the Hospital Ground shootings in April, and the $60,000 reward for information about the murders of Aaron and Rique Ashby in Tutu Valley last month.
Residents can report a crime by calling 911 or use the anonymous tip line, Crime Stoppers USVI, at 1-800-222- 8477. Information that helps resolve a case can make the caller eligible for an anonymous cash reward.
The governor also called on the community to come out in support of pending legislation that could help tackle some of the root causes of gun violence in the territory, including a series of initiatives to improve mental health services and public access to them. A bill to merge Fire Service and Emergency Medical Services under the Health Department has also not been acted upon, which Bryan said would help increase response time to crime scenes. He also advocated for the passage of a bill reactivating the While Collar Crime Unit under the V.I. Attorney General's Office and a Mass Gatherings Act that could eliminate situations in which fights and shootings can break out.