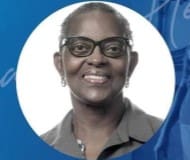 Donna Elizabeth Henley died on July 12.
The first viewing will be held from 1-3 p.m., Thursday, July 30, at Turnbull's Funeral Home. The second viewing will be from 9-10 a.m., Friday, July 31, with services to follow at 10 a.m. Interment will be at Western Cemetery No. 3.
She is survived by her son, Rehalio Henley; granddaughter, Isabelle Henley; brother, Julien Henley Sr.; sisters: Yvonne and LaVerne Henley and Lena Henley-Thompson; uncles: James Franklin, John Alfred and Thomas White; aunts: Gladia Matthews and Catherine Faulkner; nephews: Riel, Deneen, Renel and Jaime Frazer, Vanley Ludvig and Julien Henley Jr.; and nieces: Tisha Lennard, Kai Mulley, Kim Ludvig, Lezlie Weaver and Jordan Henley.
She is also survived by grandnephews: Tyrell Bell, DeKai Mulley, Veejay Glasford, Nakari Drew, Jeremiah Ciprian, Riel Frazer Jr., Jace Frazer, Shaquille Ludvig, Adonis and Dayo Weaver, and Tyree Henley; grandnieces: Symra Hendrickson, JoDeen and Jeanette Frazer, Neyteri Henley, Mia Van Holten, Arianna, Iyland and Kali Frazer, and Khaleesi Weaver; great-grandnephew, Trent T. A. Thomas; brothers-in-law: Charles Frazer and Darril Thompson; sister-in-law, Shyra Raymond-Henley; and special friends: Lydia Blyden, Myrna George, Norraine (Stacie) and Carol White, and the CAHS Class of 1972.