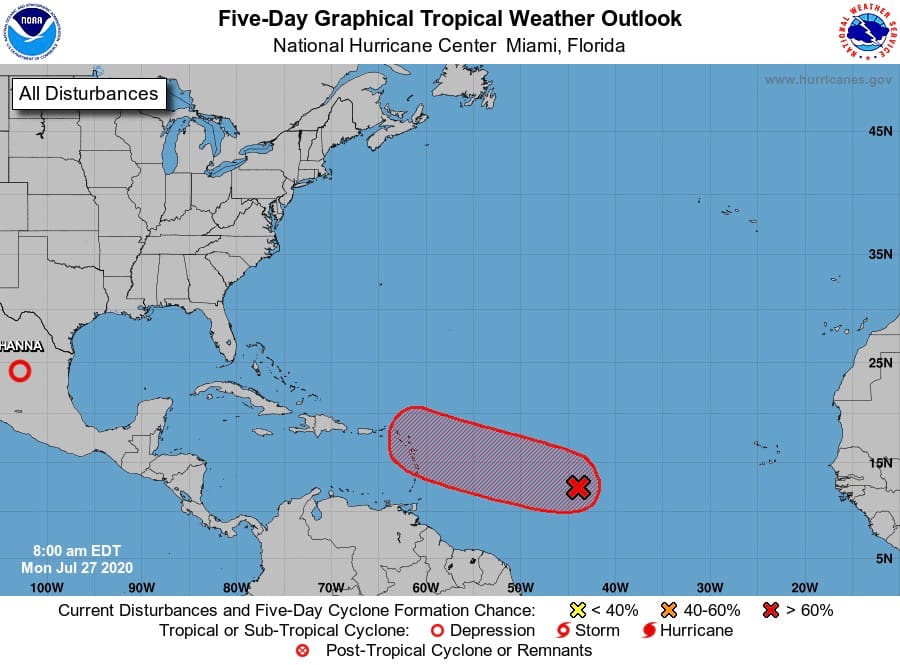 A broad area of low pressure a little more than 1,000 miles east of the Windward Islands is expected to develop into a tropical depression or tropical storm within the next couple of days, the National Hurricane Center predicted Monday, and while it could change, the initial storm track shows it on a path towards the U.S. Virgin Islands.
The Federal Emergency Management Agency urged residents to make their storm preparations now, so they won't be caught unprepared at the last minute.
In its 8 a.m. Monday update, the NHC projected the system, designated Invest 92-L, moving westward to west-northwestward at 15 to 20 mph. It could begin to affect portions of the Lesser Antilles on Wednesday or Wednesday night.
The NHC gave the system an 80 percent chance of tropical formation through the next 48 hours, and a 90 percent chance of developing into tropical cyclone formation within the next 5 days.
Showers and thundershowers activity is more concentrated to the southeast of the low-pressure system, and there is still a broad circulation associated with the system. But a burst of concentrated showers and thundershowers could mean the circulation will attempt to reform near the deeper thundershower activity. If that is the case, all current guidance of the forecast models, which are projecting a much further north circulation, becomes void.
According to an advisory issued Monday morning, FEMA urged all residents to prepare to be self-sufficient in the immediate aftermath of a hurricane and take steps to protect their property.
These may include:
– Create a support network and maintain contact with those who can assist you. Keep a contact list in a watertight container in your emergency kit. Learn more at www.ready.gov/kit.
– Inform your support network where your emergency supplies are kept. You may want to give someone in your support network a key to your home.
– Plan for accessible transportation to evacuate or get to a medical clinic. Work with local services, public transportation or paratransit to identify local or private accessible transportation options.
– If dialysis is part of your health maintenance plan, know where multiple facilities are located.
– Determine how to use medical equipment in the event of a power outage.
– Wear medical alert tags or bracelets.
– If you have a communication disability, make note of the best way to communicate with you in an emergency.
– Plan how to evacuate with assistive devices or how to replace equipment if it is lost or destroyed. Write down model information and note who provided it, such as Medicaid, Medicare or private insurance. Add this to your watertight container with your other important documents.
– If you have a service animal, be sure to include food, water, identification tags and supplies. It is also important to have cash in your kit in case you need to purchase supplies.
For people who are deaf or hard of hearing, preparations should include:
– A weather radio with text display and a flashing alert along with extra batteries.
– Extra hearing-aid batteries.
– A headlamp to illuminate people with whom you are communicating.
– Pen and paper in case you must communicate with someone who does not know sign language.
FEMA suggested people who are blind or have low vision should include:
– Marking emergency supplies with Braille labels or large print. Keep a list of your emergency supplies on a portable flash drive or make an audio file that is kept in a safe and is accessible.
– Keep a Braille or deaf-blind communications device in an emergency supply kit.
FEMA's tips for people with a mobility disability include:
– If you are using a power wheelchair, have a lightweight manual chair available as a backup. Show your support network how to operate your wheelchair.
– Know the size and weight of your wheelchair and if it is collapsible for transportation.
– Keep an extra mobility device such as a cane or walker, if you use one.
More information on preparing for tropical weather is available online.