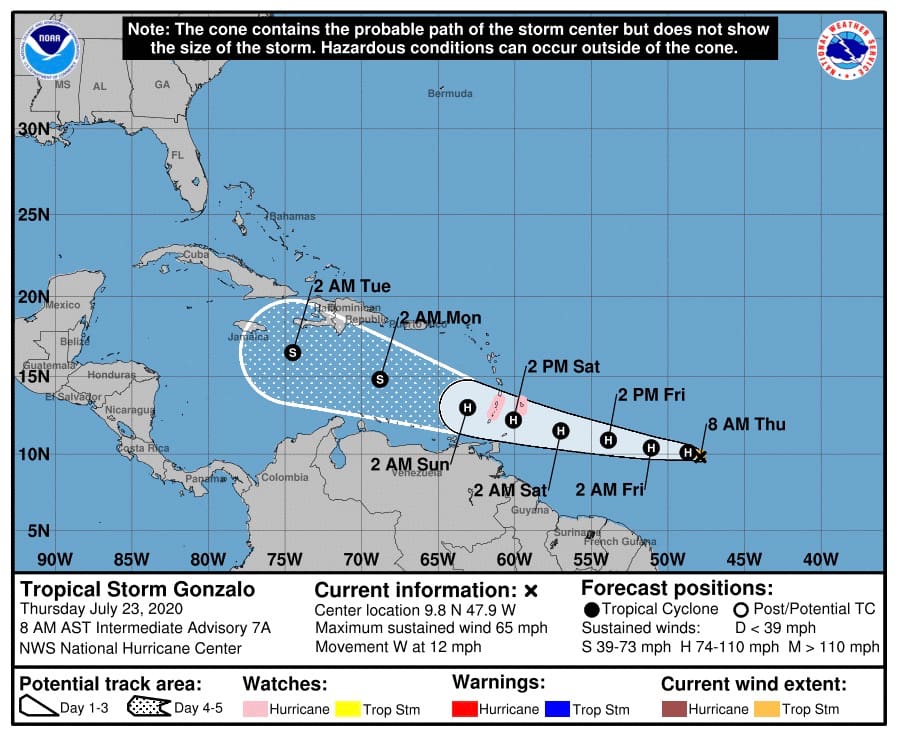 Tropical Storm Gonzalo is bringing an increasing risk of wind and rain impacts to the southern Windward Islands this weekend, the National Hurricane Center reported, although there is "significant uncertainty" in how strong the weather system will be.
Hurricane watches are currently in effect for Barbados and St. Vincent and the Grenadines. The NHC's track indicates the storm is likely to pass south of the U.S. Virgin Islands.
According to the NHC's 11 a.m. update, overnight data shows that Gonzalo's center is a little farther south than has previously been estimated. In addition, the storm's structure has become "a little disheveled "since Wednesday.
Forecasters are still uncertain of how strong Gonzalo will be when it reaches the Windward Islands and enters the Caribbean.
"There is still an incredible amount of uncertainty in Gonzalo's intensity forecast," the 11 a.m. update said. "Sea surface temperatures to the east of the Windward Islands are warm – close to 29 C – and the storm is likely to be moving through an environment of relatively light shear at least for the next 48 hours or so. The ambient environment is not particularly moist … and it already appears that this dry air is affecting Gonzalo."
The NHC said small cyclones like Gonzalo tend to succumb to any type of adverse environmental conditions quite easily, and it's possible that the system could struggle during the next couple of days.
On the other hand, the hurricane statistical and dynamical models continue to show Gonzalo strengthening to a hurricane before it reaches the Windward Islands.
"Out of an abundance of caution, the official forecast continues to show Gonzalo becoming a hurricane in about 24 hours, but the uncertainty in this scenario cannot be stressed enough," the NHC said.