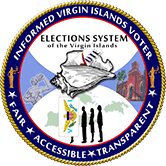 Early Voting continues to be suspended in the St. Thomas-St. John District until further notice. The Department of Health is providing guidance on the reopening of facilities in the St. Thomas-St. John District. Additional information will be forthcoming in a Wednesday, July 15, press release. On behalf of the Elections System of the Virgin Islands (ESVI), Supervisor Caroline Fawkes is requesting voters' patience as all of us get through this pandemic together.
Fawkes reminds voters that any qualified elector can vote by absentee ballot in the 2020 Primary and General Elections to ensure that electors are not disenfranchised by COVID-19. Absentee Ballot applications can be found on the ESVI website at www.vivote.gov. Voters are encouraged to use the election process that is best for them, but participation is key, Fawkes emphasized.
The number of electors who participated in Early Voting on Monday, July 13, 2020, in the District of St. Croix was 36 for an eight-day total of 305. St. Thomas-St. John numbers were last reported on Thursday, July 9, 2020. Early voting continues in the St. Croix District on Tuesday, July 14, 2020, to Sunday, July 26, 2020. Voting hours are from 9 a.m. to 3 p.m. The St. Croix office location at Sunny Isle Annex, Unit 4
For questions or concerns, contact the St. Croix Elections Office at 773-1021 until further notice.