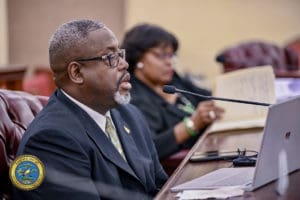 At a budget hearing Friday, members of the Senate Committee on Finance grilled Virgin Islands Department of Property and Procurement Commissioner Anthony Thomas about having too many high-paying leadership positions within the department.
"I'll just be frank, we have too many individuals in leadership. The way government was structured before, you had a commissioner and assistant commissioner, done. Now you're having multiple assistant commissioners, multiple deputy commissioners … and we are just not seeing what all these management positions are bringing in terms of being able to expedite, or in terms of being able to bring about change," Sen. Kurt Vialet said.
The department has 36 positions currently filled and funded by the General Fund; their salaries collectively are $1.8 million. The department also has another 37 filled positions that are funded through business and commercial properties collections, whose salaries total $1.8 million. The department reported five positions that remain vacant with salaries totaling $218,070 and proposed an additional 17 personnel positions be filled with collective salaries of $909,259.
"We're hearing all these positions and then we are hearing 'well, we need an additional position here, we need an additional position there,' and all my sense says, 'Why didn't they just put someone there instead of bringing on additional deputies, additional assistants?' At some point, for a small department, you are going to have six leadership positions – two assistants and four deputies. And that is quite a bit," Vialet said. "We have more management than we have actual individuals who are doing the work."
Thomas defended the personnel budget, saying there are two property deputies, one transportation deputy and one procurement deputy. The role of the assistant commissioner on St. Thomas "is second in charge to me and the procurement warehousing section. The St. Croix one is sustainability, transportation and property oversight."
Sen. Donna Frett-Gregory agreed with Vialet and said the department should not have so many managers when they do not fulfill specific roles.
"When someone sits in a position there must be an intended outcome from that position … You can't put position on top of position and have a director of this and assistant commissioner of that, deputy of that," she said.
Frett-Gregory also speculated that some positions may be held by people who aren't entirely qualified. When asking Assistant Commissioner Jozette Cantois what qualifies her for the $90,000 salaried position, Cantois said her highest earned degree is an associate of arts. This position earns only $15,000 less than what Thomas makes as commissioner.
Vialet said the department, and government entities in general, need to be cautious about moving forward with so many assistant management appointed positions, calling the positions "fluff."
"I would also caution that those management positions need to have people that have the skill set to be able to manage that particular position. We are seeing a bunch of political hires that don't know nothing about the job they are going into," Vialet said.
These managerial positions were not the only positions lawmakers had problems with. Thomas said he wanted to start a legal division that would require two costly positions – one chief legal counsel position with a $100,000 salary and a legal advisor position salaried at $90,000.
Frett-Gregory said she had never heard of a legal advisor position being needed. When questioned by her, Thomas said he hadn't heard of the position either until after working for the department.
Between the General Fund and funds from business and commercial properties collections, the department budgeted expending a total of $4.9 million in staff salaries for FY 2021.
The entire FY 2021 operating budget for the department is proposed at $20 million, of which 50 percent will come from the General Fund and 36 percent will come from business and commercial properties collections. The remainder of the agency's funding comes from several internal and intergovernmental sources, including collected rent and printing charges.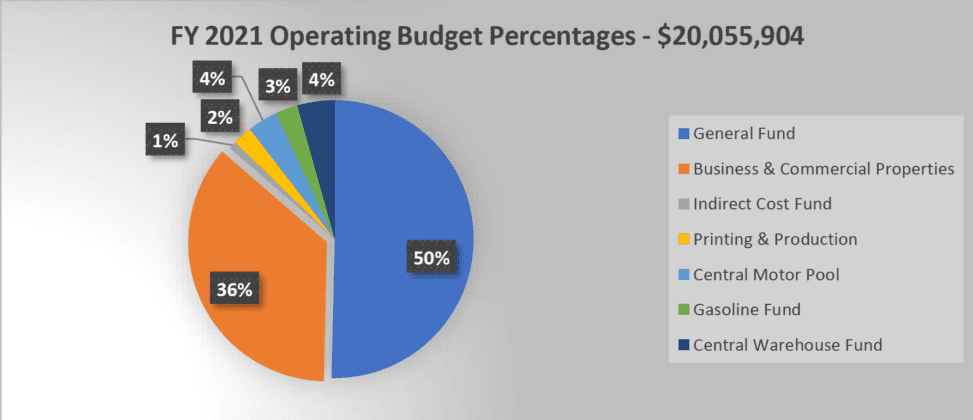 All committee members – Sens. Vialet, Frett.-Gregory, Janelle Sarauw, Marvin Blyden, Oakland Benta, Allison DeGazon and Dwayne DeGraff – were present for the Finance hearing.