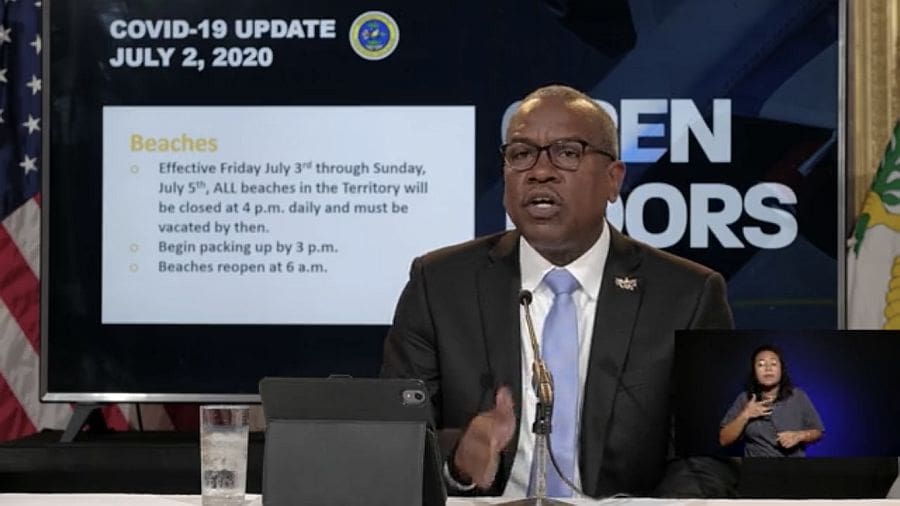 With a total positive COVID-19 count of 98 as of Thursday evening, Gov. Albert Bryan Jr. announced new restrictions on beaches starting Friday and at bars effective immediately. Six new cases of COVID-19 were announced on Thursday evening and 103 cases are pending – a concerning increase over the last several days.
In a press briefing Thursday, the governor said to help keep the numbers from increasing over the long holiday weekend, all beaches in the territory will close at 4 p.m. from Friday to Sunday and reopen at 6 a.m. the next day.
"And that doesn't mean leave at 4 p.m. if you are at the beach. It means start packing up at 3 p.m. so you can get home by 4 p.m.," the governor said.
Asked whether it would not have been better to shut them down completely, Bryan said his team weighed heavily the options. Giving families something to do during the long weekend was ultimately most important, particularly as cases of depression are on the rise, he added.
Effective Thursday night, the last call for all bars in the territory is set for 11 p.m., with a final shutdown by midnight. Sales of alcohol by gas stations, convenience stores and other vendors must also stop at 11 p.m., and Bryan said this will be in effect until further notice, with sales again resuming at 6 a.m. the next day.
"Just one errant carrier can wreak havoc on our delicate health care system by creating dozens of infections," Bryan said. "Going into this long holiday weekend, we have taken some preemptive measures to help reduce the recurrence of these types of incidents, particularly at our bars and at the beaches."
Bryan said one of the challenges in terms of preventing infections this week has been St. Croix's Limetree Bay facility, which he described as the territory's largest private employer. Contractors and subcontractors coming in who may be COVID-19 positive have the potential to expose all workers with to virus, immediately "putting many local families at risk," Bryan said.
Protocols at the facility include daily temperature scans upon entry, mask-wearing and the weekly reporting of all contractors traveling into St. Croix, but as another safeguard, Bryan said Limetree has partnered with the government to require all contractors arriving from the mainland to quarantine for 72-hours and test negative for the virus before heading into work. Contractors who test positive will remain in quarantine, however, until they are fully recovered, he added.
"These protocols have been relatively effective in reducing the transmission of the virus within the Limetree facility. In fact, it is the very same protocols that are identifying individuals before they have access to the Limetree facility and our residents and guests who work there," the governor explained. "However, circumstances have evolved since we first put these protocols in effect. We are now seeing a resurgence of the virus, particularly in the states where many of the contracted refinery workers are traveling from."
Visitors traveling from states with high infection rates – such as Texas and Florida – are also asked to quarantine for 14-days if a negative test is not produced within 72-hours of entering the territory. Visitors who opt not to take a test upon arrival are asked to quarantine for 14 days, Bryan said.
"We're putting together the list of states that will be there, most definitely Texas is one of them, and Florida, as they are certainly starting to spike at this point," Bryan said.
According to a press release issued Thursday evening after Bryan's address, "There is no official policy in effect regarding COVID-19 testing for visitors coming to the Virgin Islands … Bryan mentioned a number of issues that are part of an internal discussion regarding visitors traveling to the territory." The release clarifies that the additional protocols mentioned by Bryan have not been implemented.
Bryan also asked residents to do their part by continuing to wear masks in public. At this point, 3,164 individuals have been tested to date, with 2,963 tests coming back negative and 98 positive; 75 people have recovered. Another 103 tests are pending, and Bryan said Thursday that one patient is hospitalized and on a ventilator at the Gov. Juan F. Luis Hospital on St. Croix, while a second – who has tested negative but is still recovering from COVID-19 – remains hospitalized on St. Thomas. Both patients are in stable condition, he added.