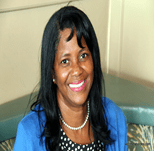 The Rotary Club of St. Thomas II held a virtual installation of its 42nd president and 2020-2021 board of directors at noon, Wednesday, July 1.  This installation of Rotarian Vernice Gumbs as president signifies the commitment and dedication of Rotarians throughout the world who have found ways to continue "Service Above Self" even during these most difficult times.
The newly installed 2020-2021 board of directors includes: Loretta Lloyd, vice president; Albert Richardson, president elect; Jerry Smith, immediate past president; Merle Kiture-Morgan, secretary; Sheri Charles-Rogers, treasurer; Damico Nicome, membership chair; Jamilya Christopher, public image chair; Anette Williams, foundation chair;  Mittie Benham, director; Andrea Dorsey, director; Janice Hodge, director: Feldear Webster-Liburd, director; Ovid Williams, director; and Shaniece Charlemagne, director.
Since hurricanes Irma and Maria and the current Covid-19 pandemic, Rotary St. Thomas II, along with the 34,000 Rotary clubs in more than 200 countries and geographical areas throughout the world, has remained strong, adapting to the newly developed needs of its membership and the required service above self to its communities despite facing difficulties of operating, and personal adversities among its members.
Rotary District 7020, with 12 countries and 16 islands, including the U.S. Virgin Islands, held its first virtual conference last month in Tortola with almost 600 people in attendance during 3 days of meetings.
 About the Rotary Club of St Thomas II President-elect Vernice Gumbs:
Rotarian Gumbs is a proud graduate of the Charlotte Amalie Hight School class of 1985. Upon graduation, she enrolled at Morgan State University where she graduated in the class of 1989 with a Bachelor of Science degree in Management Information Systems Rotarian.
After returning home in 1990, Gumbs began her career with the Virgin Islands Telephone Company (VITELCO) before accepting employment with the Virgin Islands Government Department of Finance's Home Protection Roofing Program as a chief financial officer. Her career with the V.I. Government spans over 22 years within the Department of Justice's Paternity and Child Support Division and the Virgin Islands Legislature, respectively. Most recently, Gumbs has taken time out from work to serve as caretaker to her mom.
She is affiliated with many other organizations to include: president of her high school class, board member of St. Andrew Seek and Serve Outreach, and past president of the American Cancer Society, where she also served as chairperson for Relay for Life in the St. Thomas District.
Gumbs enjoys spending time with her family and is the proud mother of three beautiful girls.