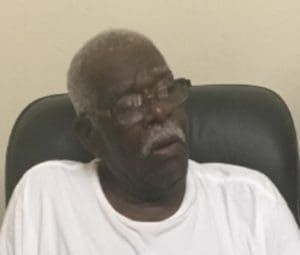 Nanton A. Moses died on April 19.
The viewing will be held at 9 a.m. followed by a funeral service at 10 a.m., Wednesday, June 17, at Turnbull's Funeral Home. Interment will be at Eastern Cemetery, Smith Bay (Crypt).
He is survived by his sister, Elena Moses Eaton; brother, Lorne Moses; brother-in-law, Alonzo Eaton; sister-in-law, Ingrid Moses; adopted daughter, Michelle Turnbull; and nieces: Sarita M. Malone, Daniella M. Malone, Lorna A.C. Thomas, Rosa C. Thomas, Yvette Fogg, Kalamis M. Moses, Monique Robinson, LeAnn Powell, Lenean Powell, Linnea Powell, Cicely Barthlett-Francis, Celina Barthlett, Cindylou Barthlett-Monsanto, Alexis Barthlett, Avril Barthlett, Allison Barthlett Bussue, Arlene Barthlett-Lake, Anita Barthlett, Ingrid Tyson, Tesha Tyson, Cherese Tyson, Cecilia Dixon, Bericia Osborne, Denise Cartier, Michelle Cartier, Desiree Maranda, Tanya Chesterfield, Shira Thomas, Charisma Chesterfield, Shemika Chesterfield, Sonji Foy, Nyasha Foy and Tulani Foy.
He is also survived by nephews: Roy Malone Jr., Andre Malone, Senator Shawn-Michael Malone, Karibe Moses, Jhon Moses, Ian Moses-Eaton, Leayle Powell, Leborne Powell, Leon Powell, Louis Powell, Rolando Barthlett Jr., Roland Barthlett Sr., Kwane Barthlett Sr., Angel Barthlett, Albe Barthlett, Anthony Barthlett, Alex Barthlett, Michael Cartier, Anselmo Harris Jr., Mitchell Cartier, Keith Cartier, Alaric Chesterfield Jr., Ivah Chesterfield Jr., Almen Chesterfield, Ira Chesterfield III and Branch Colvin; and cousins: Ferenecia Francis, Alaric Chesterfied, Ivah Chesterfield Sr., Rudolph V Foy MD, Liston Powell, Leborne Barthlett and Stanley Tyson.