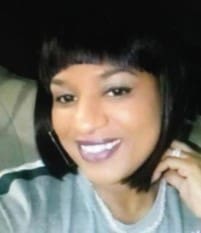 We, the family, regret to announce the passing of our dearly beloved daughter Chekasha T. Richardson, who died at the age of 41 on May 15 on St. Thomas, U.S. Virgin Islands.
It's been often said that life is not measured by the love shared, but the memories made and the joy given. During her lifetime she was humble, an awesome mother, great sister, cousin, niece, mentor, friend, peacemaker and provider. She was a wonderful daughter, and the light that she carried was filled with life, hope and love.
She was preceded in death by her grandparents: Helen Stamers and Urell Richardson of Anguilla; great-grandparent, Ruth Williams of Antigua; aunties: Anita Tonge and Ellave Richardson; uncles: Wayne Lloyd, Walston Tonge Jr., Hugo Richardson, Reynell Gumbs and Leonard Richardson Sr.; and cousins: Jeanilla Stamers and Jahiel Joefield.
Her loved ones left to mourn are her parents: Bernadette Richardson ("Mother") and Atchely Richardson Sr. ("Father"); her beautiful children: M'Calah and M'Layah Monsanto, Asheemo O'Loughlin and De'oante Stewart; her brothers: Davon Tonge, Atchley Richardson Jr. and Ashri Richardson; sister, Shavon Richardson; grandparents: Walston Tonge Sr. of St. Croix and Albert Gumbs Richardson of Anguilla; aunties: SherriAnn Francis, Dorothy Dyer, Joycelyn Turnbull, Stacy Gumbs, Elvina "Venitta" Tonge, Shavonne Tonge Dawson and Angela Diab; special aunties: Ethlyn Stamers, Elvina "Ell" McIntosh, Judith Stevens, Blondelle Jeremy, Julie Ann Airall, Uralis Fraites, Kathy Tonge and Edris Stamers; and uncles: Darol "Akudoo" Stamers Sr., Bob Tonge, Burgantine "Beman" Tonge, Romeo Archibald, Rodriquez Tonge and Calito Tonge; nephews: Jaidon Phillips, Kyode "Jahiem" Richardson, Ashri "Tre-Tre" Richardson and Ashton Richardson.
She is survived by nieces: Tinayah O'Neil, Jenee Richardson, Jaida Phillips, Kaleigh Richardson, Faith Richardson, Rylee Richardson and Kylee Richardson; cousins: Kimberly Frett, Sherraine Lewis, Jonique Stamers, Reiha Thomas, Jonisha Stamers, Nehshae Stamers, Sherikha Lewis, Jeanell Stamers, Journee Butler, Jamore Crooke, Jacent and Jaheal Crooke, Lydia Richardson, Tyneisha Richardson, Lynette Richardson, Jevon Lloyd, Jequan Foy, Kahlil Crooke, Noah Stuart, Shane Taylor, Darol "King K" Stamers Jr., Isaiah Stamers, Jahlique Joefiled, Lilyana and Melani Lloyd, Giovanni Lloyd, Kenneth Gumbs, Reynell Gumbs Jr., Gregory Taylor, Tyba Isaac, and Trinity Isaac, Ki'Ana "Kiki" Crooke, Claudio Brooks, Claude Brooks, Joyce Laware, Edward "Eddie" Haarmann, Teasia, Jacobi, Jevaeh and Jeleah Haarmann, Nikiah Lewis, Judich "Missy" Laware, Annisha, Ashibo, Ashile, Anniqua and Aadilah George, Kaidon and Kailon Young, Jah'Niah, Jah'Meyah and Jah'Asiah Applewhite, Serina Pedroza, Omar, Tianna and Jaime Paniagua, Jerrel Morales, Leonard Richardson Jr., Robert "Bobby" Laware Sr., Robert "Robby" Jr. and Sierra Laware, Renaldo Serrano, Delishya Benjamin, Delani Benjamin, Z'onna Charles, A'zaria Francis, K'hryah and Kerelle Harrigan, D'Shawn Alleyne, Nasir Nestor, Risheema Burke, Rishaun Burke, Allanah Dawson, Shevonique Dawson, Kenya Crump, Jahleed Tonge, Kahleed Tonge, Shaleed Tonge, Xandria Tonge, Niakuju Tonge, Janay Tonge, Khalia Tonge, Saedeek Tonge, Janai Tonge, Makai Tonge, Nicole and Jamalia Wilkins, Aiyana and Tehya Bowser, Ilijah Archibald, Joseph Richardson and Kevin Bailey.
She is also survived by sister-in-law, Tricia Richardson; godmothers: Rhoda John Lewis and Jannet Rouse; special god-sisters: Keachelle Williams, Dainee Grosvenor and Abbigail Charles; godchildren: Se'Jahne Sasso, Mikkell Basey Jr., Ledea Swanston, Samaiya Paul, Kishawn Richardson, Micha and Joshier Henry; adopted parents: Sherrill and Joseph Angol; adopted sisters: Jessie Henry, Genesse Turnbull, Taqua Scoon, Dancia and Abbie Elie, Sewann John-Lewis, Judy Richardson, Tenisha Turnbull, Jamisha Petty, Abbie Joseph, Bershel Joseph, Racheal Joseph and Valyne Toussaint; adopted brothers: Ben Joseph, Marvin Stevens, Emile Proctor, Umba Delsol, Daryn Hodge, Deanza and Daniel Hodge, and Valdo and Vallon Toussaint; special friends: Masika Hodge, Charlene Joseph, Myron "Blair" Thomas Jr., Debra Stridiron, Britt Henderson, Brandon Williams, Reiba and Renee Thomas, Latricia Bennett, Naila Hodge, Safiyah Galloway, Hashiem Phillips, Vernon Williams, Calvin Liburd, Frankie Gibbs and others too numerous to mention; pallbearers: Davon Tonge, Atchley Richardson Jr., Ashri Richardson, Daniel Gumbs, Jaidon Phillips and Jequan Foy; and honorary pallbearers: Jahlique Joefield, Se'Jahne Sasso and Kyode Richardson.