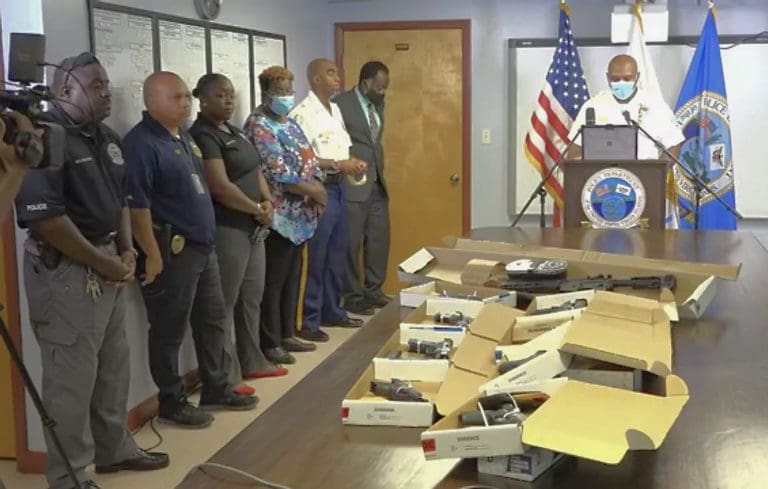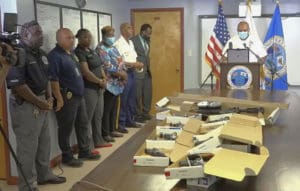 An investigation into two homicides on St. Croix has yielded four arrests and the recovery of 10 firearms, according to St. Croix District Police Chief Sidney Elskoe.
Elskoe announced at a news conference Tuesday that Jareem Tutein, Michael Cruz, Jose Osorio, Jr. and Oshanie Cornelius were arrested in connection with the murders of 19-year-old Selena Chitolie, who died of injuries sustained during a May 15 shooting in Estate Paradise, and 22-year-old Gyasi Chiverton, who was shot mid-January in the vicinity of Thomas Bakery in Estate Castle Coakley.
Search warrants turned up multiple guns – nine pistols and one rifle – that Elskoe said were not legally registered in the territory.
"These weapons are not legally registered in the Virgin Islands and appeared to be owned for one reason: these are crime weapons," Elskoe said. "The ownership is for violent criminal intent."
He added that to date, 34 illegal firearms have been seized on St. Croix, 19 alone during the month of May. Getting the recent 10 off the streets is a "major victory" in VIPD's war on gun violence, but there is much work left to do, Elskoe added.
Thanking the community for its support, Elskoe encouraged residents to call in with any information on the May 31 murder of 38-year-old Terrence James, who was found unresponsive from multiple gunshot wounds in the Times Square area of Christiansted. He was pronounced dead at the scene.
"Clearly, our work is far from over," Elskoe said. "We must remain vigilant in our collective battle against violent crime. If you see something, say something."
Residents can call Crime Stoppers USVI at 1-800-222-8477 (1-800-222-TIPS) or 911. Tips that result in the police clearing a case can qualify the caller for an anonymous cash reward.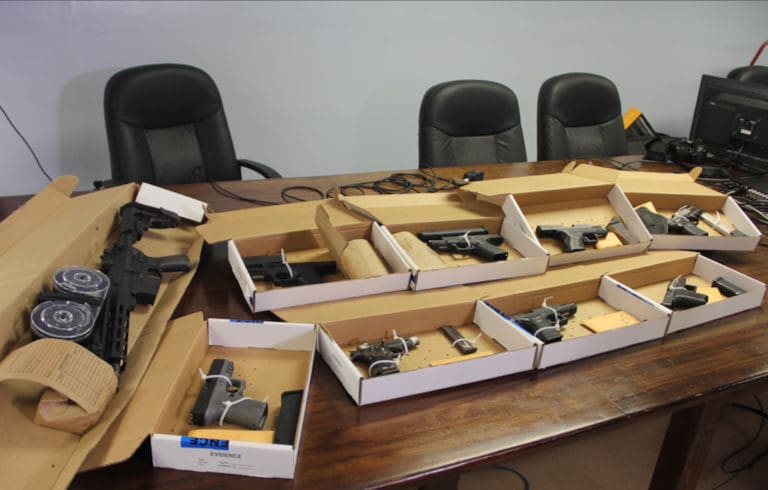 Elskoe said that VIPD's work has been overshadowed by the recent uptick in gun violence, including the recent arrest of 35-year-old Jonathan Scribner of Sprat Hall. Scribner was initially arrested on April 25 and charged with possession of an unlicensed firearm, and Elskoe said that a search warrant executed last week for his house turned up a homemade explosive device.
Police worked with the Bureau of Alcohol, Tobacco and Firearms, along with the Federal Bureau of Investigation, to secure the device and have partnered with the U.S. Attorney's Office to "charge Scribner appropriately."
A video of two men "lobbing" Molotov cocktails at the Point Udall Monument has also been circulating, and while the incident occurred last summer, Elskoe said Tuesday that police are aware of who the perpetrators are and are still investigating the case.
While Elskoe noted that none of the cases highlighted Tuesday had any connection to "the events on the current world stage," he did take a moment to say that police will support any peaceful protests that are organized, but will take action if anyone is hurt or property is destroyed.
"The foundation of the VIPD is constitutional policing. Our core values include protecting life and property in a lawful manner that ensures everyone's rights are protected," he said. "There are protests occurring as we speak on the worldwide stage. The VIPD supports everyone's right to peacefully protest. If you decided to protest, it will be conducted safely. While reviewing social media, I have observed a few local posts in which citizens with selfish agendas are attempting to instigate violent and destructive forms of dissent. Let me make something clear: The VIPD will not stand idly by and watch anyone's business, anyone's property, get unnecessarily destroyed. We will also not stand by and watch anyone come to any harm."
The four men arrested – Tutein, Cruz, Osorio and Cornelius – were each held on $50,000 bail with no 10 percent discount, the VIPD reported. None of the four were able to make bail, so they were turned over to the Bureau of Corrections.