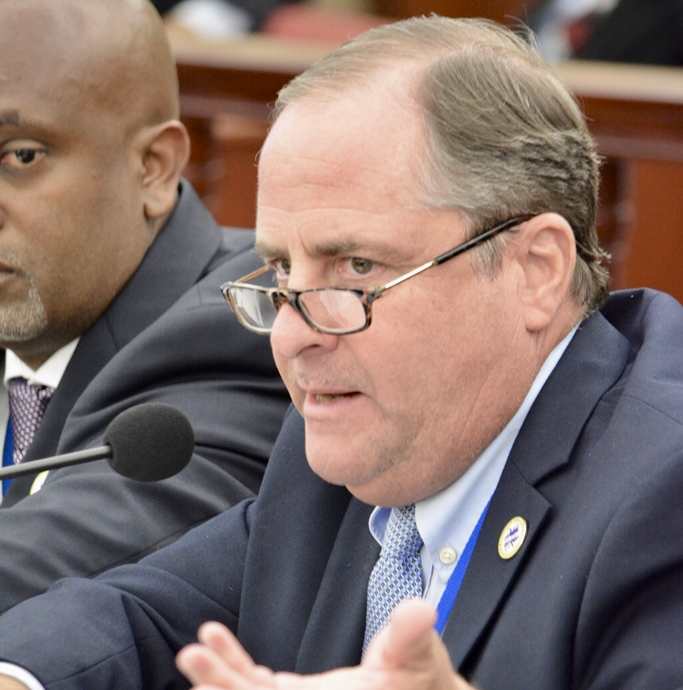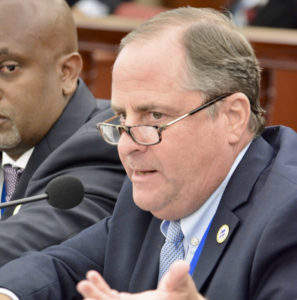 The Governing Board of the Virgin Islands Water and Power Authority (WAPA) on Thursday took favorable action on several items pertaining to long-term mitigation projects aimed at hardening the utility's electric and water systems.
The board awarded a $5.9 million underground project management contract to FX Bonnes, a company that has done work with WAPA in the past. The company will provide construction management services for projects in both districts to underground aerial transmission and distribution lines making for speedier service restoration from windstorm events. At the completion of the undergrounding projects, WAPA will make underground electrical service available to more than 50 percent of its customers.
Along the same lines, the board approved a 30-day extension and a cost increase to an existing contract for the reconstruction of the East End Electrical Substation on St. Thomas. The facility, damaged in the 2017 hurricanes, is essential to the safe and reliable functioning of the electrical grid, specifically, electrical transmission lines to St. John, distribution lines to Feeders 7D, 9D, and Ridge Road Feeder on St. Thomas.
The project was designed initially to replace hurricane damaged 38kV switchgear in a new reinforced concrete building at the site in Estate Nazareth and, at a future date, add a second building to house a 15kV switchgear. Changes to the building design were required to accommodate alterations in equipment type and configuration, and to add the 15kV switchgear. By expanding the size of the building and adding the 15kV switchgear, WAPA avoided costs associated with constructing a second building, a savings of approximately $800,000.
An additional building will only be required should there be a need for a 69kV switchgear at the substation site. The need for a 69kV switchgear is presently being evaluated.
Aside from the changes to the building design, the increased contract cost of $1.6 million covers the construction of a control building and extensive rock excavation at the site. More than 6,800 cubic feet of rock was removed at a cost in excess of $513,000. The control building houses all relays and other equipment for both switchgears as well as a standby generator for the facility.
The reconstruction of the East End Substation, at an overall cost of $3.4 million, is a federally funded project. The Federal Emergency Management Agency (FEMA) will pay 90 percent of the costs while the local 10 percent match is covered by Housing and Urban Development (HUD) block grant funding.
In other action, the board approved the following:
An increase in the contract term of 210 days for phase two of the Frederiksted Waterline Rehabilitation Project. Delayed payment of mobilization fees by WAPA and the effect of COVID-19 on the shipment of materials delayed the project. The contract was extended to January 2021.
The rescinding of a contract award for the container port underground construction project on St. Croix to allow for additional details to be provided to all responsive bidders and for the submission of amended proposals. The revised proposals will then be reviewed by WAPA staff and resubmitted to the governing board for consideration.
The execution of a one-year, $240,000 contract, with Sustainable Capital Advisors LLC to provide municipal advisory services as regards to capital planning, budget, and financing alternatives among other things.
A cost increase in existing contracts with security guard companies whose personnel will perform temperature screenings for employees, contractors and visitors at various WAPA facilities territory-wide.
In his monthly report, Executive Director Lawrence J. Kupfer informed board members that territorial power generation in April was at the same level as March, approximately 68 megawatts. "We have seen demand slowly returning to pre- COVID-19 levels in recent weeks, which could be attributed to either increasing electrical demand as days have gotten a bit warmer or the reopening of some businesses."
Fuel markets, he said, are still somewhat unstable and LPG prices have edged up a bit. Today, the price spread between both fuel types has LPG about 15 percent below the cost of oil.
Kupfer reported that St. Thomas generating Unit 15 is back in service. "We had some issues with it; we received assistance from Limetree Bay with a replacement breaker and along with another breaker from a WAPA unit on St. Croix, Unit 15 was returned to service on propane."
Unit 23, the largest generator on St. Thomas, is being dispatched regularly, as fuel issues have been resolved.  Water inventories are good, and the distribution systems are operating normally. "We have seen a bit of a dry spell, but we have managed to maintain inventory," Kupfer said.
Board members present included Chairman Anthony D. Thomas, Vice Chairman Noel Loftus, Secretary Juanita Young, Directors Kyle Fleming and Joel Lee, Cheryl Boynes Jackson, Elizabeth Armstrong, Jed JohnHope and Hubert Turnbull.