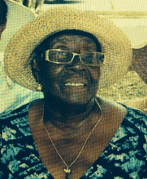 The family of Marjorie Adolphine announces her passing on May 7 from complications of COVID-19 in Miami, Fla.
Born on the beautiful Caribbean island of St. Kitts in the West Indies, Marjorie Agatha Adolphine later migrated to the island of St. Thomas in the U.S. Virgin Islands where she worked for many years with the Kean family, the Manassas Bus Company, the Cyril E. King Airport and, lastly, for the Department of Education at the Ulla F. Muller Elementary School.
Marjorie, affectionately called "Ms. Marge," was preceded in death by her mother, Agatha Adolphine (1988); and her two eldest children: Anita Adolphine Julius (2014) and Clyde Davis (2018).
She is survived by daughters: Tunia Adolphine Boon (Miami, Fla.), Cassandra Adolphine (Miami, Fla.), Concelia Adolphine (Brooklyn, N.Y.) and Audrine Adolphine (Brooklyn, N.Y.); sons: Nyron Adolphine (St. Thomas, USVI), Roy Warner (Tampa, Fla.), Dwayne Adolphine (Washington, D.C.) and Melvan James (Bronx, N.Y.); and sister, Sylvia Hobson (Brooklyn, N.Y.).
She is also survived by brothers: Melvan Hobson (St. Kitts, W.I.), Bertil Hobson (St. Croix, USVI), Spencer Hobson (St. Kitts, WI) and Audley Hobson (St. Thomas, USVI). Ms. Marge also leaves behind her many grandchildren: Keith Parry, Julian Adolphine, Negesti Adolphine, Nahal Boon, Nirobi Boon, Marlon Adolphine, Ricky Adolphine, Jahlia Adolphine, Jamelah Adolphine, Jacoy Adolphine and Jahkelah Adolphine.
Other surviving grandchildren include: Jamesha Adolphine, Kenya Mitcham, Kolene Mitcham Johnson, Karima Mitcham, Kiennema Mitcham Clause, Keema Fleming, Krystal Haynes, George Queeley Jr., Sakara Adolphine, Kianna Adolphine, Jaleel Joseph, Jamal Warner, Jazmin Warner, Desiree Jeune, and Nathaniel Melvan James; and many great-grandchildren, nieces and nephews.
Funeral services will be held at 2 p.m., Monday, June 1, in Miami, Fla. Arcelays Funeral Services, 13700 NW 19th Ave., Unit No. 8, Opa-Locka, FL 33054 (Tel: 1-786-376-8227/ arcelaysfuneralservices@gmail.com)