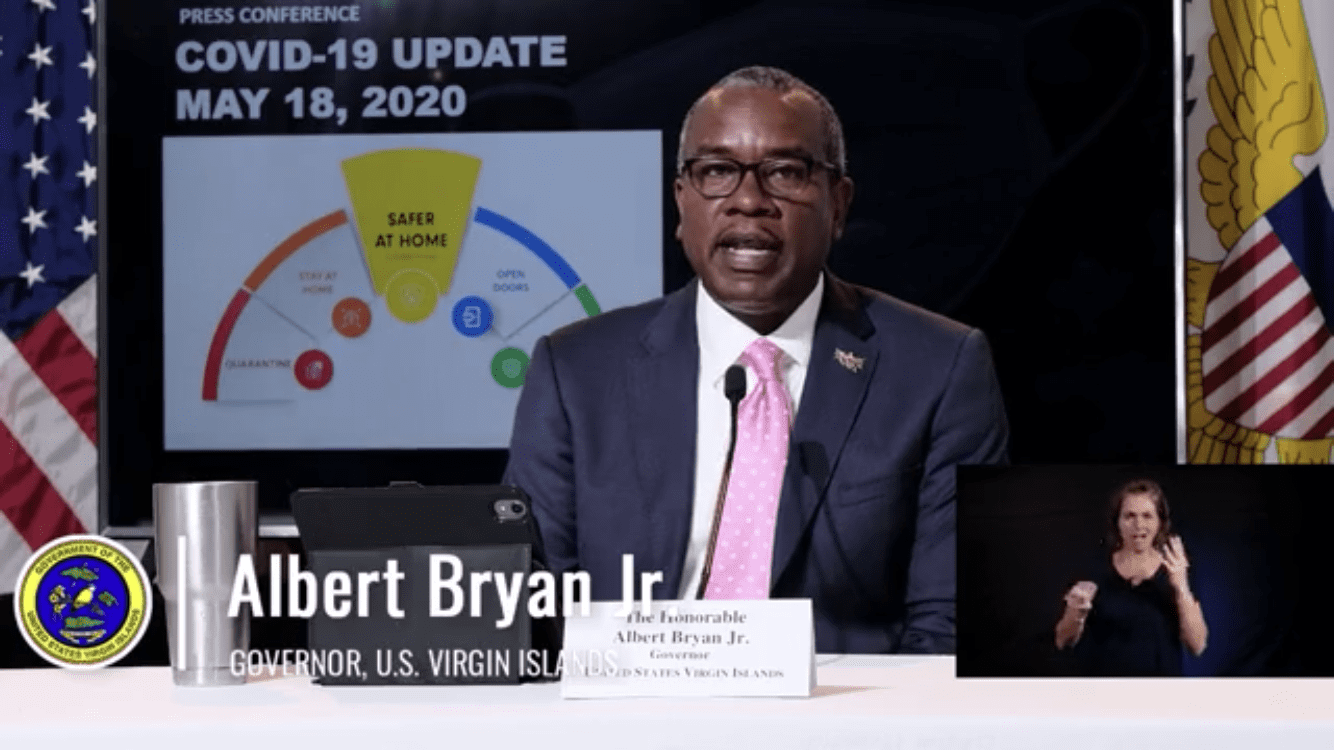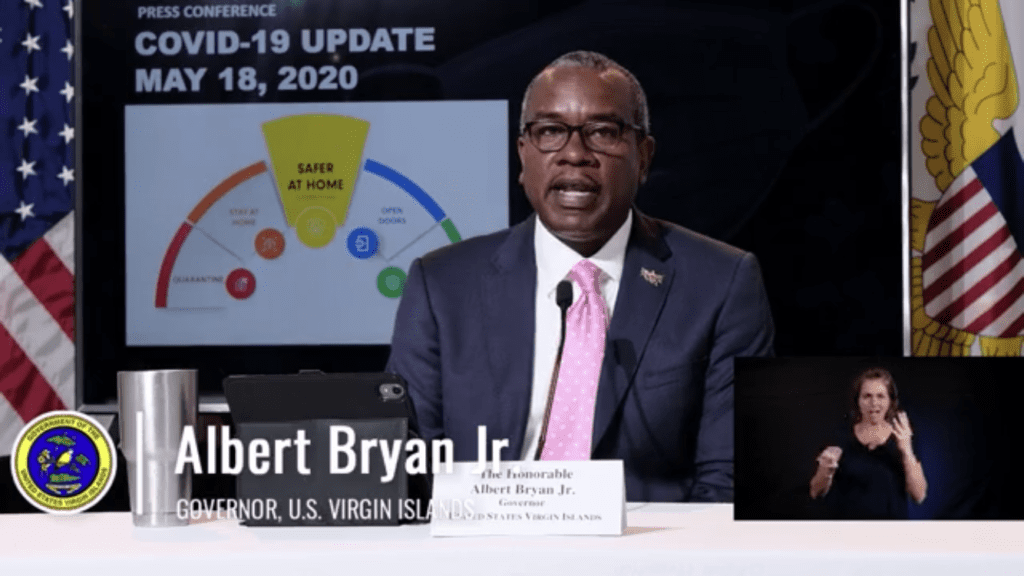 With a budget shortfall of $150 million for this fiscal year, which runs through September, Gov. Albert Bryan Jr. urged residents Monday to brace for the "financial tsunami" that's coming as a result of local pandemic response efforts.
During his news update on the coronavirus and the territory, Bryan outlined options for new revenue as the territory prepares to open for visitors in the next two weeks.
Starting Monday's news briefing on a positive note, Bryan said that what the territory has received federally in economic stimulus dollars outweighs what's been given to others, including more than $80 million from the U.S. Treasury for checks that are being mailed out, an energy credit for customers of the V.I. Water and Power Authority and unemployment insurance benefits.
In terms of stimulus checks, approximately $10 million worth have been released, with another batch being prepared by the Internal Revenue Bureau and Finance, and Bryan said that through additional lobbying by the AARP, elderly residents who would have had to file a 2018 tax return in order to receive theirs now do not have to. According to AARP V.I. President Troy De Chabert-Schuster, the federal Social Security Administration will share its members' data with local officials, allowing checks to be issued automatically. The organization currently has about 22,000 members in the territory, according to De Chabert-Schuster.
Meanwhile, about 13,000 residential and commercial customers have received their WAPA credit – $250 for residential customers and $500 for commercial. The Department of Labor has issued 5,208 unemployment checks for a total $3.7 million and, by the end of the week, will be adding an additional $600 in benefits for qualifying residents through the federal Coronavirus Aid, Relief and Economic Security Act, which would be available through July 31.
Still, with revenues down, the government has been working to conserve money, Bryan said, adding the administration has about $7 million to $10 million cash on hand. The territory has joined lobbying efforts to encourage Congress to bring relief to state governments through the HEROS Act, a $3 trillion relief package approved Friday by the U.S. House of Representatives. The bill would give $2.25 billion to the territory, along with other benefits, and while the governor said it most likely will hit a large bump when moving into the U.S. Senate, there is still a possibility some money will come our way.
"Still, we were never counting on Congress to give us any money," the governor added later when asked about the bill. Instead, the first line of defense has been writing to the U.S. Treasury, Trump administration and Federal Emergency Management Agency to get $300 million in disaster recovery loans forgiven. Bryan said that a top Treasury official has recommended the request be granted and if that happens, the government will push to "re-up" and get "another $200 million to take us through this year and next."
With the aid the territory has received since the storms of 2017, or even recently for the pandemic efforts, there are still restrictions that prevent funds from being spent on previous debts or to balance the government's budget, Bryan explained.
Still, the government can act on measures "within its control," Bryan said, as he pushed the V.I. Legislature to approve a revised Cannabis Act recently sent down. Potential revenues anticipated as a result of the act implementation have been proposed to bailout the Government Employees Retirement System, whose leadership, Bryan said, have proposed a 42 percent cut in benefit payments.
"That is not acceptable," the governor said. "But we do have things we can do. Pending legislation in the Cannabis Act will start to chip away at the problem as we continue to work in Washington, D.C. to find a funding source for GERS."
Bryan further described the stabilization of the economy as an "incredible balancing act" that manages ongoing disaster recovery efforts, the current budget crisis and a pandemic that he said is "far from over." Also in the pipeline is the next phase of the government's reopening plan, which on June 1, allows hotels to open to visitors.
While those restrictions can be "reassessed" again if the number of positive COVID-19 cases start to increase, Bryan said that hotels have already started to take reservations as June 1 draws closer. To prepare, the government has held meetings with Health, hotel and Tourism officials for feedback and the development of guidelines that will soon be rolled out for social distancing and is bolstering its testing capacity to allow for 1,000 tests to be conducted daily.
According to Health Commissioner Justa Encarnacion, the territory has received a Hologic machine and the reagent compounds needed to perform the tests and, by June 1, anticipates receiving approval from the Federal Food and Drug Administration to use it. A plan for mass testing is being developed, though Encarnacion said that is done in areas where there is an extensive community spread, which is not the case in the territory.
Bryan said at this point there is not expected to be a large influx of visitors.
"The airlift is not there," Bryan said, adding that in the last executive order, hotels were able to accommodate locals and business travelers. "But we have made sure that we have more tests and that we can administer those tests if needed."
Currently, there are two active cases of COVID-19 being tracked territorywide, with 69 out of 1,348 residents testing positive overall. The number of negative cases total 1,272 and seven tests are pending, including one patient at the Schneider Regional Medical Center who has been on a ventilator since he was brought in for treatment. Six deaths have been recorded, plus a seventh, a UVI employee who left the territory and passed away in Kentucky and so did not die in the territory.
There haven't been any spikes over the past two weeks as restrictions have eased, but Bryan still wrapped up Monday on a cautious note.
"Let me assure you, this is far from over," he said. "While we understand that you seek to find a new sense of normalcy, these are not normal times. Do not take this virus lightly. We have all witnessed how deadly it can be. Stay at home if you can and stay healthy."
Residents who are exhibiting symptoms, have been in contact with someone who has tested positive or have recently traveled are encouraged to call 340-712-6299 or 340-776-1519 and get tested.
Editor's note: This has been updated to correct the number of COVID-19 fatalities. There have been six fatalities within the territory.