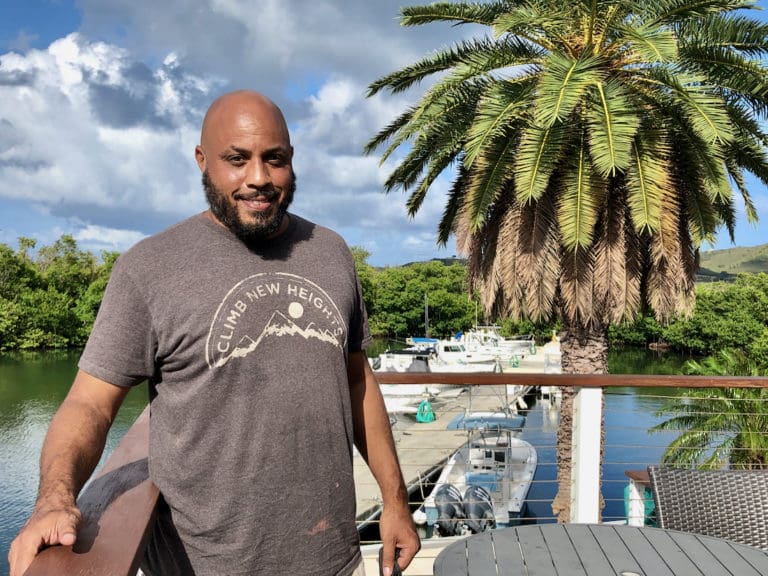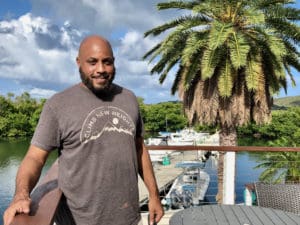 The Galleon Restaurant in Green Cay Marina closed three years ago and since then, rumors of its reopening have excited Crucians who loved the ambiance, classy setting and superb food of one of St. Croix's favorite eateries.
Enter Charles Mereday, a top chef from Naples, Florida, familiar with St. Croix. He is the new owner.
"I think I can make it much better than before," Mereday told the Source.
Mereday learned to appreciate the Galleon while living on St. Croix in the 1990s. He has wanted the dining establishment since then and finally crafted a lease.
"I've tried for a long time. I've been working on it for five years," he said.
In February, Mereday moved to the island and began renovating the waterfront restaurant as Galleon Steaks and Seafood. Just as he was getting ready to open, COVID-19 slammed shut all restaurant doors.
Like many other eateries in the territory, the Galleon shifted its focus to takeout food during this time of quarantine. Mereday has plenty of experience, but no one has experience running a restaurant during a pandemic.
He started out offering some of the dishes he'll have on the final menu. Already his carry-out steaks are gaining favorable recognition with some customers ordering multiple times a week. He has started smoking ribs on Saturdays and they are becoming so popular that the barbecue may become a regular event when the restaurant opens.
Prices for most dinners are around $20. Pizza specials are also $20.
"Some of the dishes have caught on and we have some big days. I'm really thankful for the community support and from the other restaurant owners, too," he said.
Chef Mereday plans to "revitalize the icon" to its former glory days. Specialties will include steaks, seafood and creative, sharable appetizers. The lounge and dining room are equally important and will have their own unique personality. Eventually, he might bring back the piano and player in the lounge from the old days.
Mereday has been in the business more than 25 years. He has been a chef in a three-star restaurant in Roanne, France, owned three popular restaurants in Naples, Florida and taught at culinary schools. He received awards for his weekly television show – "Back of the House with Charles Mereday" – in Naples.
Growing up in Dudley, North Carolina in a family of farmers, he learned to love vegetables. He attended culinary school at Johnson and Wales University in South Carolina. After he graduated, he taught for almost two years at Culinard Culinary School in Virginia. Then he worked in a Michelin three-star restaurant in Roanne, France before moving to the Virgin Islands.
During his time in the Virgin Islands, Mereday was the chef/owner at Old Stone Farmhouse on St. Thomas. While on St. Croix, he owned and operated Truffles for a year and worked the Hibiscus Resort and July's in Gallows Bay.
After leaving the territory, Mereday opened three successful restaurants in Naples, Florida – fine dining, French brasserie and a jazz club.
"Chef Charles Mereday has done it again. Once more, he has elevated the Naples area dining scene to a new level of excellence with the opening of Mereday's Brasserie," USA Today 10 Best said in September 2014.
After almost two years, he closed the Naples eateries and went to Indianapolis, turned around a restaurant in a little over a year and was an executive chef on a corporate campus for a little more than the year.
Then he began his move to St. Croix.
"St. Croix is my home. I'm happy to be back here forever and be part of the community," he said.