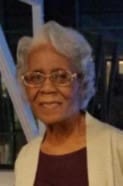 Eunice Idalia Francis, 88, died peacefully in her daughter's home, April 15, in Suffolk, Va.
She was preceded in death by her daughter, RoseMarie Francis; sister, Edris George; brother, Lucien George Sr., and cousin, Eric Dawson.
She is survived by her daughters: Ruth Francis-Abramsen and Raquel Francis-Callwood; sons: Julio H. Francis III, Julian M. Francis, Juan J. Francis and Jaime "Walla" Francis; sons-in-law: Anselmo Abramsen and Milford Callwood; daughters-in-law: Diane, Bernadine and Laurel Francis; sister, Bernice Ritter-Turnbull; brothers: Rhudel George and Elmando "Cito" George; brother-in-law, Angel "Juanie" Turnbull; and sister-in-law, Lucia George.
She is also survived by nieces: Toni Turnbull, Cara Turnbull, Dr. Sionne George-DeShazo and Semele George; special niece, Diane M. George; nephews: Angel Turnbull Jr., Derek Turnbull, Lucien George Jr. ("Bow Legged Lou"), Paul Anthony George and Brian George; 31 grandchildren; 50 great-grandchildren; and cousins: Eldra Davis, Helen George-Newton, Adelita George-Swan, Rehulita George-Chinnery, Andromeda George-Anderson, Muriel George, Cynthia Faulker and Joyce Petersen.
Other survivors include special caretaker, Euthanie Thomas; special friends: Dr. Eleanor Blyden, Una Sutton, Dr. Hannah Adams, Vera Brady, Eleanor Richards, Christiana Smith, Donna Smith, Hannah Laws, Francine Richardson, Herdise Henry, Pastor Ammaran Williams, Pastor Glendon Cross, Edris Daly, Lydia Boynes; and many other family and friends too numerous to mention.
A special viewing will be held from noon to 2 p.m., Wednesday, May 20, at Turnbull's Funeral Home. Due to the COVID-19 pandemic and the public health restrictions, a private family service will be held May 21, and it will be streamed live. A memorial service will be held at a later date.
Tributes can be sent to eunicefrancistributes@gmail.com.