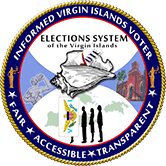 Supervisor of Elections Caroline F. Fawkes reminds the public of the distribution of Nomination Petitions and Papers for the 2020 Elections. They will be available for pick up at the St. Croix, St. Thomas and St. John Elections Offices between 9 a.m. and noon on Friday, April 24. As updates become available on the COVID-19 pandemic, the distribution schedule will be adjusted accordingly, and new distribution dates will be announced by the Elections System.
Supervisor Fawkes advises everyone that the Elections System offices will remain closed to the public; therefore, persons must contact the offices prior to arrival or at the time of arrival. The staff will ask a few questions to determine which nomination petition and paper to distribute.
The contact number for the St. Croix Office is 773-1021, St. Thomas Office is 774-3107 and St. John Office is 776-6535.
Official election updates can be found at www.vivote.gov.