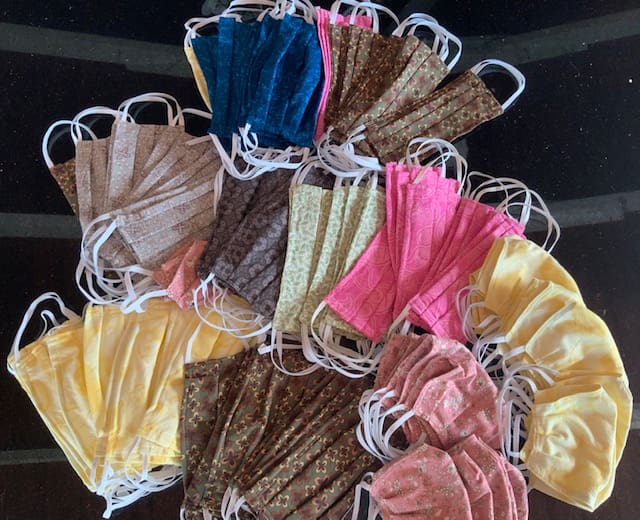 For almost two months, the Gov. Juan F. Luis Hospital has been training, stocking, hiring and retrofitting to handle a possible surge in patients suffering from the novel coronavirus.
"We can handle 100 if it happens over a period of time. The challenge comes if you handle 100 in one week," Dyma Williams, JFL interim chief executive officer, said Wednesday in a phone interview.
Facility Enhancements
If the hospital reaches a point where more space is needed for sick COVID-19 patients, it has its newly opened intensive care unit with 12 beds, and the hospital cafeteria, which has been converted into an observation unit for 10 to 20 people.
Williams pointed out that if all the patients are infected, they don't need to be spaced six feet apart.
A bulk shipment of oxygen from FEMA is expected, which will allow patients to use portable oxygen devices in the cafeteria. Those patients would be triaged and, depending on the severity of their symptoms, be released or sent to ICU.
Additionally, arrangements have been made with the Virgin Islands National Guard that will allow JFL to use the large cafeteria at its facility and 23 double rooms if needed for patient overflow.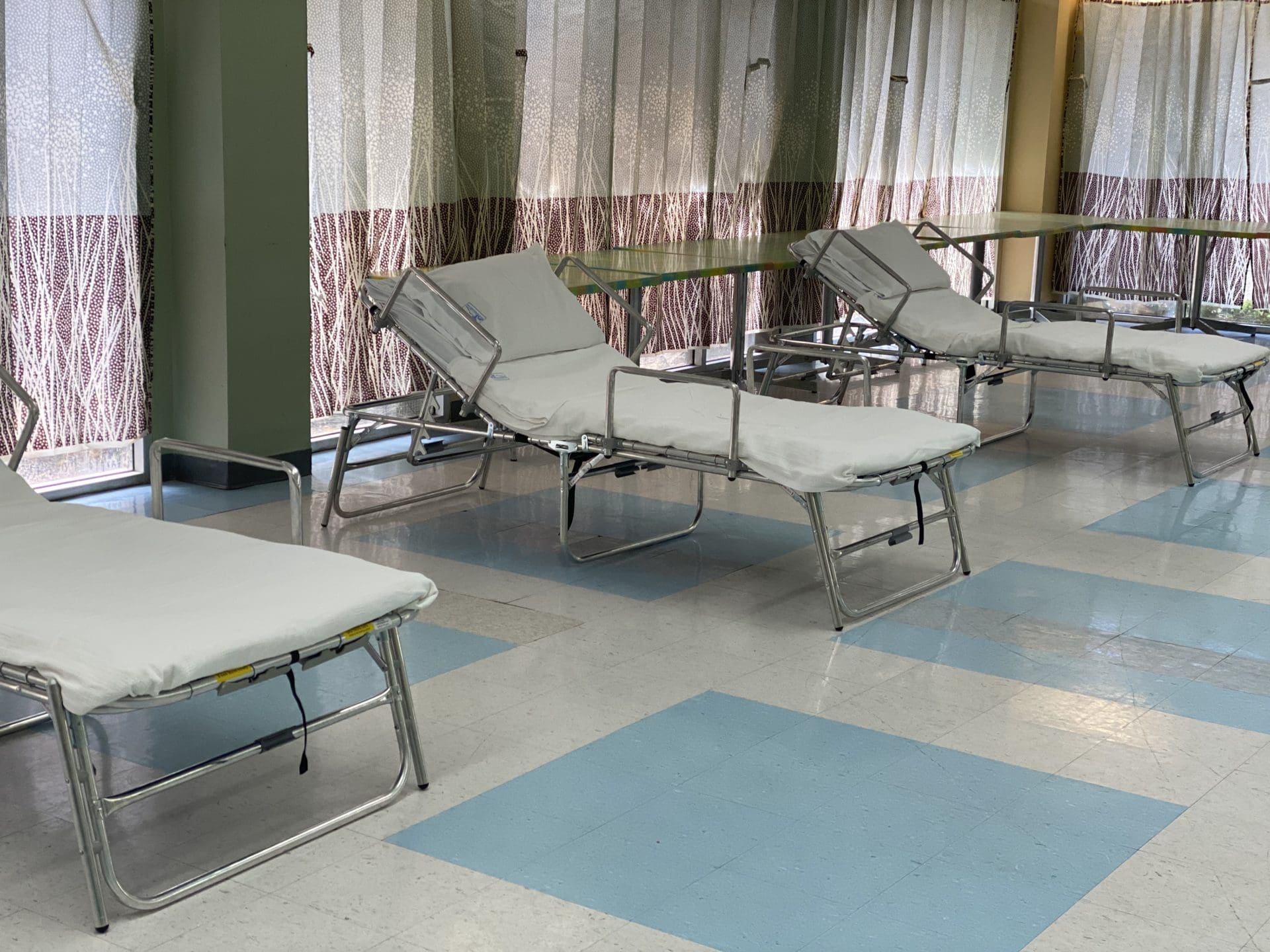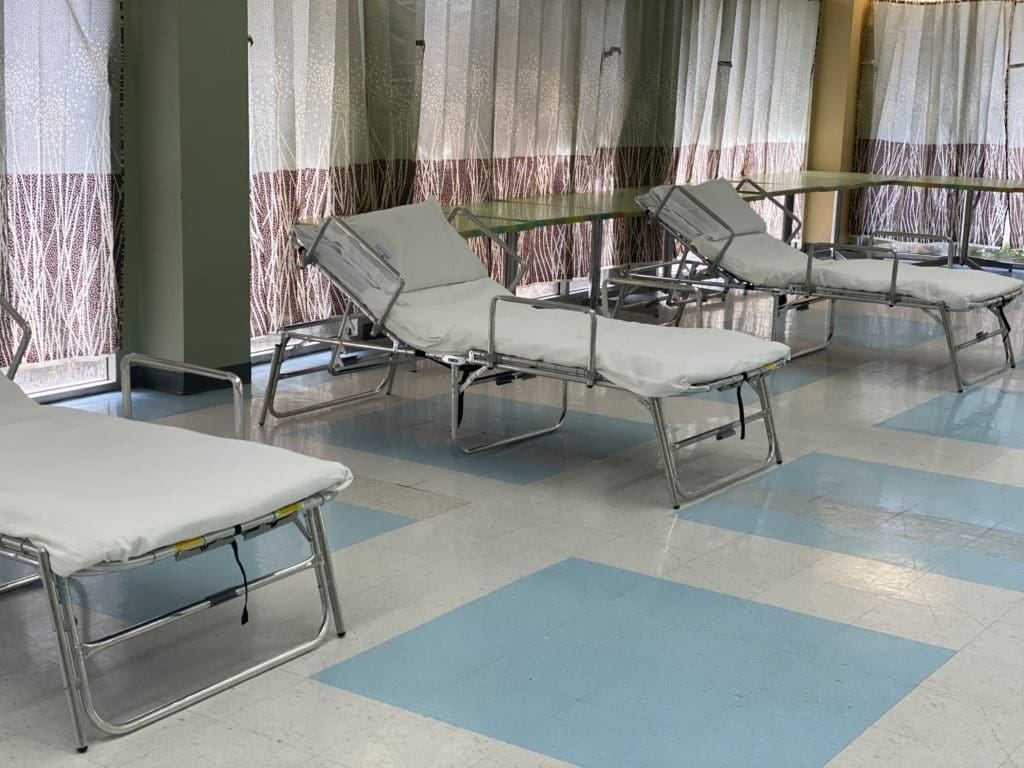 Protecting Staff and Patients
According to Williams, the hospital staff has been learning new theory, new processes and new procedures on how to deal with the pandemic, beginning with patient intake.
Steps to protect patients and staff begin at the entrance to the hospital. A guard at the gate inquires the reason for the visit and alerts the proper department. If the patient has coronavirus symptoms, they are given a mask and gown before being admitted to the emergency room.
Williams said the staff, in addition to working in a constant state of understaffing, are "nervous," "terrified" and "incredibly anxious."
"It's very real for a lot of people. They relate on a personal level," Williams said.
Additional staff training began with the new admitting procedures and how to use masks, gowns and other equipment. Infection control training has been stepped up and housekeeping employees have learned new cleaning methods – not to touch infected patients or anything they have touched.
Staff who don't deal firsthand with patients are allowed to use fabric face masks, Williams said.
There hasn't been "a lot of call out on St. Croix," and the hospital administration is offering counseling services, additional training and resources for those in need, according to Williams.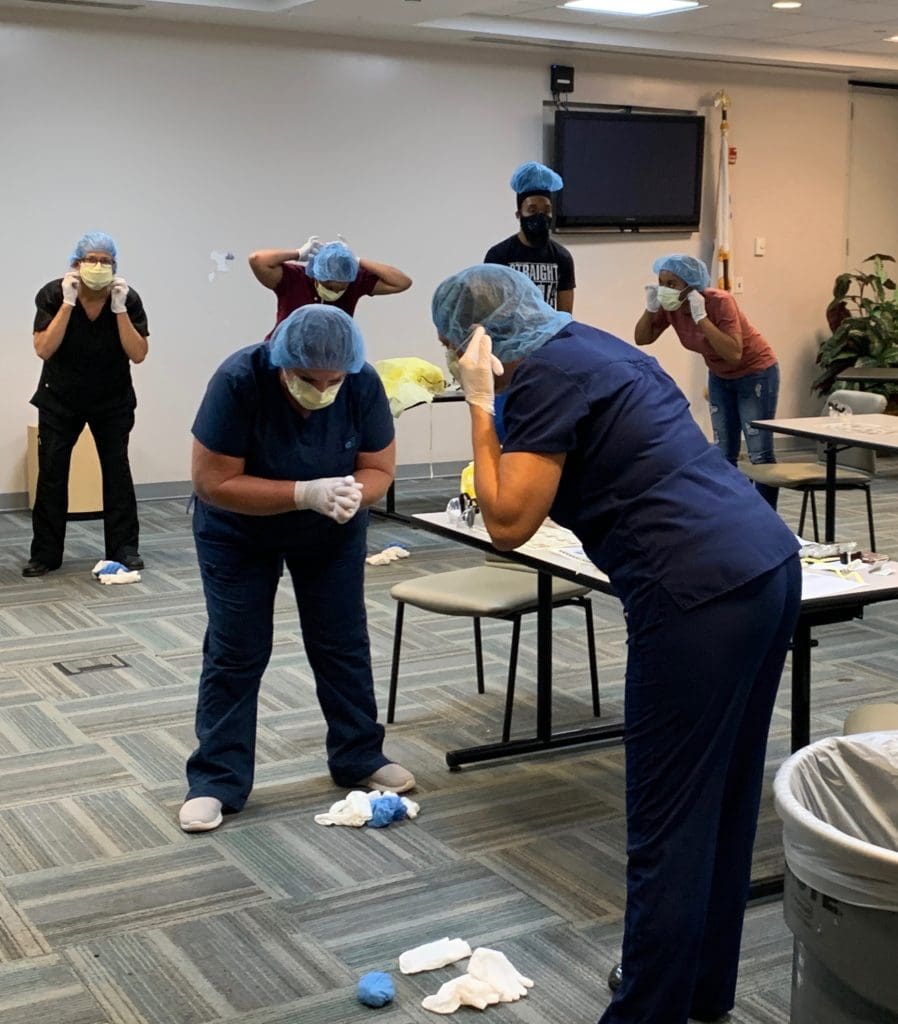 Equipment and Supplies
Currently, there is enough personal protective equipment on hand to care for 100 patients. Gowns, masks and goggles are tracked and inventoried every 10 days. If they run below the 10-day supply, it is a warning to order more. PPE's are monitored closely because JFL is supplying other organizations as well, Williams said.
At this point, nobody is reusing PPE's, but the staff has been trained not to waste the life-protecting equipment.
"We are using supplies in a different way. If we have to do that, staff has been trained to stretch these resources," Williams said.
Although there are a dozen ventilators on hand and two ICU rooms with negative pressure environments, more equipment to help people breathe is on order. The interim CEO pointed out that the Virgin Islands is not "high priority" in the national competition for hospital supplies, so there is no estimated date to receive the equipment.
"I feel right now we do have enough supplies on hand. The challenge is going to depend on how much of a spike we have," she said.
Oxygen use is another way to gauge a surge in the disease. JFL has 12 machines, but if usage by COVID-19 patients spikes from the usual one-week usage to two or three weeks, supplies will be depleted. Some hospitals have been forced to use their operating room's anesthesia machines for coronavirus victims, Williams said.
In addition to training, the hospital is trying to hire nurses, paramedics, respiratory therapists and physicians to augment services, especially during the pandemic. According to Williams, few professionals have responded to public services announcements and other outreach.
Government and Community Assistance
Williams commended the governor and agencies such as the Health Department, the Police Department and V.I. Territorial Emergency Management Agency on the multilevel response to the coronavirus. She said Delegate to Congress Stacey Plaskett has been helpful also.
Governor Albert Bryan Jr. meets with the COVID response team at 8 a.m. every day, even on weekends. He also reaches out during the day to find out what is going well and what is not, Williams said.
In addition to daily contact with government officials, JFL's internal incident command meets every day to discuss logistics, staffing and new policies. There are at least four meetings a day, according to Williams.
The participation by government entities and the community has been a daily response to manage the epidemic, including "a lot of community support and engagement," Williams said.
Haugland Energy, which helped revitalize the territory's power after the 2017 hurricanes, and Nigel 123 have made generous donations recently. Currently, Williams is anticipating a gift of an oxygen generator. Community members made and delivered brownies, cupcakes, pizza and sewed 100 fabric face masks.