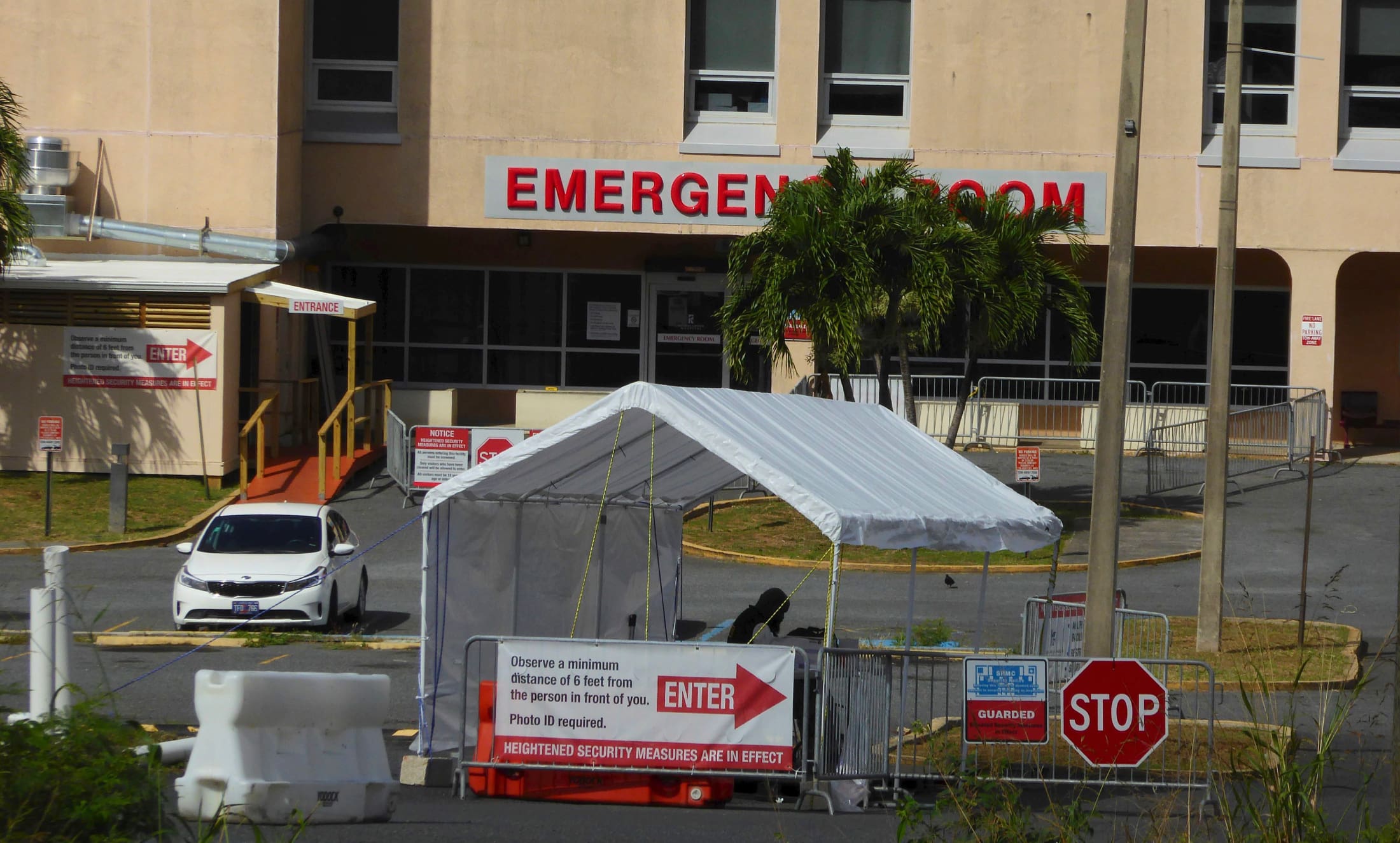 The day after territorial epidemiologist Esther Ellis stated clearly that thanks to early social distancing the territory is ahead of the curve in controlling the spread of COVID-19, the emergency room director of the Roy Lester Schneider Hospital heartily agreed with the assessment.
"The governor made all the right moves," said Dr. Clayton Wheatley, "The people are heeding his social distancing order."
Wheatley should know. He and the entire hospital staff stand at the front door of the epidemic, ready to receive those who need a doctor. Though he has seen a slight uptick in the last couple of weeks in investigations, "I absolutely think that if it weren't for the restrictions it would be a lot worse."
Wheatley, who has worked nights in the ER since his return to the territory in 2005 recently switched to a 12-hour shift in order to be available for various administrative needs as well as doctoring. He said Thursday was one of the most stressful days in his 40 years of practice.
"One minute I am treating a patient, and next I am in a tete-a-tete with someone in a hallway who needs to pick my brain."
He said he doesn't mind, though. It is important to listen to the staff.
"People walk away feeling better," he said.
Talk therapy is not the only measure put in place to support the staff. Suggestion boxes have been placed on every floor for the staff's input.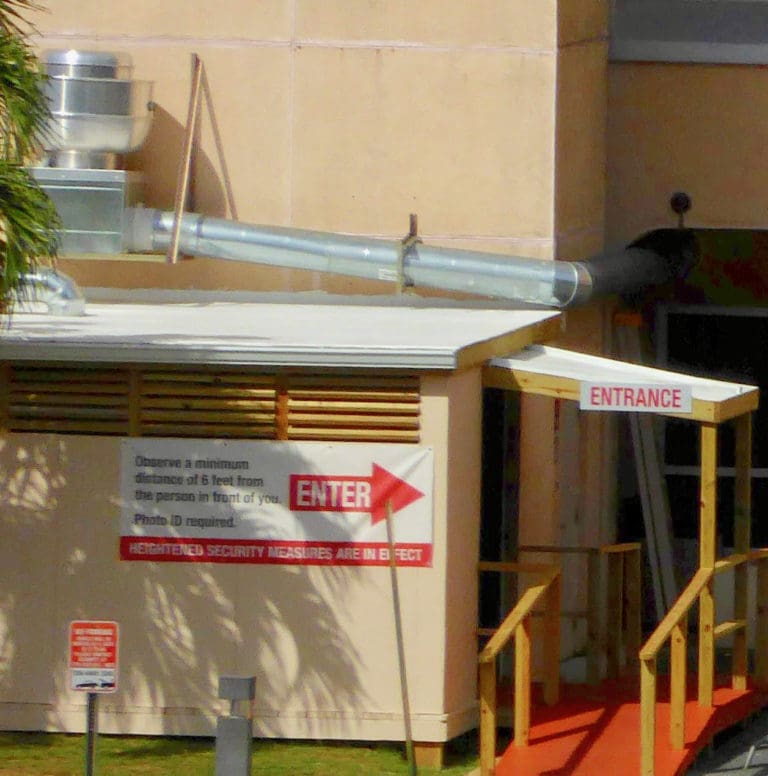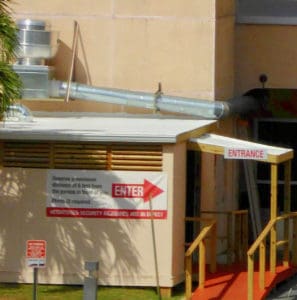 Repeatedly during the half-hour interview, Wheatley especially praised the nurses for showing up.
"No one is calling in," he said.
Even though people are naturally concerned about taking the COVID-19 virus home to their families, especially children, "They are showing up."
With the predicted peak infection time still weeks away, he said hospital administrators are meeting every couple of days in a monumental effort to stay ahead of the disease, while being prepared if that should fail and they become overrun.
Among the preparations, led by Darryl Smalls, vice president of facilities management at the hospital, an area on the fourth floor has been turned into a "negative pressure environment," where patients who may need to be hospitalized due to the virus, but don't need to be in the intensive care unit, can be isolated, but where the air will not be recirculated.
"I was up on the floor yesterday to visit a cardiac patient," Wheatley said. "The men were out in the blazing sun on the roof working on the project."
Smalls said they were installing a brand-new exhaust system to accommodate turning one entire wing of the fourth floor into an isolation area.
The other project Smalls has completed on St. Thomas is a pre-screening structure in the parking lot where people coming in with symptoms can be evaluated and then routed to the next step, if necessary.
Smalls said a similar structure will be completed at the Myrah Keating Smith Community Health Center on St. John this weekend.
Wheatley said the health officials have requested community members not come to the hospital if they are displaying symptoms, but rather call the Health Department hotline. Those requests have been largely ignored or thwarted by unanswered phones or long wait times. Thus, the need for a pre-screening area to safeguard people in the emergency room who have come for reasons other than COVID-19.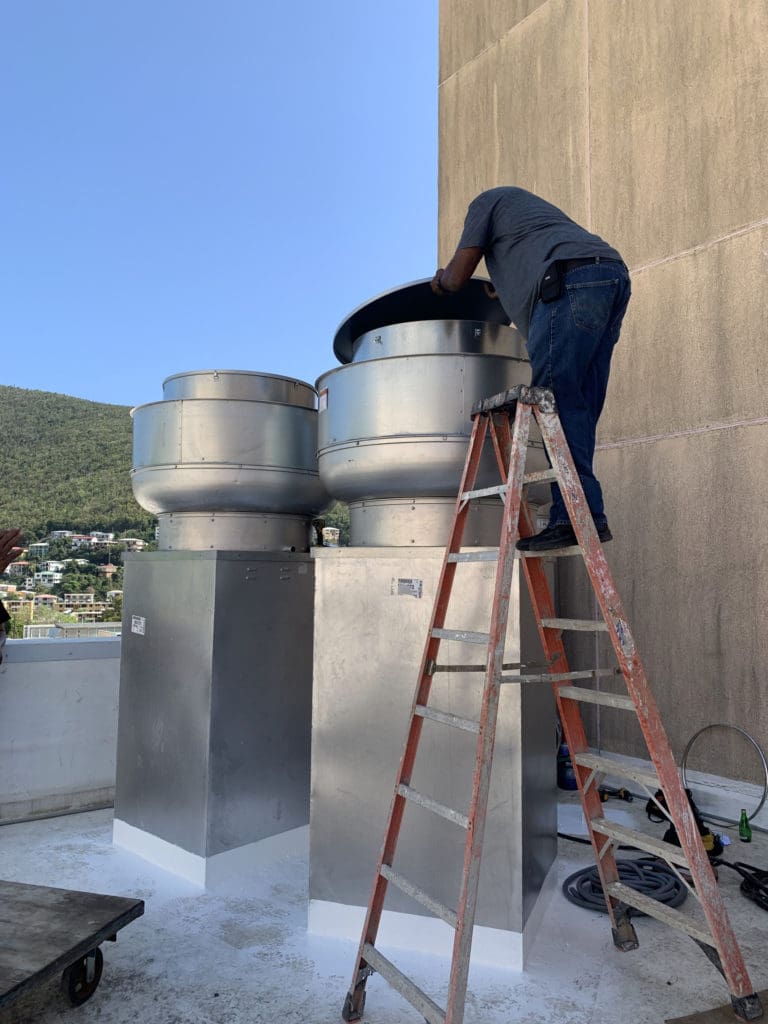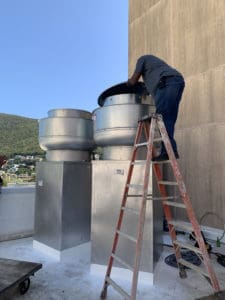 Other advancements made locally on the ever-shifting playing fields of the global pandemic is the ability to get test results in three to four hours after they are received on St. Croix, Wheatley said, "instead of having to wait a week to get them from CDC."
On a less cheery note, the bioethics committee meeting that took place last week was called to talk about the ethics associated with the possibility of the hospital becoming overwhelmed.
Though no conclusions were drawn about triage and other daunting decisions, Wheatley said, the hospital was seeking guidance from the Centers for Disease Control and The Hastings Center.
On the Hastings's website, the following section describes what SRMC must consider as the peak of the COVID-19 infection in the U.S. Virgin Islands approaches.
The Duty to Plan: Managing Uncertainty
"Health care leaders have a duty to plan for the management of foreseeable ethical challenges during a public health emergency. Ethical challenges arise when there is uncertainty about how to 'do the right thing' in clinical practice when duties or values conflict. These challenges affect the health care workforce and how a health care institution serves the public and collaborates with public officials.
"Planning for foreseeable ethical challenges includes the identification of potential triage decisions, tools and processes. In a public health emergency featuring severe respiratory illness, triage decisions may have to be made about level of care [ICU vs. medical ward]; initiation of life-sustaining treatment [including CPR and ventilation support]; withdrawal of life-sustaining treatment; and referral to palliative [comfort-focused] care if life-sustaining treatment will not be initiated or is withdrawn. Triage decisions may also need to be made concerning shortages of staff, space and supplies."
In a phone call Friday afternoon, Schneider Regional Interim Chief Executive Officer Dr. Luis Amarro said the statement from Hastings was exactly what he and his team are discussing. Amarro, an internal medicine/pediatric specialist, took over as interim chief executive officer at Schneider in January.
With a leadership plan that includes at least three layers of communication along with empowering everyone to do what they do best, Amarro wants the hospital to be what he calls a "high reliability" organization.
He calls the staff he is leading a "neighborhood watch."
"The more eyes on the operation, the better," he said.
Amarro said no one is going to be "whipped" for pointing out shortcomings. In fact, the suggestion boxes and meetings serve the purpose of calling on the experts in each area for their input.
"We welcome the experts," he said.
Amarro was also quick to praise Gov. Albert Bryan Jr. for his actions during the last few weeks.
"I am not political," Amarro said, but had Bryan not acted as he did, "no matter what happens in the next week or so, it would have been 10 times worse."
He commended Bryan for doing what he himself believes in.
"He listens to us," he said.
All three Schneider Center officials were even more emphatic about the courage and willingness displayed by all the hospital staff.
Amarro said he was determined to make sure they were "mentally and physically ready to take on what's coming."
Wheatley, said Amarro, had spared no expense to allay any fears of infection the staff might have. And with the help of a donor, a large order of personal protective equipment was on the way.
All three men in separate interviews were reluctant to talk about being tired, overwhelmed or stressed.
All three agreed in separate conversations on probably the most important condition they share, uncannily using exactly the same words "This is what we're trained for."
And all were clear, they were speaking not only of themselves, but of the entire staff they lead.