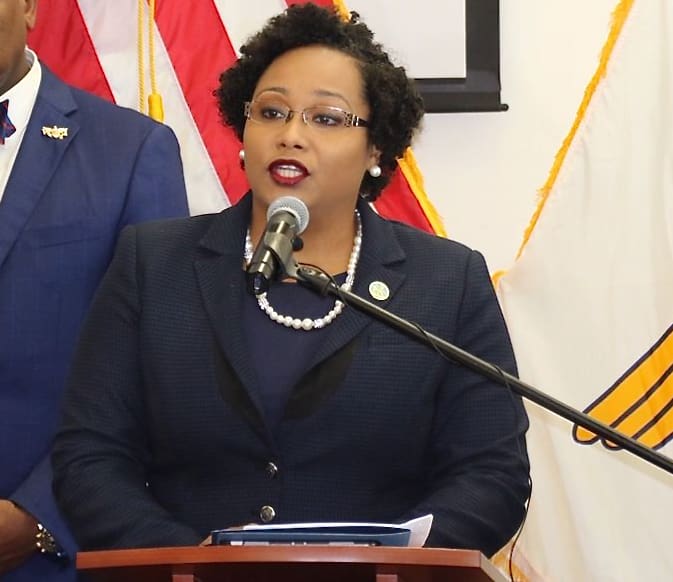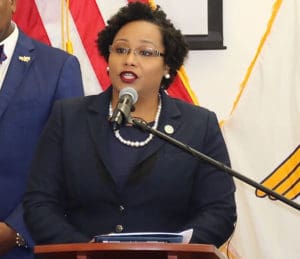 Public schools in the U.S. Virgin Islands will remain closed for the rest of the school year while students continue learning from home, V.I. Education Commissioner Racquel Berry-Benjamin announced Wednesday.
"For the remainder of the school year, students and public school staff will not be returning to campuses," Berry-Benjamin said as part of Gov. Albert Bryan Jr.'s regular coronavirus update. "The ongoing response from the department is to ensure that education continues at home."
Berry-Benjamin and Bryan said the continued shutdown is necessary as the territory continues to mount its COVID-19 response, which Bryan said is only as strong locally as it is globally. Even if the territory doesn't experience another confirmed case for a month, as long as other locations "that feed in" to the islands – such as New York, Atlanta and even Puerto Rico – continue to see a rise, the government still has to do what it can to protect the community.
Bryan said the airports are a "pressure point," but that the U.S. Virgin Islands is fortunate that it can still monitor in small quantities the number of air arrivals and boaters, while states are connected by highways filled with motorists moving in and out.
Maintaining a lockdown of public school campuses was a hard decision, but was needed to keep students safe, he added.
Berry-Benjamin said preparation for a long-term distance learning plan has pushed officials to look at embedding it into the department's overall framework moving forward. A recent cost analysis estimates the program would cost $14.5 million, she said, which is an estimate based on Education's current student and employee populations, along with the current cost of internet, computers, laptops, courses, intervention, support and training.
In continuing distance learning in the short-term, the department has rolled out a home technology survey for its students to determine where the gaps are. Berry-Benjamin said based on the current numbers, a large portion of families have access to some sort of device: 59 percent have laptops, 66 percent have a tablet or smartphone and 82 percent have internet access. To accommodate the remaining families, the department has leveraged and reprogrammed available federal funds to secure access – whether it's a device or internet – for students, and Berry-Benjamin said that through partnerships with local providers, those personal hotspots should be available within the next week to two weeks.
A network of counseling and mental health organizations has been assembled to arm school counselors with the tools needed to continually assess and help students over the next few months.
For programming, high school students on St. Croix have been using the digital learning tool Acellus, whose compliment on St. Thomas-St. John is the Edmentum platform. First through eighth graders are using i-Ready, another online assessment and learning program, and Berry-Benjamin said teachers on all levels are integrating other apps they find useful. As an added measure, she said, the department is working with community partners on the creation of an e-teacher network, which will make other learning resources available through television, radio and social media.
Speaking about promotion, retention and end of year activities, Berry-Benjamin said the department is working in tandem with the V.I. Board of Education, which has created a guiding document to govern the promotion of students during the ongoing pandemic. Next steps will be communicated to parents once the board's resolution is finalized, she said, along with how – for graduating seniors – the selections of valedictorians, salutatorians and honors students will proceed and how final grade point averages will be calculated.
In terms of graduation, the safest course of action is to go virtual, and Berry-Benjamin said that summer enrichment for students will also be offered in a "safe and effective format." Before anyone returns to local campuses, all buildings, grounds and facilities will have to be sanitized, she added.
Meanwhile, since the third marking period ended Friday, Berry-Benjamin said student work packets sent home on March 17 are due on April 24 and students should send photos of all their work to teachers.
Tracking the Numbers
The territory is tracking approximately five active COVID-19 cases, and Bryan announced Wednesday that two out of three patients at the Roy L. Schneider Hospital have been discharged, while one remains at St. Croix's Gov. Juan F. Luis Hospital. Otherwise, 322 individuals have been tested territorywide and of that number 242 tests were negative, 45 are positive, 35 are pending and 39 have recovered. One death has been recorded.
Health Commissioner Justa Encarnacion said the department continues to receive about 60 calls a day for testing and conducts about 30 within the public health lab. Priority is given to those deemed most likely to have the virus, and Bryan added later that many of those individuals fall between the ages of 18 and 49 because they are the most mobile and most likely to be carriers.
Speaking briefly about personal protective equipment on island, Encarnacion said the territory received its third shipment this week, which was not requested but sent by the federal government and is expecting another order soon from the national stockpile that was requested. The difference between the two is, in the case of this week's shipment, it contained hundreds of items, as opposed to the "thousands" the department actually asked for.
Along with the health stats, Bryan added that the government is also monitoring closely the number of boaters coming into and mooring in the territory, which he noted has been of public concern. Early on in the response effort, a marine task force was created to respond to such incidents and has been actively tracking all activity in local waters, he said. A GPS coordinating system allows the task force to see who comes in, when and how long they've stayed. Any new boats entering are also seen and tracked and Bryan said that there are currently 90 new vessels in the St. Thomas-St. John District; 12 new vessels on St. Croix; and 35 that have left the territory.
More are scheduled to leave next week, he said, and there is a 14-day self-quarantine order in place for those coming in.
During Wednesday's news conference, Bryan also urged the territory to stay put during the upcoming Easter weekend and encouraged local clergy to make use of livestream and other technology to conduct services and religious programs.
Changes in the Medicaid program offered through the Human Services Department were also announced, including:
– Extending all children's health insurance programs for six months;
– Eliminating the current requirement to obtain a service referral to a public provider except for certain dental and durable medical equipment;
– Enabling all members to receive services from any enrolled Medicaid provider without any referral or prior authorization; and
– Extending presumptive eligibility to pregnant women, the aged, blind and disabled populations.