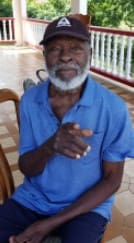 Leonard Warner died on Feb. 24.
There will be a service at 10 a.m. on Saturday, March 28, with a viewing from 9 a.m. to 10 a.m. at Turnbull's Funeral Home. Interment will be at Western Cemetery No. 3.
He is survived by his children: Leonard Warner Jr., Annette Warner, Elroy  Warner, Elveth Warner, Geryl Warner, Roy A. Warner, Thelma Warner, Henrietta Warner, Arlene Warner and Wayne Warner; sisters: Jeanette Cannonier and Daisy William; a host of grand and great-grandchildren; and brothers: Leroy Warner, Kenneth Warner, Mervin Warner, Raymond Warner, and Albert Warner.