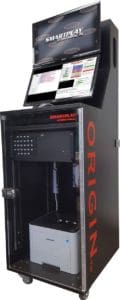 Based upon the guidance given by the Virgin Islands Department of Health, the Office of the Governor, and the Center for Disease Control, the Virgin Islands Lottery has directed its Video Lottery Terminals contractor, Southland Gaming of the Virgin Islands Inc. (SGVI), to:
Restrict the total number of patrons and employees into retailer locations and gaming centers to not more than 30 persons.
Southland Gaming VI will provide more specific guidance to the retailers with small quantities of Video Lottery Terminals.
Further, every other Video Lottery Terminal will be disabled to ensure a safe distance between each patron.
Southland Gaming will require retailers in the district to clean and disinfect all terminals after each use by its patrons.
It is also asking the retailers to disinfect all door handles that patrons will use, such as bathrooms, entrances and exits.
Patrons who manifest signs and symptoms of the virus will not be allowed into the facility.
If patrons are feeling any symptoms of the virus, Southland Gaming VI asks that they refrain from visiting any of the gaming sites.
Contact Southland Gaming at 774-2502 on St. Thomas or 778-6360 on St. Croix if there are any questions.