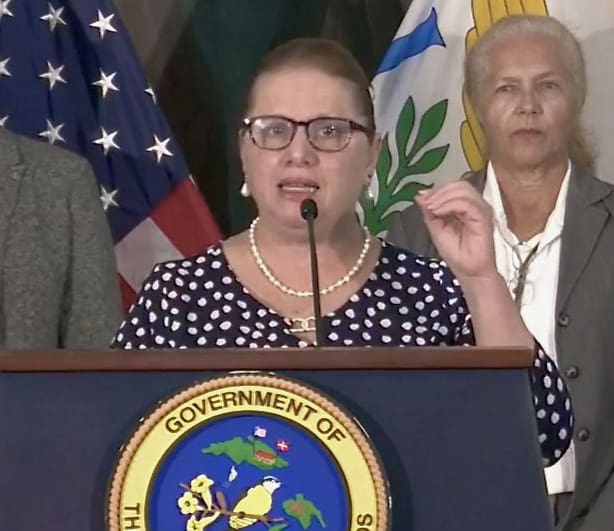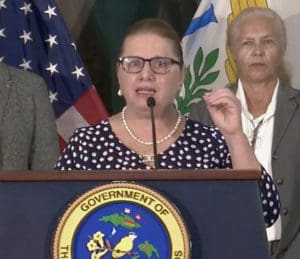 While federal officials are describing the public health risk from coronavirus (COVID-19) as "very low," Gov. Albert Bryan Jr. said at Monday's Government House press briefing that because what's known about the disease is constantly changing or unknown, it is important for the public to remain "vigilant" about their health, and to report any suspect cases or symptoms as soon as possible.
In the meantime, the governor said on the ground, response plans are being made on multiple levels, with officials collaborating closely with a range of health and emergency response agencies. The goal is to either contain the disease, keep it out or prevent it from spreading if a case develops and is confirmed, and on the federal level, Bryan said he and other national governors joined a call Monday in which U.S. Vice President Mike Pence pledged "his full support toward combatting" the virus.
Travel bans to Iran and China have been implemented and the federal government is also exploring a possible ban to Italy since there has been a recent increase in cases in travelers to and from the country, including the one recently reported in the Dominican Republic which Bryan said – despite others being investigated in the British Virgin Islands, St. Barts and St. Martin – is currently the only confirmed case in the Caribbean.
Locally, officials speaking during Monday's press conference spoke about weekly phone conferences with federal and local partners, a tabletop exercise conducted in early February with more than 100 V.I. department and agency representatives and continued calls with both the Centers for Disease Control and U.S. Health Department. V.I. Health Department Director of Public Health Preparedness Francine Lang added that through the process, the territory has updated its emergency response, infectious diseases and Ebola response plans and added an index for respiratory illnesses, which didn't exist before.
While he didn't elaborate during the press conference, Bryan also spoke afterward about public concerns over the potential risk posed by cruise ship passengers who could have been exposed to the virus. Any cruise ship coming in would have to report to the U.S. Coast Guard and V.I. Port Authority "where they have been," and anyone suspected to have the disease or symptoms, would be "turned away" and taken to an established quarantine area in Puerto Rico, he said.
During the news conference, V.I. Territorial Emergency Management Agency Director Daryl Jaschen added that emergency 911 operators will be using a questionnaire supplied by the U.S. Health Department to prescreen anyone visiting or on island who call in to request emergency response services for flu-like symptoms. Health Commissioner Justa Encarnacion also encouraged business owners to have hand sanitizer or other antiviral products available for customers, and said information about the virus, its symptoms, how to prevent it and who to call with concerns is being distributed at local airports and seaports.
Instead of just showing up at emergency rooms or physicians' offices, Encarnacion encouraged residents to call ahead if they are exhibiting symptoms and get guidance on what to do next. Numbers to call are: 340-718-1311 ext. 3891 on St. Croix and 340-774-7477 ext. 5647 on St. Thomas-St. John.
In the meantime, small actions such as frequent hand washing, coughing or sneezing into sleeves or avoiding touching the eyes or face are helpful, officials said. Like many respiratory illnesses, the coronavirus is transmitted through droplets that can settle in the lungs, and Encarnacion said that even staying at home if you're ill can keep the virus contained.
The territory is waiting on its own laboratory test kits to be sent but can, at this point, take samples that can be sent off island to the Centers for Disease Control. Meanwhile, emergency medical personnel and staff at the territory's two public hospitals have enough personal protective gear and are in contact with suppliers to make sure future orders will be ready to go, officials said.
Attempting to minimize anxiety, Bryan said the best thing for the public to do is not panic and "keep things in perspective." Coronavirus has caused 2,700 deaths worldwide to date, but in the last year alone there were 60,000 deaths attributed to the flu and that's just in the United States, he said. Meanwhile, 98 percent of patients found to have coronavirus do recover, he added.
"This is very serious, and we need to remain vigilant, but we can control this if we take the right measures," he said.