Lime Out, the popular floating taco bar, has reopened in a new location in the harbor of Coral Bay, St. John.
Co-owner Chelsea Baranowski said the Department of Planning and Natural Resources granted a provisional anchoring permit for a location about 250 feet offshore on the western side of Fortsberg.
Lime Out opened in March 2019 at Hansen Bay on the east end of St. John. The bar proved to be wildly popular, attracting as many as 20 vessels at a time, as well as kayakers and paddle boarders.
Although charter boat captains were thrilled to take passengers to a fun food destination in a remote part of St. John, nearby homeowners complained that the thriving business disturbed the quiet, residential character of the neighborhood.
DPNR issued a cease and desist order to the owners of Lime Out, citing zoning restrictions and potential damage to a historic shipwreck in Hansen Bay. Lime Out closed down mid-January.
The new location in a relatively busy harbor has caused the owners to make some changes. The first is the implementation of water shuttle service leaving from Coral Bay Caribbean Oasis Restaurant on Route 107, on the opposite side of the harbor.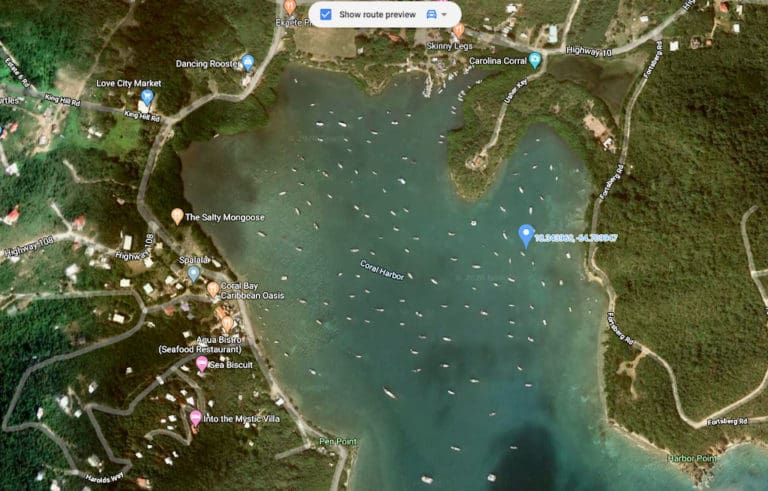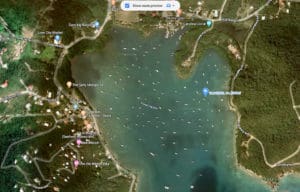 "Karen Granitz, the owner of Oasis, has been super generous to us," said Baranowski. "Customers can use the restrooms and get a bottle of water while they wait for the shuttle. We have a person stationed at Oasis who will walk guests to the boat, which can hold up to eight people."
Flyaway Charters operates roundtrip shuttle service from Tuesday through Sunday for $13. Lime Out serves customers from 11:30 a.m. until 4:30 p.m. After being open for only three days, Baranowski said the owners were still working with Flyaway Charters to fine tune the schedule. On Sunday, shuttles left every half hour, from 11:30 a.m. until 5 p.m.
Despite the lack of advertising since Lime Out reopened, business has been brisk, according to Baranowski.
"We had six boats rafted up on Sunday," she said.
Another change is that kayakers and paddle boarders will no longer be permitted to tie up to the floating food truck unless they are part of a supervised tour. Unlike at Hansen Bay, kayakers and paddle boarders cannot depart from a nearby shore. The new location near Fortsberg is rimmed with mangroves and is not accessible to the public by car or foot.
"We're worried that when the wind picks up, after a meal and a drink or two, they may not be able to paddle back. And we've already had some kayakers who arrived without life jackets. That makes me nervous," said Baranowski.
Although the new location is not as far from boating traffic as is Hansen Bay, Baranowski said the water is clean.
"The salinity is higher because of the mangroves," she said.
Water quality is important, as customers are not permitted to board Lime Out but instead sit in the water on attached floats while they eat.
Because of permitting issues at the previous location, the owners of Lime Out were required to tow the vessel from Coral Bay every morning and return to Coral Bay each night. This will not be necessary at the new location, Baranowski said.
When it ceased operating in January, Lime Out had 12 employees, but several have found employment elsewhere in the past six weeks. Baranowski said they're looking for some new employees and she can recommend the job.
"You get to work under Dylan [Buchalter]. He's the best boss," she said.