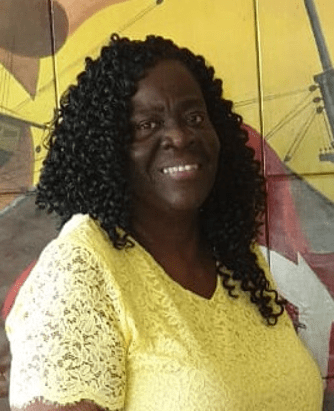 Sharon Patricia Browne Petersen died on Feb. 16. She was 58 years old.
She is survived by her spouse, Victor Petersen; mother, Viola Butcher Browne; father, Donald Browne; stepmother, Edith Browne; daughters: Monique Crump, Oneeka Hill and Rashida George; son, Maurice Roebuck; grandchildren: Mahari Green, Monae Jones, Hazim Liburd, Gianna Julien, Kiasha Lacasana, Maurice Roebuck Jr., Akeel Roebuck and Aisha Roebuck; sisters: Thelma Nielsen and Dona Browne Jones; and brothers: Alphonso Glenn "Butcher" Browne, Vincent Petersen, Randy Petersen, Darryl Petersen and Jack Petersen.
She is also survived by nieces: Kameelah Saylor, Joia Dukes, Ahlia Jones-Paul, Naiema Jones-Arnold, Silvanie Lawrence, LaTonia Lang, Mauricia Lang and Joan Brown; nephews: Mikal J. Saylor, Akeil Jones, Gene Brown, Andre Brown, Patrick Dukes, Peterson Paul, Mathew Arnold, Almeric Petersen and Kye Petersen; great nieces: Zianna Angol, Phaith Lang, Kamya Green, Ka'Breah Reynolds, Jenasis Saylor, Amariah Paul and Tareema Bates; great nephews: Jelani M. Saylor, Kamari Green, Claude Francis, Amauri Paul and Tasheem Bates; and aunts: Junie Browne, Sonya Browne, Evette Browne, Joycelyn Browne, Gertty Browne and Sarah Browne.
More survivors are her uncles: Ron Browne, Gustus Browne, Happy Browne and Denley Browne; son-in-law, Lorenzo Liburd; brothers-in-law: Almeric Petersen and Victor Petersen; sisters- in-law: – Lynette Oliver, Marietta Stephens, Janet Petersen, Christina Petersen and Magella Petersen; godchildren: Noel Wynter, Keenya Hoist, Zulema Llanos, Elizabeth Bass and Yad Bass; and special friends: Debra Chinnery, Jurene Miller, Cassandra Thomas, Asiah Clendinen Gumbs, Heidi Rougier, Alexis Browne, Judy, Elita Williams, Percilyn Caines, Ruthlyn, C.H.S. Class of 1979, Denise Williams, Wayne Williams, Mariel Thompson, Kareesa Wilson and Tracy Encarnacion.
Other survivors include cousins and other relatives: Donna Thorpe, Ivan Butcher II, Gregory Francis, Ingrid Naughton, Michael and Kathleen Watkins, Claudius and Freddy Dottin, Michael Watkins Jr., Winnie, Tony, Kevin King, Kenneth and Melton Edwards, Al, Polo, Henry Schuster, Thelma and Janice Springer, McIntosh Family, Miranda family, Julia Scatliffe, Sealey family, Horsford family, Human Services family, Southside Pentecostal Church family, Thomas family, Williams family and Helen Martinez; as well as other relatives and friends too numerous to mention.
The viewing will begin at 9 a.m. followed by a funeral service at 10 a.m., Friday, Feb. 28, at Southside Pentecostal Church. Interment will be at Kingshill.