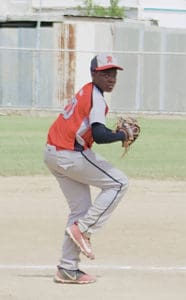 Dozens of St. Thomas youngsters spent their weekend engaging in America's pastime – baseball – while playing in Elrod Hendricks West Little League Baseball by the Windward Passage Hotel.
The Reds played the Archers and later the Pirates.
"Those kids could not have made us, the coaches, more proud. They really put their hearts into the game," coach Tamara Leonard said Saturday.
"Little League Baseball is a community," said coach Tarron Francis, who is also the father of one of the young players, T'Marii Francis. "Our Reds 9-12 [age group] team came out today like a strong family unit. They were on the field playing like a well-oiled machine. Every time they play, they make me as a parent and coach proud, no matter what the score is. I think it's safe to say, speaking on behalf of all the parents, coaches and the community, we are always proud of our kids and take pride in watching them play."
Natasha Joseph, another parent, also talked about the pride they have in watching their offspring perform.
"My sons DeLonte and DeYonte Mathew have been playing with the Reds Youth Club for four years now," Joseph said. "The Reds organization is amazing. The children come out to play ball, win or lose, they just want to know that the children are having fun. Thank you, to all the coaches for the time that they have invest in our youth."