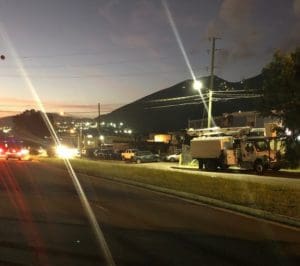 The Virgin Islands Water and Power Authority (WAPA) will mobilize one of its local contractors this week to temporarily assist the Department of Public Works (DPW) with either the repair or replacement of faulty or nonexistent highway lights along the major thoroughfares on St. Thomas that are part of the federal highway system.
The contractor will focus on the highway from the Cyril E. King Airport intersection to the bottom of Raphune Hill. The temporary repair work follows a discussion with Government House Sunday morning in the aftermath of a vehicular accident that claimed the life of a pedestrian on Moravian Highway Friday night.
Executive Director Lawrence Kupfer said that WAPA will make the temporary repairs and/or install needed streetlights until such time as DPW can make permanent repairs or a complete replacement of highway lights, hurricane-damaged poles and other hardware.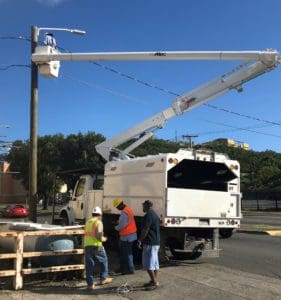 On Sunday afternoon, WAPA Line Department crews also began the installation of additional streetlights on WAPA wooden poles along the east-bound lane of Moravian Highway. Additionally, a streetlight is slated for installation near the VITRAN bus stop on the highway's west-bound lane. WAPA Line Department personnel will also identify all nonworking streetlights out towards the island's east end and repair these lights as necessary.
"The lack of adequate highway and street lighting on roadways and highways of the Virgin Islands remains a major concern for the public, the governor's office and indeed the Water and Power Authority. While challenges with electrical control devices, meters and other equipment have hampered the full restoration of highway lights by the Public Works Department, WAPA is prepared to commit some temporary manpower and resources to address this growing community concern," Kupfer said.