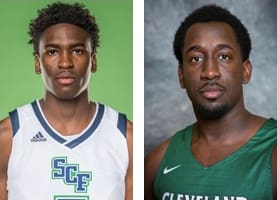 Paradise Jam announced the tournament participants for the 2020 men's tournament on Friday and the slate will again bring some local island players to the territory. Cleveland State, which will feature D'Moi Hodge and Franklyn Penn Jr., both born in Tortola, was one of the teams announced.
Jenn Ashby, the Paradise Jam Tournament director said organizers enjoy bringing islanders back for the action.
"Just like we saw Aliyah Boston and South Carolina last year in our women's tournament, having local student-athletes come back and play in front of friends and family is incredibly special for this community and we're thrilled to present that opportunity in consecutive years," she said.
In 21 games this season, Penn has averaged 5.4 points a game this season to go along with 4.3 rebounds a contest. Hodge will transfer to Cleveland State from the State College of Florida, where he is averaging 19.3 points and 8.1 rebounds in 31 games.
The rest of the teams scheduled are Bradley, Buffalo, Colorado State, Florida International, Long Beach State, St. Bonaventure and Weber State.
The programs have some recent NCAA Tournament experience as Buffalo and Bradley made the main postseason tournament last year, St. Bonaventure qualified in 2018 and Weber State has been to the Big Dance a Big Sky leading 16 times, most recently in 2016.
"Providing high-quality basketball to the U.S. Virgin Islands every year is something we strive to do, and we have no doubt this group of men's teams will do just that," Ashby said.
The tournament will run from Nov. 20 to Nov. 23 at the UVI Sports and Fitness Center, with game times and matchups to be announced in the spring, at the end of the 2019-20 college basketball season.
The women's tournament teams will be announced at a later date.