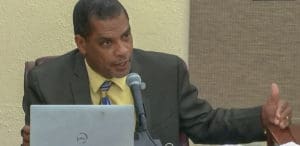 Arrests for firearm violations and violent crimes jumped 32 percent from 2018 to 2019, the V.I. Police Department reported Friday to the Senate Committee on Homeland Security, Justice, Public Safety and Veterans Affairs.
In 2019 alone, the VIPD reported recovering 149 firearms in the territory, a 46 percent increase from 2018.
And lawmakers at Friday's committee hearing wanted to know how unlicensed firearms are making their way into the territory, why the firearms are being used in violent crimes and what the police are doing about it.
VIPD Deputy Commissioner of Operations Celvin Walwyn hung his head when addressing the senators and told them frankly getting guns into the territory was easy.
"Guns are easy to get on this island. One of the things I've learned since I've been here is that you can get to the airport in whatever state you're in, they will clear the firearm and you can bring it in," Walwyn said.
Signs at the territory's airports instruct weapon-carrying individuals to report their weapon to local authorities, but most people the signs are aimed at will simply walk down the street and sell the gun to another individual.
"It's that easy, that simple," Walwyn said.
Related Links
VIPD Seizes Multiple Illegal Guns and Ammo, Arrest Suspect
Firearm Seized in STT Traffic Stop
VIPD Arrests Suspects in Cool Out Bar Shooting
The newly appointed St. Croix Chief of Police Sidney Elskoe provided a candid answer when asked by Sen. Steven Payne Sr. why he thinks the problem has increased.
"In my experience there is a latent environment of drug trafficking that exists. Some people know about it, some don't, some pretend not to know but it is worse than anyone thinks. Many of the crimes of violence that involve firearms are directly linked to drug trafficking. I think if we address that we can get a better handle on this thing," Elskoe said.
Walwyn described the "social disorder theory" occurring in the Virgin Islands, where people get accustomed to handling things themselves because they anticipate no one else is going to do anything about it. He said this disorder has individuals acquiring firearms by any means necessary with no real threat of repercussion.
"There are multiple ways of getting them here, some are legally getting through our airports and some illegally through our borders. But the issue at hand right now is that when people get caught with weapons, they are not given a sentence that really detracts and deters. For some people it's no big deal. They think 'I'm going to go in. I'm going to get six months. I'm going to come out and do it again,'" Walwyn said.
Sen. Kurt Vialet took it a step further and said it wasn't just the VIPD that needs to do better, but the entire community. He said it was in part the responsibility of those closest to the individuals who carry illegal weapons, to act and report. Girlfriends of these men should hold their boyfriends accountable and "be responsible and tell them, 'You are not going to live that life.'"
Sen. Kenneth Gittens said perhaps it was time for the territory to develop a whole new strategy when it comes to illegal firearms. He said a consent to a search-and-seizure type of program should be instated, adding that he gave a package about firearm suppression programs to the Attorney General's Office for review.
Walwyn said the Fourth Amendment to the U.S. Constitution, which protects against unreasonable searches and seizures, has made it difficult to tackle the problem properly.
"We can't check every piece of luggage that is coming through because we don't have that right. If we search every piece of luggage that comes through, we have a Fourth Amendment violation … What you do is you have officers who may notify you at the next stop that it's [firearm] coming, but officially you aren't supposed to even do that."
Frustrated with that insight, Sen. Javan James proposed going as far as lobbying against the National Rifle Association, because the situation "is now such a detriment to the Virgin Islands."