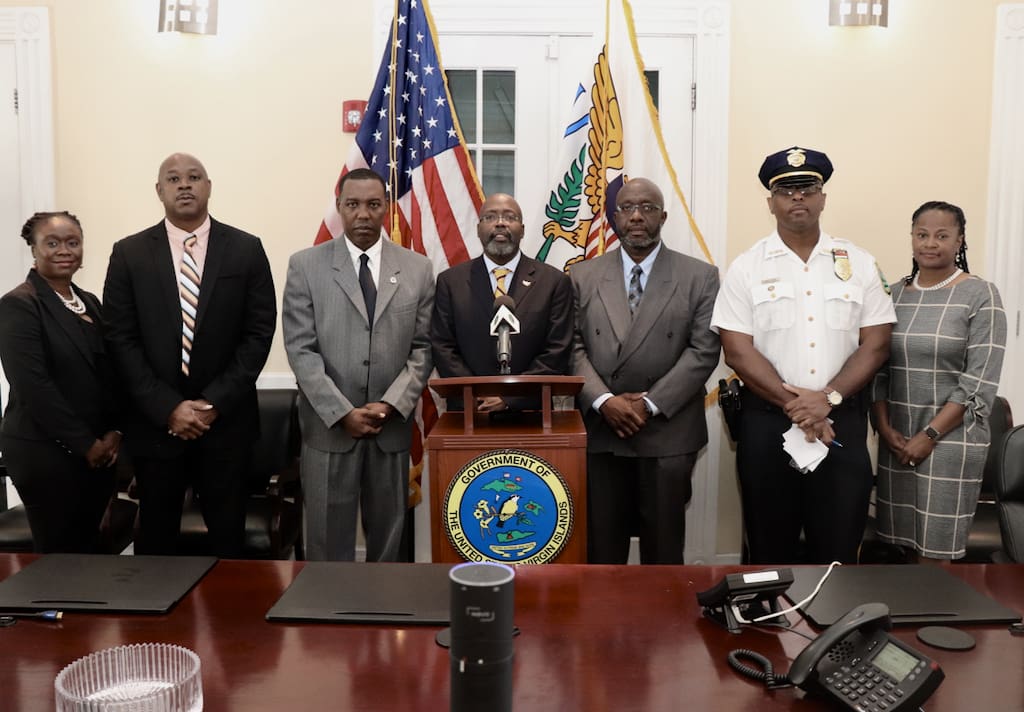 Police Commissioner Trevor Velinor on Thursday named two new chiefs for the V.I. Police Department's two districts – Sidney Elskoe his new chief of police in the St. Croix District and Ludrick Thomas the new chief of police in the St. Thomas/St. John District.
Velinor made the announcement at a news conference held in the Public Finance Authority Conference Room on St. Thomas.
Elskoe has been with the VIPD for 25 years, working in various sections of the department including the Marine Unit, Executive Security Unit and the Criminal Investigation Bureau. He also was assigned to the High Intensity Drug Trafficking Area Task Force – known as HIDTA – and was commander of the Virgin Islands Crime Initiative.
Prior to his selection as chief, he held the rank of captain.
Thomas is a 29-year veteran of the department. He has worked in the patrol division as both a patrol officer and a supervisor on St. Thomas and St. John. He has supervised the patrol division, the Criminal Investigation Bureau and the Executive Security Unit. Most recently, Thomas was assigned as a supervisory sergeant at the Training Bureau.
Velinor said he chose the new chiefs based on their leadership ability.
"I assessed the department and identified these men as having the competence and character to lead others," the commissioner said. "They are lifelong public servants and are credit to the community. They have pledged to work to make the department better and the community safer."
Police Commissioner Velinor also introduced the rest of his Senior Leadership Team, which includes Assistant Police Commissioner Mario Brooks, Deputy Police Commissioner of Professional Standards Jason Marsh, Chief of Staff Alekisha Joy Petersen and Chief Strategy Officer Dr. Kysha Fedd. He also identified other members of his senior team, Deputy Police Commissioner of Operations Celvin Walwyn, Human Resource Director Dwayne Richards, Chief Financial Officer Sandra Webster and agency Administrator Keya Canaii.