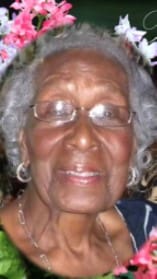 Mary G. F. Johns died on Jan. 14.
The first viewing will be held from 5-7 p.m., Thursday, Jan. 30, at Turnbull's Funeral Home. The funeral services will be held at 9 a.m., Friday, Jan. 31, at Sts. Peter and Paul Cathedral. Interment will follow at Western Cemetery No. 2.
She is survived by her children: Marguerite Abigail Casey, Marlene Adams, Jerome Johns, Bernice Johns and Dr. Julia Blanks; sons-in–law: Leon Casey Sr. and Clifford I. Adams Sr.; grandchildren: Nancy Duncan, Leon Casey Jr., Clifford I. Adams Jr., Gregory Adams, Monique Casey, Jonteau' Johns, LeRoi Casey, Kirsten Adams, Darryn Wiltshire, Jomari Johns-Heyliger, Danielle Wiltshire, Jone' Johns, Julissa Blanks, Haleigh Kromrey, Terrance Kromrey and Allyscia Kromrey; granddaughters-in-law: Elaine Adams and Annadale Greenaway; grandsons–in-law: Jonathon Scott and Charlie Wilson;
She is also survived by great-grandchildren: Deion Duncan, Cameron Adams, Cairo Heywood, Leisha Casey and Jamoi Johns Heyliger; nephews: Campbell Francis Sr. and Leroy Francis Jr.; nieces: Bernice Garcia, Patricia Francis and Joyce Francis. She is also survived by a host of cousins that include the Francis families on St. Thomas and St. Croix, the children of Viola Jackson, Esonia Hassell and family and Helen Joseph and family; and godchildren: Sarah Brookes, Charles Smith, Fred Laviscount, Oswald Francis Jr., Michael Simmonds Jr., Brenda Fredericks, Alecia Brookes and Tanyacleone Hodge.