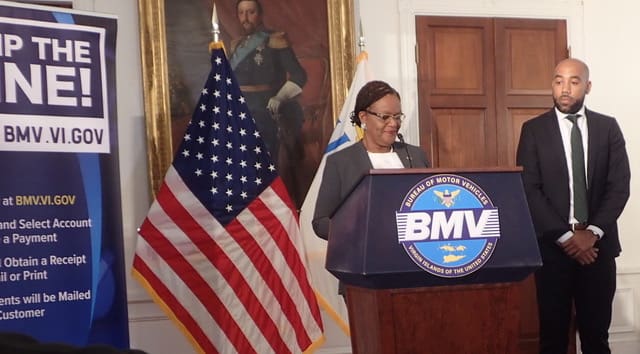 Beginning Jan. 31, owners can renew their vehicle registrations online and they will receive their new sticker and registration through the mail, Barbara Jackson McIntosh, director of the V.I. Bureau of Motor Vehicles, announced Thursday at Government House on St. Croix.
The process is "seamless," she said, beginning with setting up an account at bmv.vi.gov. The customer uses his or her driver's license number as the customer number and then enters the required information and pays the fees. The charges will not decrease because of the technology and other procedures required to complete the transaction, Jackson McIntosh said.
It will be up to the customer to request proof of insurance from his or her insurance company and request it be emailed to the BMV at insurance@bmv.vi.gov.
Older vehicles still need inspections, but once that has been completed at the BMV, the customer can complete registration online.
Vehicles less than six years old do not need to be inspected according to the director. If a car or truck is between six and nine years old, it must be inspected every other year. Inspections are required every year for vehicles more than nine years old. The previous registration should be presented at the inspection lane.
It will take four to six weeks to receive the new sticker and registration form, but people can register up to three months ahead, Jackson McIntosh said. Answering a question, she said vehicle owners on the mainland wait an average of three months to receive documents. The V.I. BMV processed 75,000 registrations last year, she added.
Customers can still go to the bureau if they want to register in person. And, they won't have to wait outside in the hot sun or rain for the half hour it takes to get their documents processed. A trailer to be used as a waiting room has been ordered and should be operational in about three weeks, according to Jackson McIntosh. It will be equipped with air conditioning and restroom facilities.
Within the next two years, all services through the BMV should be online, Jackson McIntosh said. Renewing drivers licenses should be available "by the end of the summer," but only "Real ID" licenses issued after 2018 will be eligible. Customer forms will be available on the website and Facebook page.
Jackson McIntosh said the "Skip the Line, Renew Online" program will be advertised with videos, banners and radio advertising, so all vehicle owners can learn the new process.
"Our goal and vision is to be the leader of services in the government," she said.