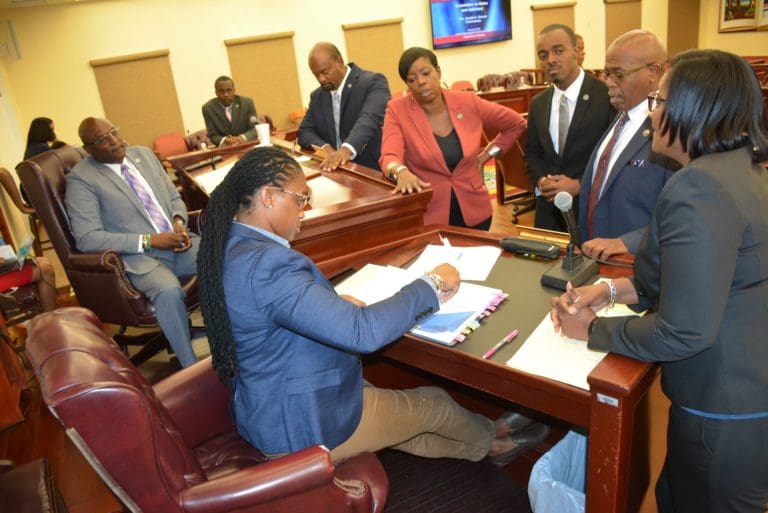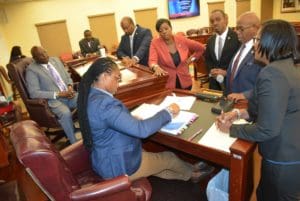 Members of the Senate Rules and Judiciary Committee moved eight bills forward on Thursday, including a measure to install surveillance cameras, holding two additional bills in the committee for further discussion.
Three of the approved bills focused on government responsibility and appropriation of funding.
– Bill 33-0190 if enacted, would transfer various duties and responsibilities pertaining to homeownership and housing from the Department of Property and Procurement to the Virgin Islands Housing Finance Authority.
– Bill 33-0064 would appropriate $500,000 from the Anti-Litter and Beautification Fund to the Waste Management Authority for surveillance cameras on various trash bins.
– Bill 33-0145 requires the Office of Management and Budget to organize annual mid-year budget reviews.
No testifiers were invited to speak on these bills. However, senators touched briefly on the details of each bill.
Concerning illegal dumping into the territory's bins, Sen. Javan James said Bill 33-0064 speaks to taking pride in one's home, but he noted that before we can take pride, we must make sure throwing away trash is feasible for residents.
Waste Management needs to be sure it can collect garbage in a timely and convenient manner, to address the tipping fees and to invest in convenient centers before surveillance systems are installed, James said.
Senators also discussed a bill that would prohibit the use of drones, one that would name the roundabout in Cruz Bay, another that aims to protect members of the National Guard through insurance coverage and benefits, and a bill on the issuance of government credit cards.
Senators discussed the issuance of government credit cards with Sen. Novelle Francis Jr. recognizing that public officials have been jailed for taking advantage of the financial resource.
Sen. Dwayne DeGraff said that four major findings were uncovered in an audit conducted by the inspector general about the misuse of government issued credit cards.
"There were no uniform regulation governing the use of credit cards and lines of credit," DeGraff said. "There were no internal controls to govern the use and accountability of credit transactions. As much as $1.1 million in credit card transactions were not protected from fraud, waste and abuse in our government."
The finding showed credit card purchases had been made without approved purchase orders, travel expenses occurred without authorization, some credit card payments were made late, which accrued additional charges, and numerous "questionable credit card charges" were made within three different government agencies, he said.
Separately, senators discussed Bill 33-0189, which would formally establish a longitudinal data system, known as VIVIS, through the Department of Education. This system would serve as a depository of demographic information for residents of the territory.
Held in the committee were Bill 33-0105, which seeks modifications to the Coastal Zone Management Commission, and Bill 33-0216, which would revoke retirement benefits of any government employee charged with a felony.
More information on Bill 33-0216 can be found here.
After the hearing Sen. Alicia Barnes issued a statement about the Coastal Zone Management Act, which she said has had no meaningful changes since 1978. She announced she will host public meetings due to "the technical nature of the proposed bill and some misunderstandings as to the bill's purpose." These meetings will be held at 5:30 p.m. Monday, Feb. 3, on St. John at the Cleone Henrietta Creque Legislative Conference Room and at 5:30 p.m. Tuesday, Feb. 4, at the Frederick Dorsch Cultural Center on St. Croix.
The seven senators present for Thursday's hearing were Sens. Francis, James, Barnes, Kenneth Gittens, Steven Payne Sr., Myron Jackson and Janelle Sarauw. Additional senators were present to present bills and attend discussion but were not part of the voting process.
The eight approved bills now move to the full Senate.