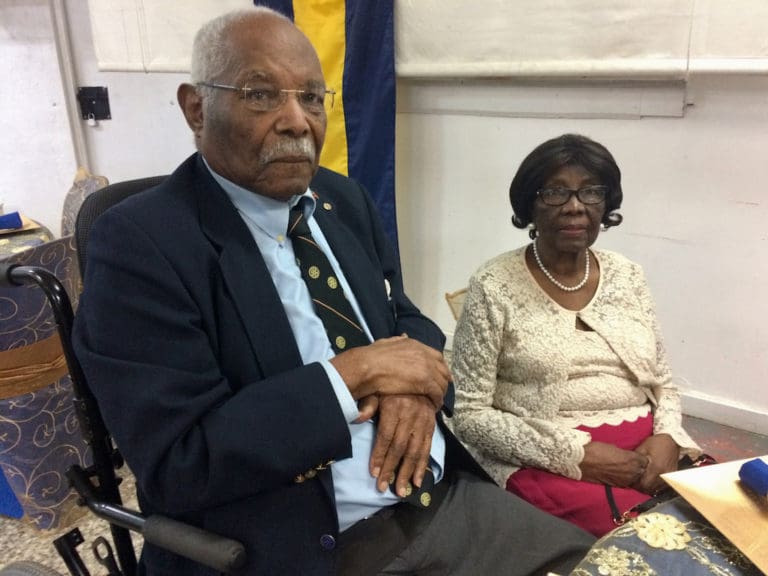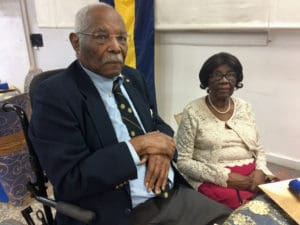 The Rotary West of St. Croix's annual fundraiser was a special one for Edgar Iles. He celebrated 50 years of being a Rotarian and received the Lifetime Achievement Award from the club.
Sitting at a table at the gaily decorated Rotary West Community Center in Frederiksted before Friday's event, he was surrounded by family.
"This means very much to me," he said.
His wife Dolores said she was happy he had spent so many years being engaged in the community. Also with him at the table was his daughter, Juanita; son, Ray; and grandson Kyron.
Iles is a Korea War veteran and worked for the V.I. government for 40 years. He also served four years in the V.I. Senate, served as president of Rotary West "a couple of times," and served as District Governor of Rotary Club District 7020. Along with all that he was an active member of the American Legion, serving in different leadership capacities.
And in his free time, he volunteered to help organizations such as the Boys Scouts, Boys and Girls Club, Special Olympics, Junior Chamber of Commerce and the Red Cross.
At this year's annual fundraiser to raise money for scholarships, the Rotary West of St. Croix also honored five others. Receiving the Service Above Self Award were Yvonne Galiber, Charles David, Percival Edwards, Jeannette Guzman and Zayd Saleem.
– Percival Edwards is known for his advocacy of agriculture on St. Croix. He co-founded St. Croix Farmers in Action and has served on the V.I. Extension Service Advisory Council.
– Jeannette Guzman, according to material supplied by the club, is a passionate advocate for women and girls, and a political organizer in Hispanic neighborhoods. She is a founding member of the Hispanic Democratic Club.
– Zayd Saleem is an author, traveler, resiliency trainer, chess instructor, businessman and professional moko jumbie instructor. He served in the U.S. Air Force. His first book was, "When the Trees Come Alive."
– Yvonne Galiber is the founder and president of the Yvonne Galiber Breast Cancer Foundation. She is a breast cancer and thyroid cancer survivor. To date, the foundation has provided screening and diagnostic mammograms to 450 medically underserved and uninsured Virgin Islanders.
– Charles David is a U.S Army veteran and has served in the V.I. National Guard. He has served as a public information officer and historian for the Myron G. Danielson American Legion Post 85, was elected district commander in 2010 and is currently District 10 commander.