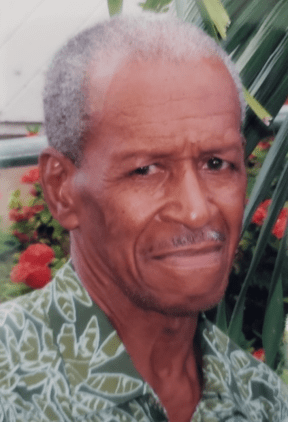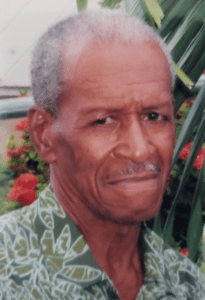 Edwin H. Thomas Sr., also known as "Bassman" or "Jeep," of Estate Whim, Frederiksted, died on Saturday, Jan. 11. He was 87 years old.
He was preceded in death by his mother, Maria Nicholas Thomas; father, Henry Thomas; sons: Ray "Ray T" Thomas and Randall A. James; grandsons: Raheem Thomas and Ray Thomas Jr.; sister, Nathena Thomas George; brothers: Victor Thomas, Francis "Franco" Thomas and Henry "Skippio" Thomas; mother-in-law, Henrietta Williams; and daughter-in-law, Agnes F. Thomas.
He is survived by his spouse/companion: Ann M. (Vicars) Thomas; daughters: Judith James, Laurie Thomas-Jacobs, Sandra Thomas, Diedre Thomas and Vanessa Thomas-Barrows; sons: Edwin Thomas Jr., Henry Thomas and Dean Thomas; and grandchildren: Safiya Thomas, Kenneth Garcia, Aisha Thomas,  Oshane Thomas, Sherisma Thomas-Canton, Kenisha Thomas, Raenelle Thomas, Rascine Thomas, Rasheed Thomas, Chantelle Jacobs, Rodolfo Jacobs II, Edwin Jacobs, Quianna-Marie Jacobs, d'Neicia Jacobs, Hanife James, Kheya James, Deshaune Thomas, Dean Thomas Jr., Khalid Austin, Akeel Austin, Sy Rivera, Elijah Rivera and Simone Thomas-Barrows.
He is also survived by great-grandchildren: Hidayah Williams, Israel Peterson, Tahjari Lynch, Kristaszia Lynch, K'Ziyah Lynch, Shakia Canton, Shawn Canton Jr., Shakori Canton, Shakoya Canton, Roniesha Thomas, Kamya Thomas, Rosai Thomas, Kascine Thomas, Eéneicia Sanes, Devanté Petersen, Dale Williams II, Diarra Williams, déJonique Jacobs, D'Andre Jacobs, Teraj Jacobs, Tejani Jacobs, Tejai Jacobs, Inaya-Amari deLande, Khe'Andra Christopher, Zhyon Skepple and Zhahir James; and brother, Eugene "Genix" Thomas.
More survivors are nieces: Maria Thomas-Lewis, Debra Thomas-Henry, Enid Dowling-Lettsome, Joyce Thomas, Edna-Mae Thomas-Garcia, Diane Thomas-Seales, Silia Thomas-Brown, Xina Thomas-Joseph and Ibia Thomas-Jackson; nephews: Eric Thomas, Mario Thomas, Lee Thomas, George Thomas, Carl Thomas, Eugene L. Thomas, Kai Thomas, Rhydel Robinson, Victor Barry and Daryl George; daughters-in-law: Teresita Zapanta, Wendy James and Yvette Mitchum-Thomas; sons-in-law: Rodolfo Jacobs, Ronald Rivera and Justin Barrows; brothers-in-law: Cyprian Vicars and Leslie Matthias; sisters-in-law: Pauline Canton, Alma Christensen, Mary Aaron-Isaac and Erma Thomas; and godchildren: Steven Benjamin, Nathania Bates, Helen Sackey-Phillips, Juliet Martinez, Earl Braffith, Marilyn Santos, Elton Murray and Levron Sarauw.
Other survivors include special friends: Roland Benjamin, Marsvyn David, Floyd Michael, Anthony Allick, Walter McKay, Camille Clarke, Wayne Clarke, Charles Farrell, Joseph "Junie" Hodge, Elvis Pedro, Alvin Milligan, Darryl "Tony" Richards, Devin Carrington, Rodney McIntosh (Taste of Margarita's), Members of St. Joseph Church, Staff at Marshall & Sterling Insurance, Employees at Frederiksted Post Office, Employees at Kmart Pharmacy, Former employees of Paquito's Restaurant, Employees at Ka-Ma-Kris, Staff and Management of Target Gas Station, and St. Croix Musicians; as well as other relatives and friends too numerous to mention.
 In lieu of flowers, please make donations in memory of Edwin Thomas to St. Joseph Church Music Ministry.
The viewing will take place at 9 a.m. followed by the funeral service at 10 a.m., Friday, Jan. 24, at St. Joseph Catholic Church. Interment will follow at Frederiksted Cemetery.